Aj Styles Talks TNA Negotiations Before WWE Signing
One of the biggest debuts in WWE history was the debut of Aj Styles at the Royal Rumble in 2016.
Styles was the face of TNA for many years and despite the company's push to sign him at the last minute, he chose to go to WWE.
"When you want to become a lesser version of something else, and when I say that, I mean WWE Light, you're not giving people an alternative." Styles said (h/t Wrestling Inc) on Lillian Garcia's Chasing Glory podcast.
"If they want to watch WWE they're going to watch WWE. You've got to be something different, so, they [TNA] went with a regular square ring. I thought that was a big mistake. You [brought] in guys that I don't know people wanted to see anymore because they had grown so used to a certain style of wrestling that was happening at TNA.
There were a lot of things that [brought] it down and it was guys like Christian and Kurt [Angle] who came over before all this happened that really sparked TNA and made it something bigger. It was growing because of them. But around 2009, 2010, around there, they forgot who they were and didn't rely on the guys that got them there to the ballgame in the first place, the big game, anyway. And therefore, it started going downhill."
"Despite all that, I saw myself as, 'this is my home,' and I was loyal to TNA," Styles reflected. "But when you don't allow me to provide for my family the way I think I should be able to by all the time and all the years I put in, well then, it's not making much sense to me. And so, ultimately, that's why I left, because they wanted me to take less than I was making. I hadn't done anything wrong and I tried to be the best ambassador for the company that I could. A lot of things I thought I did right, but they didn't see it that way, so I left. I bet on myself and I left."
Styles also discussed the final push from TNA after his stint with NJPW.
"It wasn't too long after that [NJPW stint] that TNA came back to me and said, 'okay, we'll give you pretty much when you're asking for to come back.'" Styles elaborated, "I said, 'well, I'm not coming back without somebody. I need Anderson and Gallows.' I said, 'I want them to come with me.' We actually had a meeting over at Dixie Carter's house. There were still some things we weren't sure about and I had talked to WWE a little bit, but they hadn't gotten back to me, so I just assumed they had other things going on. They didn't need AJ Styles, which… WWE is a big place. I get it. I'm not the most important person in the world. I know that. But luckily, Triple H and I, we had a great conversation, like a 30-minute conversation the first time we talked. I said, 'oh, this is going well.' And within a week, the ball really started rolling."
Killer Kross Discusses Request for Release from Impact Wrestling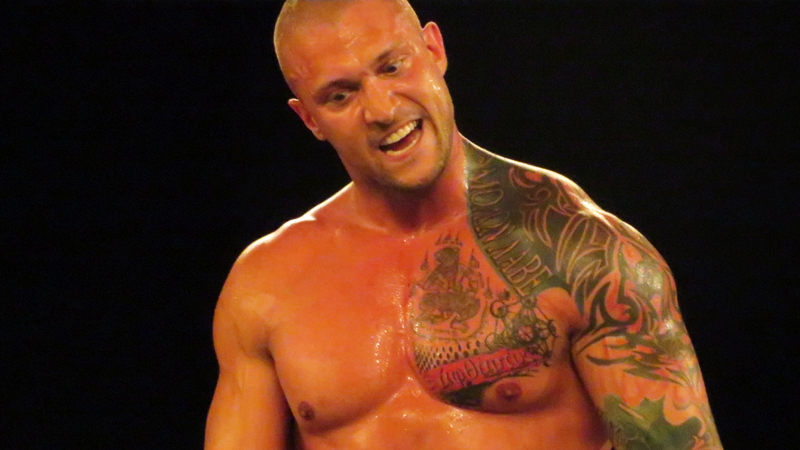 Killer Kross made headlines recently when he requested his release from Impact Wrestling, and now Kross has discussed the decision to ask for his departure from the company in a brand new interview with the 'Wrestling Perspective' podcast.
"I personally really don't really need much," Kross said (h/t Pro Wrestling Sheet). "But it's just different when you have people to take care of, circumstances change in life. You can't anticipate it. […] Being told to go get another job by your job, that's f****d up. You're struggling to make ends meet taking care of people, and the job that you can barely afford to have tells you to go get another job so you can keep that job. It's like working at a corporation being told to go work at McDonald's. It's a weird feeling."
"[…] I found out how much people are being paid, and I wanted to be paid on the same scale as that," Kross continued.
"I wasn't asking for anything that was honestly unreasonable. In all sincerity. And I'm not gonna bullsh*t you guys. I really wasn't. That's ok if the company does not agree that I am worth that. I will not take offense to that. That's ok. It's not my company. I'm just an employee. And I'm not saying that because I think I'm supposed to say that. But if they really feel that way after one year, if they feel that I'm not worth what I'm asking…professionally, kindfully, please…let me go somewhere else, and I will prove it to everyone that I can draw what I'm asking for."
Sting Talks Vince McMahon's Reaction to Signing with TNA
WWE Hall of Famer Sting did finally make his way to WWE, and a match at WrestleMania, but it took a 14-year run in TNA, following his legendary run with WCW, before Sting would finally join the WWE family.
Sting signed with TNA in 2003 and during a recent interview on the Apter Chat Podcast, he revealed McMahon's reaction to his decision.
"I'll never forget that conversation I had with Vince" Sting saud. H"e's on the phone with me and he says, 'You know Sting, I find this hard to believe, the legacy that you leave behind and the thought of you going to TNA, it's just 'bleh'!"
"So. you fast forward to. you know. coming back to do WrestleMania I had set out a text to Vince and Triple H that just said, 'have you guys turned the page on Sting yet?' And I honestly did know? Did they turn the page? Are they done? Or would they consider a run up there?"
Abyss To Be Inducted Into Impact Wrestling Hall Of Fame
Impact Wrestling has announced that Abyss will be inducted to the Impact Wrestling Hall of Fame, joining Sting, Kurt Angle, Jeff Jarrett, Team 3D, Earl Hebner and Gail Kim who have been inducted.
I'm absolutely over whelmed with the response to my upcoming @IMPACTWRESTLING Hall of Fame induction. Thank you ALL for your messages. This is one of the highlights of my career. I'm over come with emotion. Thank you to everyone who ever supported me. This is for all of YOU!!

— Abyss (@TherealAbyss) September 21, 2018