Alexa Bliss Would Be a Good Opponent For Ronda Rousey
A program between Raw Women's Champion Alexa Bliss and former UFC Women's Bantamweight Champion "Rowdy" Ronda Rousey? It could happen.
As the WWE's annual Royal Rumble draws closer, there's a lot of speculation that the women's Royal Rumble contest will include Rousey. There were reports that she and WWE Executive Triple H were spotted having dinner together, which added fuel to the rumors of her potential debut. If Rousey, who has never has been in a WWE ring as a competitor, wins the Rumble, she would have her pick of either challenging for the Raw or Smackdown Women's championship.
Yet the notion that Rousey could be coming to WWE doesn't seem to worry Bliss. During an interview, TMZ asked the Raw Women's Champion if she was concerned about Rousey possibly coming for her belt.
Bliss' scoffed at the idea of the former UFC champion challenging her for the gold.
"Please. I'm a fighting champion, I'm not worried about anybody taking my belt. The title is mine."
Some MMA fans may have been shocked at Bliss' answer. How dare she not tremble at the mighty Ronda Rousey?!
However, wrestler fans who have followed her career aren't too surprised as the champion's words. As a heel, she has every right to be arrogant. Since she came to Monday Night Raw last year. During her time on the red brand, Bliss has won the women's title on two occasions.
Since Bliss debuted on the main roster, she has been constantly in the women's championship picture – she held the Smackdown Women's Championship twice before coming to Raw. Given her accomplishments on the main roster, Bliss wouldn't admit that Rousey could beat her in a match.
If Rousey comes to the WWE, fans believe her first program will be against current Smackdown Women's title holder Charlotte Flair or the unbeaten Asuka. There's also the Four Horsewomen vs. Four Horsewomen dream match that some fans are salivating over.
However, a case could made to pit the former UFC champion against Bliss in a big angle. Bliss isn't among the usual list of potential opponents when the topic of Rousey in WWE is brought up, but she would be a good foil for the former MMA competitor.
At first it seems like Bliss would make a terrible opponent for Rousey in terms of in-ring style. The Rowdy one comes in with an accomplished judo background and an impressive MMA resume while Bliss' wrestling credentials mainly consist of her time at the Performance Center. Bliss' lack of combat sports experience could be something Rousey exploits, not only in the ring, but also in her promos leading up their match. She could even bash Bliss for being a cheerleader and a bodybuilder.
But part of what makes this match intriguing is that Bliss isn't a typical opponent for Rousey. While Rousey can rely on her athletic background to possibly destroy Bliss in a ring, Little Miss Bliss can use her experience and wits as a heel to gain a dirty win. There's also her association with Nia Jax, who Rousey would face on the way to meeting Bliss. 
There's also the chance during a match Rousey could underestimate Bliss or a mistake and it costs her. Rousey would have to come up with a different game plan to defeat Bliss in their rematch, one that might involve some backhanded tactics. 
Bliss would a good test for Rousey when it comes to promos as well. The Raw Women's Champion can generate heat and control the crowd. Even though Bliss doesn't have Rousey's MMA record, she wouldn't be afraid to stand in front of her and call her a loser to her face. If she wanted to break kayfabe, she could talk about how she spent time making it to WWE while Rousey got there because of her name.
Would a program between Rousey and Bliss be a five-star feud? Maybe, if fans give it a chance. More importantly, it would elevate both competitors. Rousey would still have an opportunity to wrestle for a WWE title and Bliss would be propelled to the next level in her wrestling career.
NXT's Adam Cole Discusses Creative Freedom
NXT Champion Adam Cole is at the height of his success with the promotion, recently defeating Johnny Gargano in another instant classic to capture his first NXT Championship, and he is talking about how things go down in NXT.
Unlike much of the main roster, where promos are often scripted and comedy-acts are more common, Cole says that superstars in NXT get a bit more creative freedom, as he had with Gargano for their match.
"One of the coolest things about NXT is we have a ton of creative liberties to come up with the story and the vision we have for the match" Cole said, during an interview with TalkSport. "Of course, there's input and advice given and there's suggestions or, you know 'we need something this way' (but) we do have a lot of freedom, which is great."
Cole added that he and Gargano came up with the format for their two out of three falls classic at NXT Takeover: New York.
Rey Mysterio Praises Andrade
WWE superstar Rey Mysterio believes that the company has a big star on their hands in Andrade .
"This kid is awesome" Mysterio said, during an appearance on the WINCLY podcast. "I mentioned it before, in previous interviews, but, every time I'm in the ring with him, there's an affiliation to how I would move with Eddie [Guerrero]," Mysterio said.
"This is how good he is! He's thinking a step ahead before you even move. He already knows the positioning, and knows exactly what to do and how to do it. My hat goes off to Andrade, as he's definitely the future of WWE."
Mysterio sees all the tools necessary to succeed in WWE.
"Just like anybody else, once you can dominate the mic skills and English, then he is bound to become a star," Mysterio continued. "I've seen him work on his English, and it's a slow process, but he's moving forward. Once he dominates his English language, he's on his way to stardom."
Fandango, Apollo Crews, Killain Dain Make Returns to NXT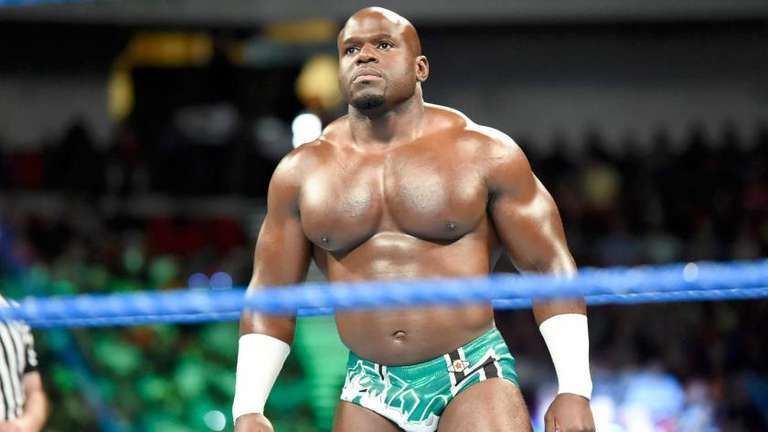 WWE is starting to allow superstars on their main rosters to transition back to NXT, much like they did with Tyler Breeze, who recently returned to NXT, where he had his most success, following around 2 years of meandering on the main roster following his callup.
Fandango, Apollo Crews, and Killian Dain made their returns to NXT tv at Winter Park, FL at Full Sail University for Thursday's NXT TV tapings.
Fandango, also making his return from injury, made the save for his Breezango partner, Tyler Breeze, who was on the receiving end of an attack at the hands of the Forgotten Sons. Crews made his return to take on Kushida in singles competition, and Dain made a brutal attack on Matt Riddle following Riddle's win over Arture Rass.
Fandango had been out of action after suffering a shoulder injury back in July 2018.