Bayley vs. Sasha Banks Would Be a Great Match at Wrestlemania
The Road to Wrestlemania is underway and for the most part, fans know the major matches taking place the Show of Shows.
One feud that seems to be brewing right now is a potential program between former Raw Women's Champions Sasha Banks and Bayley.
Banks and Bayley recently had a Twitter exchange about the latter wrestling Asuka, which is leading some fans to believe they will enter into a program between the two NXT alumna. Given the timing, fans could see Banks and Bayley wrestle in a one-on-one match at Wrestlemania.
It's only a matter of time.. https://t.co/MwRHqtprdN

— Bayley (@itsBayleyWWE) February 10, 2018
Until I beat her… https://t.co/FfxxeYvI0u

— $asha Banks (@SashaBanksWWE) February 10, 2018
…Yeah, like how you beat me? Pppffttttt https://t.co/Kv0QPQw34M

— Bayley (@itsBayleyWWE) February 10, 2018
Although it not be seen on the same level as the women's title matches or other bouts on the card, Bayley vs. Banks would be a great addition to Wrestlemania in New Orleans.
The card for Wrestlemania is laid out for the most part. Four matches are confirmed for the event:
A.J. Styles vs. Shinsuke Nakamura for the WWE Championship

Asuka will challenge for either the Raw Women's Championship or the Smackdown Women's Championship

The finals of the WWE Cruiserweight Championship tournament

Brock Lesnar will defend the WWE Universal Championship against the winner of the Men's Elimination Chamber match – most likely Roman Reigns
There are other unconfirmed matches for the event
Ronda Rousey vs. Stephanie McMahon in some capacity, possibly a mixed tag team match

The Miz defending the Intercontinental Championship against either Finn Balor or Braun Strowman

Andre the Giant Memorial Battle Royal

John Cena is scheduled to have a big match

Whoever Asuka doesn't challenge will likely defend their title
If all of these matches come together, it will be nine matches on the main show. The Andre the Giant Memorial Battle Royal is usually held for the pre-show, but with the HBO documentary based on Andre, WWE may want to feature the match on a larger platform.
Adding Bayley vs. Banks would bump the main card to 10 matches, which is the same number Wrestlemania 33 had the year before. There are several potential matches WWE could book as the 10th match, but if the company wants to make Rousey a focal point of the show, it would make sense to have as many women matches as they can at the show.
Banks and Bayley are big enough names in the company to where they can build to a good match and make it a five-star classic.
Fans still talk about their two star-making performances at NXT Takeover: Brooklyn and NXT Takeover: Respect. They have had matches on Raw and wrestled on pay per views, but WWE could give them enough time at Wrestlemania to tell a great story in the ring that is as good as their singles matches or NXT, or better.
WWE doesn't need to give them 30 minutes for their match.
Undercard matches like Eddie Guerrero vs. Rey Mysterio at Wrestlemania 21 and Christian vs. Chris Jericho at Wrestlemania XX told good stories in under 16 minutes.
Banks vs. Bayley at NXT Takeover: Brooklyn was under 20 minutes.
Some fans may complain that Banks vs. Bayley wouldn't have the importance of a title match, but it doesn't need to – at least not right away. Cody and Kota Ibushi at Wrestle Kingdom 12 didn't have any stakes up front, but it did – at least partly – lead to the current drama between the American Nightmare and Kenny Omega.
Banks and Bayley can use their past in NXT, friendship outside of the ring and their rivalry as a way to build to their match at Wrestlemania. If the plan is to turn Banks heel, she could be Bayley's friend and say the match is to see who is better, then turn on her during or after the match.
As for the aftermath, the winner of the match could go on to a new program with whoever they want. Bayley could resume her quest for the Raw Women's Championship. Banks could as well, but she could also approach McMahon and say "screw championships, I want Ronda in the ring."
NXT's Adam Cole Discusses Creative Freedom
NXT Champion Adam Cole is at the height of his success with the promotion, recently defeating Johnny Gargano in another instant classic to capture his first NXT Championship, and he is talking about how things go down in NXT.
Unlike much of the main roster, where promos are often scripted and comedy-acts are more common, Cole says that superstars in NXT get a bit more creative freedom, as he had with Gargano for their match.
"One of the coolest things about NXT is we have a ton of creative liberties to come up with the story and the vision we have for the match" Cole said, during an interview with TalkSport. "Of course, there's input and advice given and there's suggestions or, you know 'we need something this way' (but) we do have a lot of freedom, which is great."
Cole added that he and Gargano came up with the format for their two out of three falls classic at NXT Takeover: New York.
Rey Mysterio Praises Andrade
WWE superstar Rey Mysterio believes that the company has a big star on their hands in Andrade .
"This kid is awesome" Mysterio said, during an appearance on the WINCLY podcast. "I mentioned it before, in previous interviews, but, every time I'm in the ring with him, there's an affiliation to how I would move with Eddie [Guerrero]," Mysterio said.
"This is how good he is! He's thinking a step ahead before you even move. He already knows the positioning, and knows exactly what to do and how to do it. My hat goes off to Andrade, as he's definitely the future of WWE."
Mysterio sees all the tools necessary to succeed in WWE.
"Just like anybody else, once you can dominate the mic skills and English, then he is bound to become a star," Mysterio continued. "I've seen him work on his English, and it's a slow process, but he's moving forward. Once he dominates his English language, he's on his way to stardom."
Fandango, Apollo Crews, Killain Dain Make Returns to NXT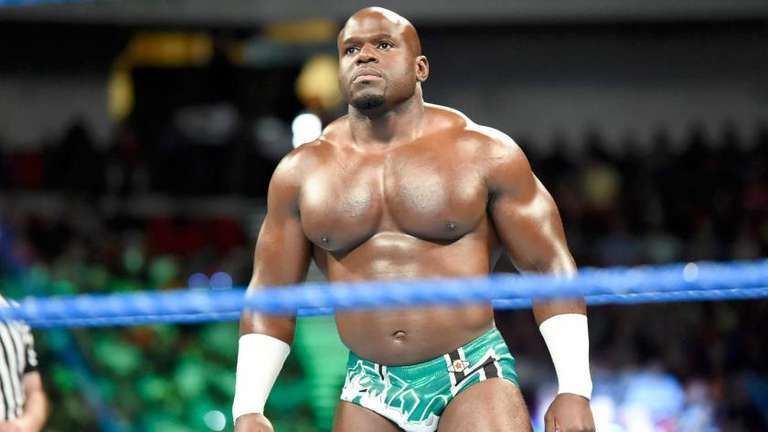 WWE is starting to allow superstars on their main rosters to transition back to NXT, much like they did with Tyler Breeze, who recently returned to NXT, where he had his most success, following around 2 years of meandering on the main roster following his callup.
Fandango, Apollo Crews, and Killian Dain made their returns to NXT tv at Winter Park, FL at Full Sail University for Thursday's NXT TV tapings.
Fandango, also making his return from injury, made the save for his Breezango partner, Tyler Breeze, who was on the receiving end of an attack at the hands of the Forgotten Sons. Crews made his return to take on Kushida in singles competition, and Dain made a brutal attack on Matt Riddle following Riddle's win over Arture Rass.
Fandango had been out of action after suffering a shoulder injury back in July 2018.