Big E Discusses Potential Heel Turn For New Day
In a recent interview with 'The Wrap', WWE superstar Big E talked about a number of things, including the possibility of a heel turn for his stable, the New Day.
"After we dropped the titles to Sheamus and Cesaro about a year ago, I really thought that's where we were headed," Big E said.
"I think there was a lot of feeling that we were stale, and we kind of felt that way as well."
"We were getting a smattering of boos. Sometimes more than a smattering,"
"I really don't know if being heel is gonna be in the cards anytime soon," E said. "I feel like we have a lot left to offer in terms of different varieties or different incarnations of The New Day"
While it doesn't sound likely that a heel turn in the cards for the New Day, Big E didn't completely dismiss the idea.
"You never know in 6 months how people are gonna feel".
Will Ospreay Has Been Contacted by WWE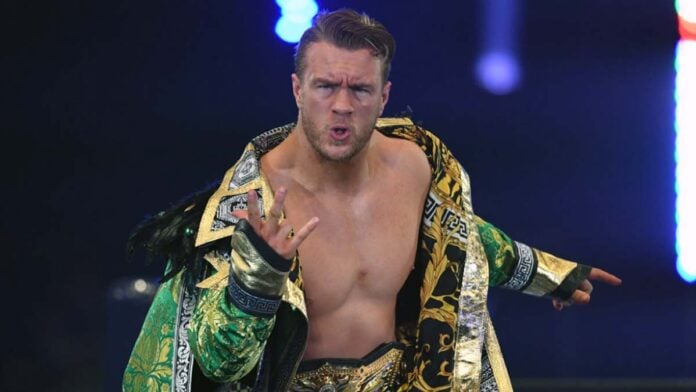 New Japan Pro Wrestling superstar and current  IWGP United States Heavyweight Champion Will Ospreay has confirmed that he has been contacted by WWE and revealed that it is something that he is considering.
Ospreay also mentioned some of the WWE names he would be interested in facing if he were to find himself in WWE.
"I've been approached by them, so I have a lot to think about" he said, according to Tokyo Sports. "I've mentioned Seth Rollins' name many times… Also, considering my history, it would be a dream to fight Ricochet again. I think that because I think we have become completely different wrestlers than when we fought in the past."
Ospreay has competed for AEW, Progress Wrestling, Rev Pro, and Ring of Honor throughout his career, among others.
DiMoro's Call: WrestleMania 35 Predictions
It's that time of year again and WWE's annual mega-event, WrestleMania, is only a few hours away.
After an incredible NXT TakeOver event on Friday and an unforgettable Hall of Fame ceremony that was negatively marked by a fan's attack on Bret 'Hitman' Hart during his speech, we are not set for WrestleMania 35.
With that being said, here are my predictions for all the matches on the card:
Raw and SmackDown Women's Championship Winner Take All Triple Threat Match
Ronda Rousey (c) vs. Charlotte Flair (c) vs. Becky Lynch
DiMoro's Call: Finally, a main event that is truly everything a main event should be. WrestleMania has missed that for the past few years while it toiled in the boring vortex of Brock Lesnar title defenses.
Rousey will have some time off after Mania, and Lynch is ready for her true ascension.
This is that moment.
Prediction: Becky Lynch wins RAW and SmackDown Women's Championship
NOTE: Lynch won't defend both, so I see her moving to RAW and relinquishing the SmackDown Women's Championship, which will be up for grabs in a tournament, something that will do wonders for the title, and the division.


WWE Championship Match
"The New" Daniel Bryan (c) vs. Kofi Kingston
DiMoro's Call: The ultimate underdog story pops up again, but this time Daniel Bryan is on the other side of the equation.
Kingston's rise has captured the attention of the WWE Universe, so a title win seems like a tailor-made WrestleMania moment.
Prediction: Kofi Kingston wins the WWE Championship


Universal Championship Match
Brock Lesnar (c) vs. Seth Rollins
DiMoro's Call: There has been some chatter that Lesnar may retain here, potentially inking a new deal with WWE today, and walking out the champ, but Lesnar as champ is simply ruining the Universal Title.
The belt has been kind of stuttering since its inception, and before it's completely irrelevant, WWE needs to allow a superstar like Rollins to carry it for the next several months – a year.
Lesnar, even if he stays, never needed a title to spice up any match.
Just imagine how crazy it would be to see Conor McGregor cost Lesnar the title, or to see him face-to-face with Lesnar some point down the road.
THAT, is a true WrestleMania moment, but more in fantasy than reality.
Rollins going over here, makes too much sense.
Prediction: Rollins def. Lesnar


No Holds Barred Match
Triple H vs. Batista
DiMoro's Call: If Triple H were going to go out, this could be the match to do it. But, I think HHH has 3-4 WrestleMania's left in him, and although he is now a Hall of Famer, I think the rub of retiring him should got to an up-and-coming superstar.
As for this match. Pure brutality and classic story-telling.
Prediction: Triple H def. Batista


Falls Count Anywhere Match
Shane McMahon vs. The Miz
DiMoro's Call: McMahon hasn't won any of his recent WrestleMania matches, so why would anyone believe he would start now.
Prediction: Miz def. McMahon


Roman Reigns vs. Drew McIntyre
DiMoro's Call: Reigns' story can be capped off with an incredible win over McIntyre, and this year fans will be happy to see it.
The question is if Dean Ambrose will help Reigns cash in the big win. Although WWE has released him, and his departure has been well-publicized, WWE using the whole thing as a work would be a phenomenal WrestleMania moment that could do wonders for all 3 characters.
I'm not sure if that's just wishful thinking, but I wouldn't be completely shocked if it happened.
Prediction: Reigns def. McIntyre (Dean Ambrose with the assist?)


Elias Musical Performance
DiMoro's Call: This hasn't been advertised much at all, but it's expected, and it will happen.
Elias will come out to give a musical performance only to be interrupted for an impromptu match. Only, I don't see it being John Cena, who I have going up against Kurt Angle in a surprise match.
This seems fit for The Undertaker, in what could be a quick squash match to give the fans what they want, and keep the Undertaker's age and decline protected.
Prediction: The Undertaker def. Elias


WWE Women's Tag Team Championship Fatal 4-Way Match
Bayley & Sasha Banks (c) vs. Beth Phoenix & Natalya vs. The IIconics vs. Nia Jax & Tamina
DiMoro's Call: This will be a mess of a match, but there needs to be an iconic victory at WrestleMania to put a big spotlight on the new tag team championships.
Given The Hart Foundation's induction into the Hall of Fame, and the return of WWE Hall of Famer Beth Phoenix, it makes a lot of sense for Natalya and Phoenix to come out with the gold.
Prediciton: Beth Phoenix & Natalya win WWE Women's Tag Team Championships


AJ Styles vs. Randy Orton
Both superstars need something new, and while this match could steal the show, it seems like the winner will be off to RAW.
Since Styles has been a fixture on Smackdown since his arrival, and Orton going back and forth between brands for years, it may seem like Styles is the guy heading to RAW.
But with SmackDown heading to FOX this fall, WWE may want to keep Styles on the blue brand.
Either way, one, if not both superstars, will be packing their bags during the Superstar Shakeup.
As for this match, Styles picking up the big win checks a lot of boxes.
Prediction: Styles def. Orton
United States Championship Match
Samoa Joe (c) vs. Rey Mysterio 
DiMoro's Call: Mysterio is banged up for this match, and hopefully it won't impact what could be a great match in terms of story-telling.
Samoa Joe finally gets his WrestleMania match, and will go out on top, retaining the WWE United States Championship with an impressive, hard-fought, victory over the future Hall of Famer.
Prediction: Samoa Joe def. Rey Mysterio


Intercontinental Championship Match 
Bobby Lashley (c) vs. "The Demon" Finn Bálor  
DiMoro's Call: Honestly, WWE ruined the build for this match by switching the Intercontinental title too often. Balor should have been in position of chasing the title since the beginning of this feud.
And while the rivalry itself has been decent, it could have been so much more had WWE not muddied it with…..nonsensical booking.
Leo Rush finally has enough of Lashley following Balor's Intercontinental Championship victory.
Prediction: Finn Balor wins the Intercontinental Championship

Kurt Angle's Farewell Match
Kurt Angle vs. Baron Corbin   
DiMoro's Call: This match will be over quick. Corbin is a perfect heel for Angle, but this match is not WrestleMania worthy, nor is it worthy for Angle's last match.
Corbin has been running down Angle, saying he is washed up, old, slow, and can't keep up with the superstars of today, which sets up a squash match for Angle perfectly.
Once that match ends, John Cena will challenge Angle, and the two will have a proper farewell match for the WWE Hall of Famer and fans will get what they want.
Prediction: Angle def. Corbin. John Cena def. Angle


SmackDown Tag Team Championship Match
The Usos (c) vs. The Bar vs. Shinsuke Nakamura & Rusev vs. Ricochet & Aleister Black
DiMoro's Call: The WWE tag division does need some new blood atop the division, carrying the gold for an extended period of time. We have simply had too many Bar/New Day/ Usos matches that, as great as they all are, have become rather stale.
This is the time to establish a new team. I love how well the pairing of Ricochet & Black has been, which is shocking, but they are more destined to singles careers than tag team ventures. However, a big win for them can setup a heel turn in the future, which would suit Black perfectly.
Rusev and Nakumara have been solid too, but Nakamura is too promising as a singles star to keep on a team, and WWE needs him back at the main event level after Mania.
I'll go out on a limb and predict that Black & Ricochet take the gold.
Prediction: Aleister Black & Ricochet win the WWE SmackDown Tag Team Championships


Raw Tag Team Championship Match
The Revival (c) vs. Curt Hawkins & Zack Ryder
DiMoro's Call: If WWE really wants to keep a disgruntled, but super-talented tag team such as the Revival around, they need to put more emphasis on the tag team division, and return it to the glory days of the late 80s-early 90s, and late 90s early 200s.
Not sure if this match doesn't do the exact opposite, as Ryder & Hawkins have been virtually invisible and there has been no build at all for this match.
WWE could use this as a "WrestleMania moment" match where Ryder and Hawkins pull off the upset, but that would just rub everyone the wrong way.
I'll go out on a limb and make a creative prediction here. I can see the Revival winning in a squash, getting on the mic to trash, yet again, the tag team division (which would be a perfect play off reality, only for a surprise tag team to come down for a surprise match, one that could steal the show.
The Hardy Boyz seem like that team. Or, could it be Kevin Owens & Sami Zayn? Either works well
Prediction: The Revival beats Ryder & Hawkins, The Revival defeats surprise team


Andre the Giant Memorial Battle Royal
DiMoro's Call: This match used to mean that the winner would be getting a good push, but recent years have made this a pointless, "toss-in" match, which is a shame given the bouts name-sake.
If WWE wants to right the ship, attach a title shot opportunity for the winner. Make it for the Intercontinental Championship, so it doesn't rip off the Royal Rumble format, and makes this something special.
I could see Rob Gronkowski showing up, which would give WWE their celebrity tie-in this year, but the winner needs to be someone who is about to get a push.
Prediction: Andrade


WrestleMania Women's Battle Royal
This is the spot for the WWE to put over a new star, which is desperately needed with the growth of both the RAW and SmackDown rosters. Mandy Rose is someone who will be booked to look strong here, as will Asuka, who got passed over for a big match on the card.
It would be a nice consolation prize to award Asuka the win here, but it does little for her moving forward, if anything at all, which is why I am picking Sonya Deville to go over.
Prediction: Sonya Deville

WWE Cruiserweight Championship Kickoff Match
Buddy Murphy (c) vs. Tony Nese
DiMoro's Call: Murphy has been a great champion for the 205 Live brand, and one that draws interest to the show. Unless he is slated for a roster call-up, i see Murphy retaining over Nese in what should be a very solid match.
Prediction: Buddy Murphy
Tenille Dashwood Announces Free Agency
ROH star Tenille Dashwood has officially become a free agent, making the official announcement on her official Twitter page.
FREE AGENT 😎

HAPPY, HEALTHY & HEALED! pic.twitter.com/3F76xHAcjX

— TENILLE DASHWOOD (@TenilleDashwood) March 31, 2019
Dashwood is expected to receive a lot of interest, including from WWE, where he performed as Emma for a number of years.