Bruno Sammartino Dead At 82
The professional wrestling world is mourning the loss of one of the all-time greatest in-ring performers, Bruno Sammartino, who died at age 82.
Sammartino is widely recognized as the longest-reigning WWE champion in history and one of wrestling's most iconic stars.
WWE released the following statement about the passing of Sammartino.
WWE is saddened to learn that WWE Hall of Famer Bruno Sammartino passed away at age 82.

The story of Bruno Sammartino is the story of the American dream.

During his childhood in the small Italian mountain town of Abruzzi, Italy, Bruno Sammartino heard stories about how the streets in the United States were paved with gold. Though he believed it literally at the time, Sammartino would experience fortune and fame first-hand as the longest-reigning WWE Champion and the most beloved competitor in the history of the squared circle.

Life wasn't always so glorious for The Italian Superman. Bruno's brother and sister both passed away at young ages, and Adolf Hitler's Nazi forces seized their town, but Bruno persevered. He and his mother hid in a mountain called Valla Rocca during the German occupation and eventually joined his immigrant father in Pittsburgh in 1950.

Sammartino began lifting weights as a young man and grew to become one of the strongest men on the planet. After setting a world record in 1959 by bench-pressing 565 pounds, Sammartino caught the eye of Vincent J. McMahon, and became a sports-entertainer.

Bruno became an overnight sensation, connecting with not only fellow Italians, but also the Latino, Greek and Jewish communities, successfully bridging the gap in America's melting pot of wrestling fans. His legend continued to grow on May 17, 1963, when Sammartino defeated Buddy Rogers in just 48 seconds to become the second-ever WWE Champion in front of nearly 20,000 fans at the old Madison Square Garden.

Bruno held the WWE Championship for nearly eight years — by far the longest reign of all time, and a record for all professional wrestling champions, no matter the organization. A household name all over the country, the beloved hero defended his title in legendary rivalries against WWE Hall of Famers Killer Kowalski, Gorilla Monsoon and George "The Animal" Steele.

In early 1968, Sammartino headlined the first wrestling event at the brand-new Madison Square Garden, just eight days after it opened. The Garden truly was the house that Bruno built, as he sold it out an astounding 187 times. When he lost the title to Ivan Koloff in 1971, grown men in the crowd were seen weeping, but on Dec. 10, 1973, Sammartino became the first two-time WWE Champion and held the title for an additional three-and-a-half years.

On Aug. 9, 1980, Sammartino defeated his former protégé, Larry Zbyszko, inside a steel cage at New York City's Shea Stadium in front of more than 35,000 people. The heated grudge match broke box-office records for wrestling events, and Bruno retired from the ring the following year.

Bruno returned to WWE in the mid-80s as a broadcaster alongside Mr. McMahon and as a mentor for his son David, who was just beginning his grappling career. Now known as The Living Legend, Bruno also engaged in several rivalries with a generation of WWE's greatest villains, including "Rowdy" Roddy Piper, "Macho Man" Randy Savage and The Honky Tonk Man.

The star power and influence of Sammartino was exemplified by the fact that he was inducted into the WWE Hall of Fame in 2013 by none other than Arnold Schwarzenegger. It was the 188th and final time that Sammartino headlined and sold out Madison Square Garden.

WWE extends its condolences to Sammartino's family, friends and fans.
Will Ospreay Has Been Contacted by WWE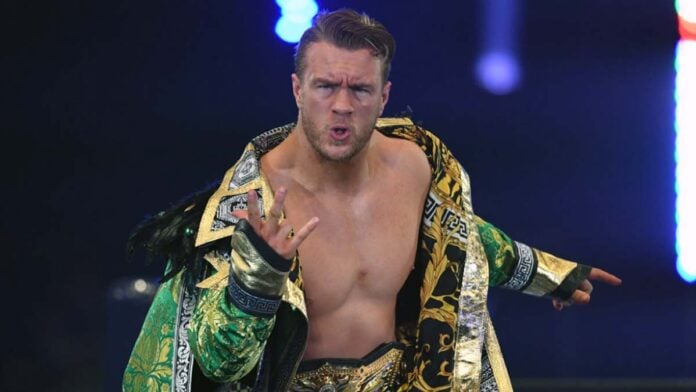 New Japan Pro Wrestling superstar and current  IWGP United States Heavyweight Champion Will Ospreay has confirmed that he has been contacted by WWE and revealed that it is something that he is considering.
Ospreay also mentioned some of the WWE names he would be interested in facing if he were to find himself in WWE.
"I've been approached by them, so I have a lot to think about" he said, according to Tokyo Sports. "I've mentioned Seth Rollins' name many times… Also, considering my history, it would be a dream to fight Ricochet again. I think that because I think we have become completely different wrestlers than when we fought in the past."
Ospreay has competed for AEW, Progress Wrestling, Rev Pro, and Ring of Honor throughout his career, among others.
AJ Styles Praises John Cena's In-Ring Work
AJ Styles made his debut for WWE during the 2016 Royal Rumble and was immediately thrust into some dream matchups following the event, with the likes of future Hall of Famers such as Chris Jericho and John Cena.
Styles has had a successful run during his WWE tenure, and is now engaged in a feud along with his O.C. faction with The Judgment Day.
Styles recently participated in an interview with 'The Halftime Show' and talked about how Cena impressed him with his in-ring work.
"A guy that surprised me with how good he was in the ring would be John Cena" Styles said (h/t Fightful). "John is not known for being a technical mastermind in the ring, but he's pretty good. I had some of my better matches against this guy.
"His mind for how everything needs to work and transition-wise. He's just good. He knows what he's doing. It's one of those things were you thought, 'I'm the superior wrestler in the ring,' but once you get in there with John Cena, you realize, 'Well, okay, I didn't know that. Let's keep going.'
Crown Jewel 2022 WWE Smashes Internal Record
WWE's controversial relationship with the Kingdom of Saudi Arabia has caused some harsh criticism, but the Crown Jewel event has proved to be a record-breaking success, according to a WWE Memo.
According to Fightful Select, a memo was shared internally, informing WWE staff that Crown Jewel 2022 is now the most-viewed international PLE in company history, breaking the record that was previously, albeit briefly, held by this year's Clash at the Castle which took place at Cardiff, Wales in September.
Additionally, the latest Crown Jewel event did a seven-figure viewership on Peacock in the United States.
The next show in Saudi Arabia is currently slated for May 2023.