Buddy Murphy to Make 205 Live Debut
The 205 Live WWE Cruiserweight title tournament has introduced NXT and UK talent to the main roster, specifically Roderick Strong, Tyler Bate and Mark Andrews. One of the final names announced for the tournament is a face known to longtime NXT fans, Buddy Murphy.
It was announced on the Feb. 13 episode of 205 Live that Murphy will make his 205 Live debut against Ariya Daivari in the final first-round tournament bout. On the same night, Gentleman Jack Gallagher will face Mustafa Ali.  
There was a video package for Murphy, who brought up his history in NXT and talked about training to get to 205 pounds. It ends with him weighing on the scale at 204.4 pounds. Yes it is professional wrestling, but the video package was something similar to what fans saw in the Cruiserweight Classic.
This is a big opportunity for Murphy, who is a former NXT Tag Team Champion, but some fans may wonder "really, this guy?" when it comes to NXT talent coming to 205 Live for their main roster debut. Many folks would have probably prefered Johnny Gargano, Tommaso Ciampa or even Lio Rush. Still, fans should give Murphy a shot to prove himself before they make judgements.
Murphy, real name Matthew Adams, signed with WWE in 2013 and reported to NXT. He spent months teaming with various superstars until he was put together with Wesley Blake.
The duo spent the latter part of 2014 losing to teams until they defeated the Vaudevillians and then challenged then-NXT Tag Team Champions, the Lucha Dragons, to a title bout.
They would capture the tag team titles from the Lucha Dragons and in the process, Murphy would become the first Australian wrestler to win a championship in WWE.  
During their reign, they would feud with Enzo Amore and Colin Cassady and along the way join forces with Alexa Bliss. Their reign came to an end at NXT Takeover: Brooklyn when they dropped the titles to the Vaudevillians.
This would signal the beginning of the end for the team. After a loss to TM61, Murphy declared he was a singles competitor and would appear sporadically in NXT, losing to Shinsuke Nakamura and Kota Ibushi in 2016 and facing Blake in a match that went to no contest due to interference from Samoa Joe.
Murphy's last televised NXT match was on Jan. 4, 2017 in a tag team match with Tye Dillinger against Bobby Roode and Elias Sampson. He has appeared at NXT live events in the last year.
Murphy is a solid worker in the ring who can fly but also dish out punishment to his opponents. By competing on 205 Live, Murphy has a new platform to showcase his skills and a new chapter to his WWE career.
If Murphy wins his first tournament match, he will face the winner of the Gallagher and Ali bout. Two more victories would put him in the Cruiserweight tournament finals at Wrestlemania. 
WWE Cruiserweight title tournament so far
Cedric Alexander
TJP
Kalisto
Roderick Strong
Mark Andrews
Drew Gulak
Gentleman Jack Gallagher vs. Mustafa Ali
Buddy Murphy vs. Ariya Daivari
WWE Smackdown vs. Raw: Who won this week? April 16, 2019
The Good
For Raw, they got the best addition from the shakeup to their show, which was AJ Styles. After Styles really made his mark on Smackdown, it seemed like WWE creative was running out of ideas of what to do with Styles on Smackdown. So, having him on Raw is really intriguing now and it should be interesting to see what the future holds for him on Raw.
For Smackdown, their biggest addition from the shakeup was Roman Reigns and the way they introduced him to the show was entertaining. After Vince McMahon announced that the "biggest addition in Smackdown history" was Elias, Roman Reigns interrupted and ended up clearing out the ring and declaring that Smackdown is his yard now. Reigns needed a change of scenery after being on Raw for few years, so this is something the WWE universe should be excited for.
The Bad
For Raw, while it was great to see an NXT tag team called up, the name they gave him is horrible. Formerly known as the War Raiders, who are the current NXT tag team champions were called up to Monday nights. But, they decided to change their name to the Viking Experience, which is one of the worst name changes in WWE history.
For Smackdown, they had a match between Carmella and Charlotte Flair and this felt like filler. After all the new names that they brought onto Smackdown during the shakeup for the women's division, they could have had one of them in this match instead of putting them all together in the 8-women tag match that was featured on the show later.
The Final Verdict
For these being the superstar shakeup episodes, both shows felt a little underwhelming. While we are able to think of the possibility of matchups that we will see in the future because of this shakeup, the introduction of these new names felt like they should have been a bigger deal. Along with that, it seemed like WWE either was confused on how to handle some of these shakeups or they purposely wanted to confuse the fans. A prime example is how Finn Balor went to Smackdown with the Intercontinental championship. Since this was introduced to us on Smackdown, is there no secondary belt now on Raw? Or did Samoa Joe just automatically move to Raw because he currently was holding the original secondary belt on Smackdown? Overall, as to who had the better show, I will have to say that Raw had the better show. The additions of the Miz, the Usos, Rey Mysterio, Andrade, AJ Styles, and Naomi are all new faces that were due for this. In conclusion, while the shakeup could've been handled better, the future should be intriguing as WWE prepares to fully move on from Wrestlemania.
Matt Hardy Responds to John Oliver's WWE Segment
John Oliver, host of HBO's popular 'Last Week Tonight', took WWE to task in a recent episode over their lack of healthcare for their performers, bringing a dark element of the treatment of WWE superstars to light.
Since then, wrestlers have spoken out, both in support of Oliver's segment and coming to the defense of WWE.
One of those coming to WWE's defense is WWE superstar and future Hall of Famer Matt Hardy, who praised WWE and how far they have come over the years.
"When I first started here [1997/1998] the locker room, everything was like the wild wild west then" Hardy said in an interview with FOX Sports (h/t Wrestling Inc). "  The change that has happened in those 20-plus years has been unreal. I mean, now the drug testing is very stringent. … You have to be here, and you have to be good and you have to be on top of your game. You have to be a professional. The physicals they do as far as cardiovascular and just checking you over and over — [there have] been several guys they caught that have had serious [health] issues that could have been life threatening if they didn't catch it here, and just the way they take care of you. "
"Every surgery I ever had, WWE has paid for. They're very faithful and very good about that. It's just some of the stuff that the John talked about was kind of passé, kind of outdated because now they really do [take care of wrestlers' health]. They take care of everything especially stuff that happens in house. As far as the whole health insurance thing, that's kind of a different argument, because we do a different gig in many many ways. But WWE has never done anything but be great to me.
"They've taking care of me in every capacity, every front. And they've given me a great life. I mean one of the characters I play is 'Big Money' Matt, who's like this millionaire that's been around for a long time, and you know there's a lot of truth to it in some ways, and I wouldn't have that persona and I wouldn't have the great life that I have right now if it wasn't for WWE."
WWE Hall of Famer Stevie Ray Talks Not Joining WWE After WCW Buyout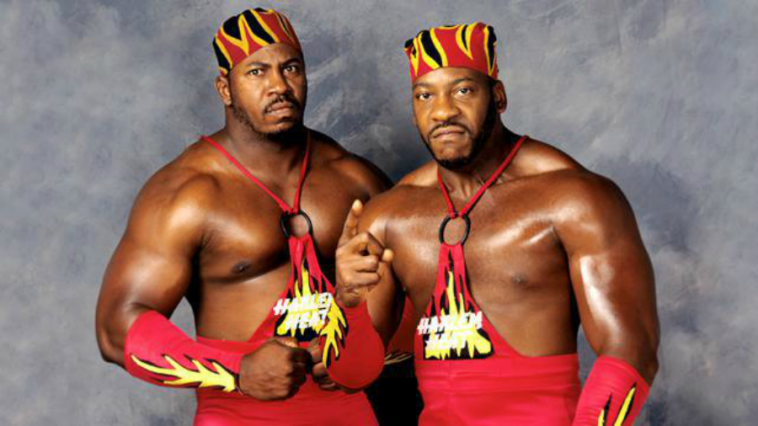 WWE Hall of Famer Stevie Ray, who was inducted as part of Harlem Heat, alongside his brother Booker 2, in this year's WWE Hall of Fame, recently discussed why he never joined WWE following his career in WCW.
Stevie Ray recently appeared on an episdoe of 'Conversations with the Big Guy' with host, and former WWE superstar, Ryback and talked about his thinking when WWE bought WCW.
Although his brother Booker T went on to WWE, Stevie Ray didn't want to do the same.
"I didn't want to go to WWF (WWE). As a matter of fact, the last WCW Nitro, I didn't even attend and they sent me a ticket. Bu,t I was always in the mindset of this is competition to me. This is NFL vs AFL, or National League versus American League in baseball. WCW vs WWF, to be honest with you, bro, I didn't want to go out like a bitch."
The Monday Night Wars were hard to get past for Stevie Ray.
"We had been fighting for the team (WCW). But when I heard Vince McMahon had come in, and stuff like that, which I knew was coming, it's like, you saw the writing on the wall and you put it in the back of your mind.
But at the end of the day I knew it was going to happen. But I didn't attend the last show because my brother [Booker T] said that they (WWE) are going to be auditioning people. I told him that he should do it, but I'm done."
Stevie Ray was concerned that WWE would change to Harlem Heat, stripping them of the elements that made that tag team so special.
"I wanted people to remember Harlem Heat as an ass-kicking tag team of color, you see what I'm saying? I didn't want us to be something else. I didn't want us to turn into a "Doink the Clown". So, I'm not saying that they would have done this with Harlem Heat, but, I didn't want to lose the edge that we once had as Harlem Heat."