Cody Rhodes Announced 'All-In' Event
International and global superstar Cody Rhodes has announced the date for his 'All-In' wrestling event being co-promoted by Rhodes and The Young Bucks.
While no location has been set, Rhodes took to Twitter to announce the date.
I'm @ALL_IN_2018

September 1st pic.twitter.com/wehXTTpA3A

— Cody Rhodes (@CodyRhodes) January 10, 2018
Rhodes has spoken of his goal for the show to be hosted in a venue that has the capacity for 10,000 fans and that he would like to headline it with current WWE superstar Daniel Bryan who may be a free agent by that time.
Will Ospreay Has Been Contacted by WWE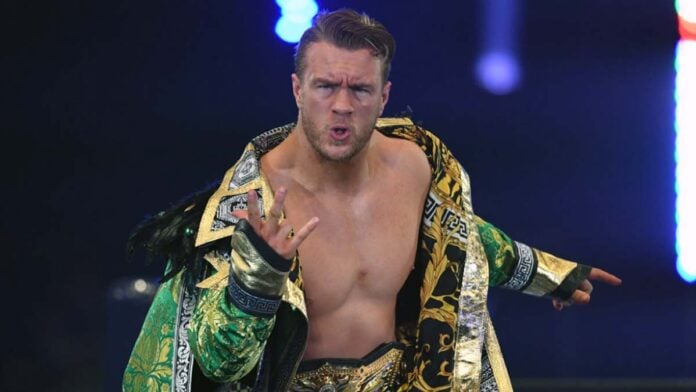 New Japan Pro Wrestling superstar and current  IWGP United States Heavyweight Champion Will Ospreay has confirmed that he has been contacted by WWE and revealed that it is something that he is considering.
Ospreay also mentioned some of the WWE names he would be interested in facing if he were to find himself in WWE.
"I've been approached by them, so I have a lot to think about" he said, according to Tokyo Sports. "I've mentioned Seth Rollins' name many times… Also, considering my history, it would be a dream to fight Ricochet again. I think that because I think we have become completely different wrestlers than when we fought in the past."
Ospreay has competed for AEW, Progress Wrestling, Rev Pro, and Ring of Honor throughout his career, among others.
Kazuchika Okada 'Embarassed' Jay White is IWGP World Heavyweight Champion
Kazuchika Okada is none too pleased that Jay White is currently the IWGP World Heavyweight Champion, and made those thoughts clear ahead of their IWGP World Heavyweight Championship match taking place at Wrestle Kingdom 17 on January 4th, 2023.
Okada spoke about White's status during an interview with Sports Illustrated:
"I find Jay White's attitude embarrassing, to be honest. It's a disgrace to have him representing New Japan Pro-Wrestling as our top champion, and that's why I have to show just how great an Okada title match is at the Tokyo Dome—and to end that era of his."
Okada also spoke about working with Tony Khan's AEW promotion, who worked with NJPW for their crossover event 'Forbidden Dorr' back in June of this year.
"There are places where they win out over NJPW, and areas where New Japan is superior as well. I think both sides came away with something to learn and work on, and I'd love to have another event with those lessons learned."
Okada expressed his desire that the next crossover event happens in Japan.
"Last time was in the U.S., so let's have it in Japan next time."
Davey Boy Smith Jr. Done with New Japan
Dave Boy Smith Jr. may be done with New Japan Pro Wrestling, ending a relationship he has had with the promotion since 2011, according to various reports, and effectively ending his partnership with Lance Archer, who together formed the Killer Elite Squad tag team.
Smith is still involved with Major League Wrestling where Smith Jr, Teddy Hart, and Brian Pillman Jr comprise the Hart Foundation, who are currently their tag team champions, and Teddy Hart is the middleweight champion.
Smith will receive a future MLW World Championship match as he recently won a fan vote.