Cody Rhodes Doesn't See WWE Return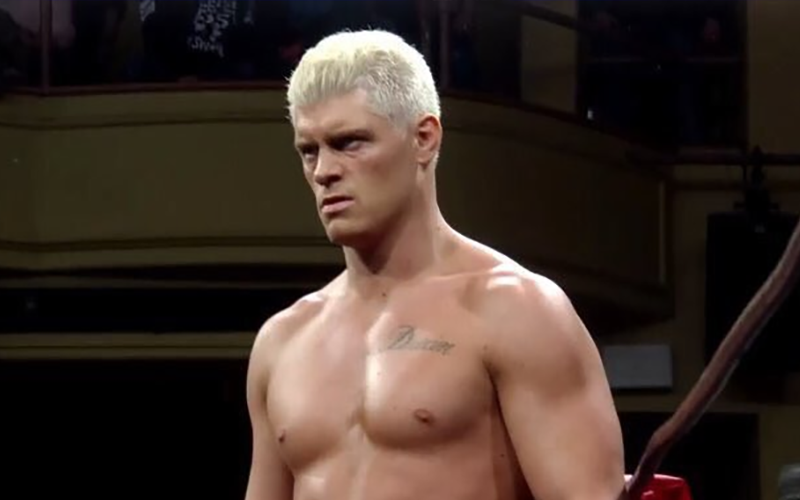 The biggest star on the indie scene is arguably Cody Rhodes, whose WWE lineage has helped catapult him as one of the biggest draws on the market.
And while Rhodes left WWE on good terms, he doesn't necessarily think a return to the company is in the cards when accessing his immediate future.
"It's always safe to say never say never. But … no" Rhodes said in an interview with NOLA.com.
"Only because we've taken on such a project with All In. Wrestling is currently going through a revolution. It's less about the brand and more about the talent and their fans. That's my focus. I don't think I really could belong anywhere ever again. I make Ring of Honor my home team these days, but I still play my music how I want to play it. I had a great time in WWE. I had multiple singles matches at WrestleMania.
"Met my wife there. It was a really wonderful place to grow up. It's the house that built me. But also, it's where I learned the fundamentals of this industry, which have led me to seek it outside WWE. The wrestling that I love the most doesn't happen there. It's not a knock on them. It's just the wrestling that I love the most, is out there in the world. And that's where I tend to be these days."
Rhodes also discussed his feud with Kenny Omega.
"I spend more time with those guys. I put in way more work than Kenny, who has the reputation of having some of the best matches in the world, but that's a lot easier to do when you barely ever wrestle. The issue has been Kenny not going quietly into the night. We thought it would be easy for me to beat up Kenny Omega with Crossroads and leave him lying, and I would be the leader of the Bullet Club. But Kenny is not giving up the position, the title easily."
ROH Star Jay Briscoe Dies
ROH star and one half of the tag team The Briscoe Brothers, Jay Briscoe has died at the age of 38 years old as a result of a car accident, according to an announcement from All Elite Wrestling on Tuesday night (h/t FOX).
"An incredible performer who created a deep connection with wrestling fans across the globe. My condolences to the family and friends of Jay Briscoe," WWE chief content officer Paul Levesque said in a tweet.
Briscoe, real name Jamin Pugh, was one of two people who died in the car crash.
Briscoe, who along with his brother Mark held the ROH tag team titles 13 times, was also a two-time solo champion with ROH and a six-man tag-team champion.
Tully Blanchard Done with AEW, Ring of Honor
Pro wrestling legend and Hall of Famer Tully Blanchard has confirmed that he is permanently done with AEW and Ring of Honor, noting that his departure from the company last year will be permanent.
Blanchard discussed his departure on a recent episode of the Two Man Power Trip podcast, in which he reunited with his former tag team partner and Four Horseman stablemate Arn Anderson, who also is with AEW.
"No, it was a little more complex than that, but my contract is up and I'm gone" Blanchard said of leaving AEW but did not divulge many other details.
Brian Danielson Says He Nearly Signed with Ring of Honor in 2018
AEW superstar Brian Danielson was at a crossroads back in 2018, when he was medically cleared by WWE to return to the ring, does he continue his career with WWE, or does he move on to another wrestling company such as Ring of Honor?
Danielson says that he considered making the jump, during an interview with Inside the Ropes, saying that when his contract with WWE was coming up, he had conversations with Cody Rhodes and The Young Bucks, whose deals with ROH were expiring around the same time as his.
"It was really interesting, m contract with WWE was up in 2018 and I was considering going to Ring of Honor, and I was talking to The Young Bucks, and I was talking to Cody [Rhodes] just to kind of see" he said. "All their contracts were up with Ring of Honor and I was like, 'What are you guys gonna do?' Because even my lawyer, who doesn't know anything about pro wrestling, he said; 'Hey, I don't think you'd wanna sign with Ring of Honor if these Young Bucks aren't going because they've got this YouTube show, I don't know if you've heard of it, called Being The Elite' and it's essentially the driver for the popularity of Ring of Honor at the time, right?
"So those guys go away, we don't know if Ring of Honor will nearly still be as popular and then with Cody's contract coming up, if they leave, and Cody leaves, what will Ring of Honor's popularity be like? So, that was a part of the discussion."
Danielson re-signed with WWE, made his return to in-ring competition, and then departed in 2021 to sign with AEW.