Cody Rhodes Doesn't See WWE Return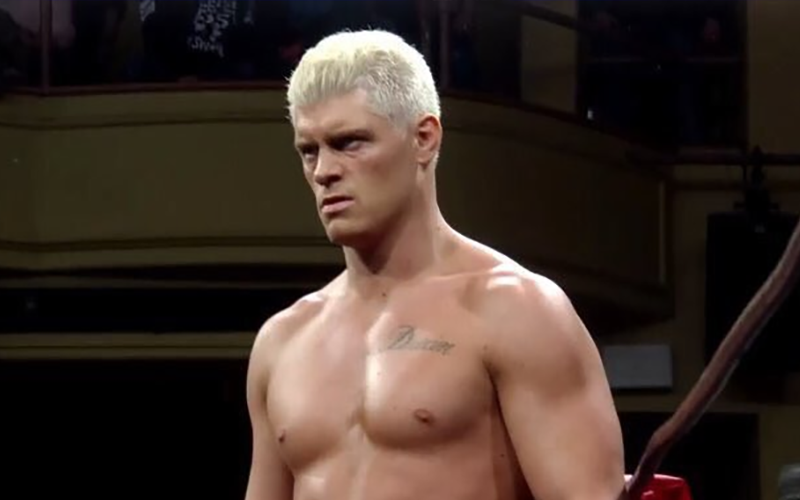 The biggest star on the indie scene is arguably Cody Rhodes, whose WWE lineage has helped catapult him as one of the biggest draws on the market.
And while Rhodes left WWE on good terms, he doesn't necessarily think a return to the company is in the cards when accessing his immediate future.
"It's always safe to say never say never. But … no" Rhodes said in an interview with NOLA.com.
"Only because we've taken on such a project with All In. Wrestling is currently going through a revolution. It's less about the brand and more about the talent and their fans. That's my focus. I don't think I really could belong anywhere ever again. I make Ring of Honor my home team these days, but I still play my music how I want to play it. I had a great time in WWE. I had multiple singles matches at WrestleMania.
"Met my wife there. It was a really wonderful place to grow up. It's the house that built me. But also, it's where I learned the fundamentals of this industry, which have led me to seek it outside WWE. The wrestling that I love the most doesn't happen there. It's not a knock on them. It's just the wrestling that I love the most, is out there in the world. And that's where I tend to be these days."
Rhodes also discussed his feud with Kenny Omega.
"I spend more time with those guys. I put in way more work than Kenny, who has the reputation of having some of the best matches in the world, but that's a lot easier to do when you barely ever wrestle. The issue has been Kenny not going quietly into the night. We thought it would be easy for me to beat up Kenny Omega with Crossroads and leave him lying, and I would be the leader of the Bullet Club. But Kenny is not giving up the position, the title easily."
Brian Danielson Says He Nearly Signed with Ring of Honor in 2018
AEW superstar Brian Danielson was at a crossroads back in 2018, when he was medically cleared by WWE to return to the ring, does he continue his career with WWE, or does he move on to another wrestling company such as Ring of Honor?
Danielson says that he considered making the jump, during an interview with Inside the Ropes, saying that when his contract with WWE was coming up, he had conversations with Cody Rhodes and The Young Bucks, whose deals with ROH were expiring around the same time as his.
"It was really interesting, m contract with WWE was up in 2018 and I was considering going to Ring of Honor, and I was talking to The Young Bucks, and I was talking to Cody [Rhodes] just to kind of see" he said. "All their contracts were up with Ring of Honor and I was like, 'What are you guys gonna do?' Because even my lawyer, who doesn't know anything about pro wrestling, he said; 'Hey, I don't think you'd wanna sign with Ring of Honor if these Young Bucks aren't going because they've got this YouTube show, I don't know if you've heard of it, called Being The Elite' and it's essentially the driver for the popularity of Ring of Honor at the time, right?
"So those guys go away, we don't know if Ring of Honor will nearly still be as popular and then with Cody's contract coming up, if they leave, and Cody leaves, what will Ring of Honor's popularity be like? So, that was a part of the discussion."
Danielson re-signed with WWE, made his return to in-ring competition, and then departed in 2021 to sign with AEW.
Ring of Honor Signs Shane Taylor
Shane Taylor has inked an exclusive deal with Ring of Honor, who have been making a strong push to lock in talent for 2019, following the departure of a number of big names from working with their promotion.
Taylor joins the likes of Jeff Cobb, Brody King, and PCO who all recently joined the promotion.
Taylor first wrestled for ROH back in 2014, and he recently announced his new deal.
Incredibly excited to announce that I've officially agreed to terms on an EXCLUSIVE contract with @ringofhonor for 2019!! Trust and believe I'm going to continue to #ShatterTheGlassCeiling & show why I'm #TheREALBreakoutStar in ROH!! pic.twitter.com/MONuY5UQaY— Shane Taylor (@shane216taylor) December 24, 2018
Mark Haskins Signs with Ring of Honor
Ring of Honor has just hauled in a promising independent wrestler from the United Kingdom, Mark Haskins.
Haskins officially announced his signing with ROH on his social media accounts.
I've officially signed with ROH. 2019, shit is going to go down. Keep watching. #TheBrass

📷 @Y2jimbob pic.twitter.com/eKB22IlYFP— The BRASS (@ThisIsHaskins) December 20, 2018