Cody Rhodes Talks All-In, NWA Title, All-In 2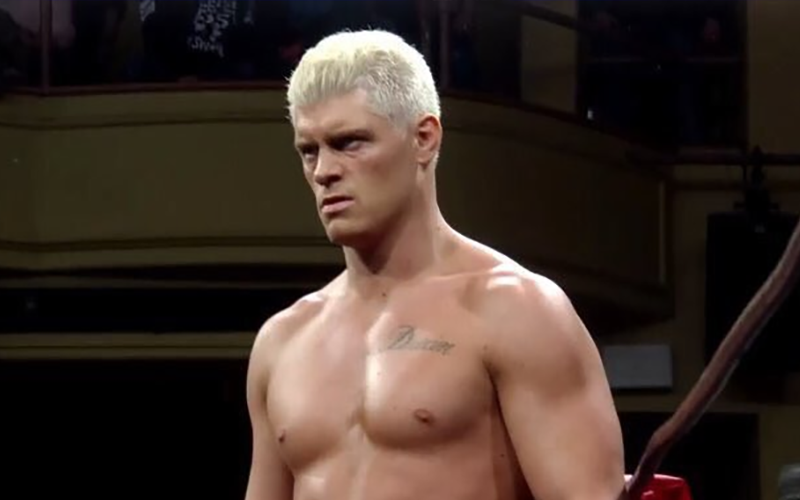 Cody Rhodes is still flying high off the success of his All-In event that saw him win the NWA Championship from Nick Aldis, and there is already buzz generating about an All-In 2. Cody recently appeared on The Ross Report, and discussed the event, his win, and what he would do differently for an All-In 2.
"I didn't get a chance to sleep and I went right to gorilla after my match and I directed and timed the last half of the show" Cody said about the event. "I'm not the best timer judging by the main event time. I'm learning, but, I didn't get that moment to, I didn't get many moments. It was just happening so fast."
As far as an All-In 2, Rhodes is already in the planning stages.
"Well, maybe we already started planning" Rhodes teased.
"I kept writing these lists, and my dad was a big list guy, and I have become a big list guy too" Rhodes said.
"I kept writing these lists of these are the things to do to make sure you're in peak condition, and also make sure you're in peak mental state, and make sure you paid this guy, and talked to this guy.
I also learned I wanted to do every single thing with this show. I wanted to do payroll; I wanted to know elements of production; I wanted to know how many chairs were in the union catering room."
You can check out the full episode below:
Former WWE Star Lanny Poffo Dies at 68
Former WWE star Lanny 'The Genius' Poffo has reportedly died at the age of 68, according to his close friend "Hacksaw" Jim Duggan, although no cause of death has been given at the time of this writing.
Poffo made his in-ring debut with the All-South Wrestling Alliance back in 1974, and also wrestled for a number of promotions such as the National Wrestling Alliance where he won a tag-team title with his father, Angelo.
Poffo debuted for WWE back in 1985 where he would be known as "Leaping Lanny Poffo" and "The Genius."
Poffo would return to WWE back in 2015 to induct his brother, 'Macho Man' Randy Savage, into the WWE Hall of Fame in a touching induction ceremony ahead of WrestleMania 31.
"With a very, very heavy heart, I've been asked to let everyone know about the passing of our friend and colleague Lanny Poffo, The Genius," Duggan said on Twitter.
Former MLW World Middleweight Champion Myron Reed has made his exit with the promotion following a four-year run and is now a free agent as the two sides parted ways following Reed's contract expiring, according to Fightful Select.
Reed, 25, confirmed his departure on Twitter on Tuesday afternoon.
Reed broke into wrestling several years back after he made waves as one of YouTube's popular pro wrestling content creators which generated interest from indie promotions around the industry, ending up with Kentucky-based World Wrestling Alliance to start.
Jade Cargill Offers Praise for Charlotte Flair
AEW TBS champion Jade Cargill has offered some big praise for WWE Smackdown Women's Champion Charlotte Flair, who remains one of the best female wrestlers in the entire industry, and recently made her return to WWE after several months off.
Cargill is one of AEW's rising stars and has been positioned as a legitimate force, but offered her praise for Flair's work.
"I think Charlotte Flair is great" Cargill said, during an appearance on Bootleg Kev. "I think she's very sound wrestler. She can do all the flippy shit that you want to do. She can go out there and have a hardcore match. I think she's a total package that we have as far as an example for a woman wrestler today.
She leaves and comes back, and then she like, it's like she never left" Cargill added. "I think she's phenomenal at what she does. People can say whatever they want, I think she's a great wrestler."