Cody Rhodes Talks All-In, NWA Title, All-In 2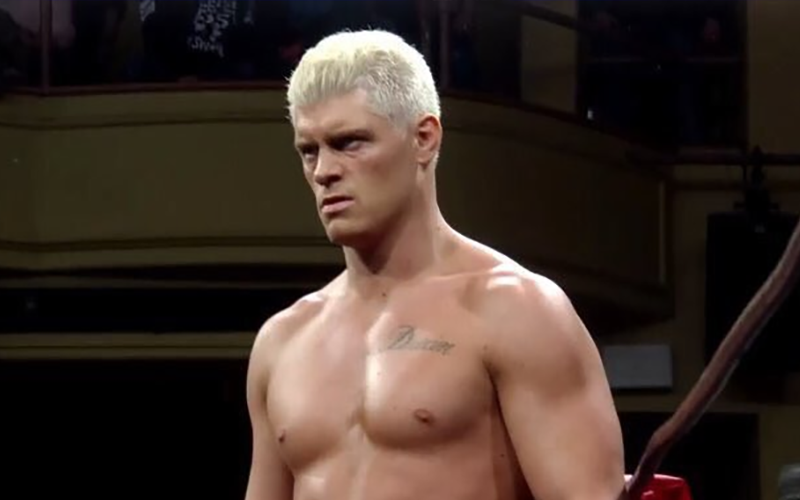 Cody Rhodes is still flying high off the success of his All-In event that saw him win the NWA Championship from Nick Aldis, and there is already buzz generating about an All-In 2. Cody recently appeared on The Ross Report, and discussed the event, his win, and what he would do differently for an All-In 2.
"I didn't get a chance to sleep and I went right to gorilla after my match and I directed and timed the last half of the show" Cody said about the event. "I'm not the best timer judging by the main event time. I'm learning, but, I didn't get that moment to, I didn't get many moments. It was just happening so fast."
As far as an All-In 2, Rhodes is already in the planning stages.
"Well, maybe we already started planning" Rhodes teased.
"I kept writing these lists, and my dad was a big list guy, and I have become a big list guy too" Rhodes said.
"I kept writing these lists of these are the things to do to make sure you're in peak condition, and also make sure you're in peak mental state, and make sure you paid this guy, and talked to this guy.
I also learned I wanted to do every single thing with this show. I wanted to do payroll; I wanted to know elements of production; I wanted to know how many chairs were in the union catering room."
You can check out the full episode below:
Bobby Lashley Discusses Hurt Business Reunion
Bobby Lashley hopes that there will be a day that the popular Hurt Business faction will reunite, and reignited their dominant impact during WWE Monday Night RAW that was front and center during the COVID-19 pandemic.
Lashley, MVP, Shelton Benjamin, and Cedric Alexander, all formed the faction, and at one point they held a lot of gold, when Lashley was WWE Champion and Alexander & Benjamin were Raw Tag Team Champions.
The faction has since split up, with Lashley and MVP branching off as a solo act, but MVP eventually split from Lashley and is now managing Omos.
Lashley is still holding out hope.
"You know what, I was thinking about what could happen to actually bring us together, and I thought about this the other day. I was like, if [MVP] made Omos too dangerous, where he couldn't contain him anymore, and Omos turned on him, he would need somebody to help him. There's only one person that can beat Omos. Then, I may need some help, and if I need some help, you have Cedric, you have Shelton, you have, we can take him down, and then we're babyfaces again. They'll love us. Anything can happen," Bobby Lashley said, during an interview with Ryan Satin on the Out of Character Podcast (H/T to Fightful)
WWE Fires John Laurinaitis
WWE has quietly let go of former WWE head of talent relations John Laurinaitis in the aftermath of public accusations levied at Laurinaitis and former WWE Vince McMahon, according to PWInsider's Mike Johnson.
"We are told that the termination happened within the last week or so and it was, for obvious reasons, being kept very quiet beyond a very small circle. We are working to confirm when the departure took place but every source, to a person, made it clear Laurinaitis was let go."
Allegations came to light earlier this summer when the Wall Street Journal published an article alleging WWE board members are "investigating a secret $3 million settlement that longtime chief executive Vince McMahon agreed to pay to a departing employee with whom he allegedly had an affair, according to documents and people familiar with the board inquiry."
It was alleged that McMahon "gave her like a toy" to Laurinaitis.
The WWE Board of Director's investigation is ongoing.
Live Morgan Injury Update
SmackDown Women's Champion Liv Morgan is set to defend her title at WWE Clash at the Castle that takes places in the United Kingdom during Labor Day Weekend, but could an injury limit her?
Morgan was wearing an arm brace on SmackDown leading fans to think she is legitimately hurt.
According to Fightful, Morgan is not hurt and the injury is a work to advance the storyline of Ronda Rousey "snapping" following the controversial ending to their SummerSlam championship match which saw Morgan clearly tapping out to Rousey prior to Rousey being counted down for the pinfall, giving Morgan the victory.
Morgan wining walking away still champion, given the circumstances, has irked fans.