Cody Rhodes Talks All-In, NWA Title, All-In 2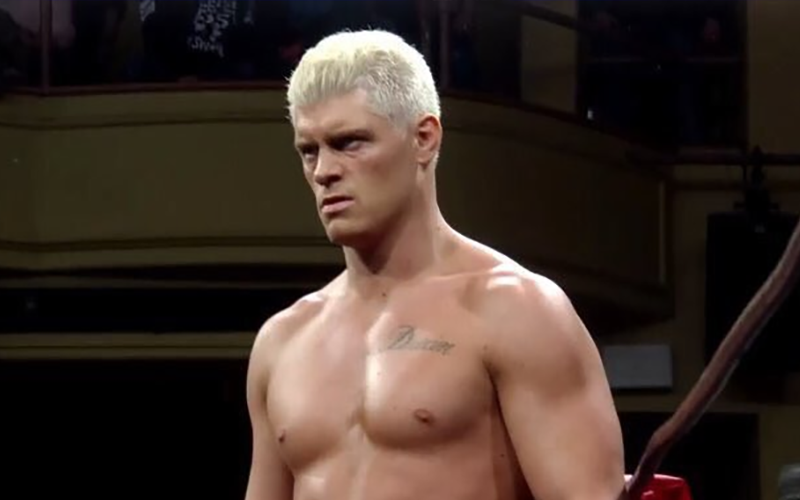 Cody Rhodes is still flying high off the success of his All-In event that saw him win the NWA Championship from Nick Aldis, and there is already buzz generating about an All-In 2. Cody recently appeared on The Ross Report, and discussed the event, his win, and what he would do differently for an All-In 2.
"I didn't get a chance to sleep and I went right to gorilla after my match and I directed and timed the last half of the show" Cody said about the event. "I'm not the best timer judging by the main event time. I'm learning, but, I didn't get that moment to, I didn't get many moments. It was just happening so fast."
As far as an All-In 2, Rhodes is already in the planning stages.
"Well, maybe we already started planning" Rhodes teased.
"I kept writing these lists, and my dad was a big list guy, and I have become a big list guy too" Rhodes said.
"I kept writing these lists of these are the things to do to make sure you're in peak condition, and also make sure you're in peak mental state, and make sure you paid this guy, and talked to this guy.
I also learned I wanted to do every single thing with this show. I wanted to do payroll; I wanted to know elements of production; I wanted to know how many chairs were in the union catering room."
You can check out the full episode below:
WWE Smackdown vs. Raw: Who won this week? February 4, 2019
The Good
For Raw, the whole back and forth rivalry between Jeff Jarrett and Elias was entertaining. What started at the Royal Rumble and has carried over for the past few weeks, seeing Elias and Jarrett exchange guitar shots had a throwback feel to it. Along with that, Road Dogg being in the corner of Jarrett really brought times back. Lastly, Elias ended up winning the match, which helps give him momentum going into whoever his next rival will be. 
For Smackdown, Mustafa Ali and Randy Orton put on the best match during their show this week. Ali's high flying against Randy Orton's slow attacking pace was a great matchup of styles and it showed. Orton ended up winning after hitting an RKO from the top rope and gives him the upper hand towards the Elimination Chamber match.
The Bad
For Raw, the lack of featuring the tag team champions on their show this week was evident. While they did have a number one contenders match featured this week, the winners ended up being the Revival. This is a match that we have already seen one too many times and if there isn't a different result this time around, then what is the point of the Revival facing off against the tag team champions.
For Smackdown, after R-Truth shocked the world last week by defeating Shinsuke Nakamura to win the United States championship, you would think that we would get a segment of him celebrating this victory the next week. Instead, he wasn't even really on the show this week. As good as R-Truth is, at least a 30 second segment would've been better than nothing from him. 
The Final Verdict
Both shows were average this week. They did help build the Elimination Chamber as well as still pushing Ronda Rousey versus Becky Lynch as the main event of Wrestlemania. But, there was lots missing from both brands this week. Both shows were missing champions this week and didn't even bother mentioning them. As talented as the champions currently are, each one should get respective time. With that said though, I will have to say that Raw had the better show this week. A debuting EC3, a solid double match with Ronda Rousey, and a decent main event gave Raw a better show this time around. In conclusion, WWE still has some work to do when building up these next two PPV's, hopefully, they can put on better efforts that they did this week.
The Hart Foundation To Be Inducted in WWE Hall of Fame
The original 'Hart Foundation' have been revealed as part of the 2019 WWE Hall of Fame Class, according to a report from PW Insider.
The original group, and the ones being honored, includes WWE Hall of Famer Bret 'The Hitman' Hart, Jim 'The Anvil' Neidhart, and WWE Hall of Famer 'The Mouth of the South' Jimmy Hart.
Sadly, Neidhart will be inducted posthumously as he passed away in 2018 at the page of 63.
WWE Smackdown vs. Raw: Who won this week? January 28, 2019
The Good
For Raw, the ending segment between Seth Rollins and Brock Lesnar was an awesome way to close out the show and start the build for this match at Wrestlemania. After Rollins won the Royal Rumble on Sunday, he had to make a decision on which champion he would face. Paul Heyman and Brock Lesnar told Rollins to choose Daniel Bryan over Lesnar because he didn't want to fight with Lesnar, which led to Rollins responding by igniting a brawl. Overall, great way to help ramp up the intensity for what could be the main event of Wrestlemania. 
For Smackdown, we have a new United States champion and this moment really came out of nowhere. R-Truth went one on one against Shinsuke Nakamura for the championship and he won via roll up. Soon after Truth won, Rusev then came out and challenged Truth to defend his newly won belt. Truth won again via roll up, which led to both Nakamura and Rusev attacking him after. Its a fresh start with the US championship and somebody with as much charisma as Truth is a good way to hit the reset button for this belt.
The Bad
For Raw, who knows what they are trying to do with Kurt Angle. After losing to Baron Corbin in about five minutes, this leaves lots of questions on where Angle stands with WWE. Ever since he has came back to the ring, he has lost over and over again. This shouldn't be happening with a hall of fame of his status. But, this could lead to an interesting story considering how good Angle is. 
For Smackdown, while it was a feel good moment to see the Miz and Shane McMahon win the tag team championship, their celebration on the show this week wasn't that compelling. At the PPV, when they won the match, they celebrated with the Miz's father. Then, during this celebration, it was the same thing as the Miz's dad came out and celebrated with them along with a video package being played. This could've been done better and differently considering we already saw this type of celebration during the PPV.
The Final Verdict
Overall, both shows were really good this week. Not only are they starting to layout some of the big matches for Wrestlemania, but they are also starting to implement matches for their upcoming PPV, Elimination Chamber. Smackdown felt a little crammed though as they were trying to fit in promos during superstars entrances and having promos during commercials. While Raw, on the other hand, was able to announce two huge matches for Wrestlemania as well as help build up some rivalries going into Elimination Chamber. Raw had the better show this week for a few reasons. A solid ending, a great beginning for the Ronda Rousey versus Becky Lynch match, and an entertaining segment with Elias help Raw deliver this week. In conclusion, 2019 continues to be good for WWE so hopefully they can continue this pace going into their next big PPV of the year.