Cody Rhodes Talks All-In, NWA Title, All-In 2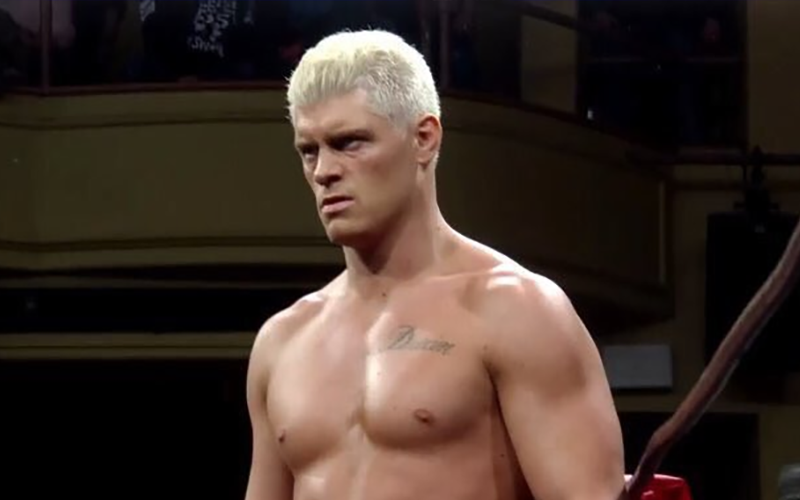 Cody Rhodes is still flying high off the success of his All-In event that saw him win the NWA Championship from Nick Aldis, and there is already buzz generating about an All-In 2. Cody recently appeared on The Ross Report, and discussed the event, his win, and what he would do differently for an All-In 2.
"I didn't get a chance to sleep and I went right to gorilla after my match and I directed and timed the last half of the show" Cody said about the event. "I'm not the best timer judging by the main event time. I'm learning, but, I didn't get that moment to, I didn't get many moments. It was just happening so fast."
As far as an All-In 2, Rhodes is already in the planning stages.
"Well, maybe we already started planning" Rhodes teased.
"I kept writing these lists, and my dad was a big list guy, and I have become a big list guy too" Rhodes said.
"I kept writing these lists of these are the things to do to make sure you're in peak condition, and also make sure you're in peak mental state, and make sure you paid this guy, and talked to this guy.
I also learned I wanted to do every single thing with this show. I wanted to do payroll; I wanted to know elements of production; I wanted to know how many chairs were in the union catering room."
You can check out the full episode below:
Adam Cole Discusses Troubling Injury Recovery
AEW superstar Adam Cole has opened up about what he calls a "scary" recovery from a second concussion that he suffered at AEW and NJPW's 'Forbidden Door' event back in June 2022, with Cole set to make his return to the ring soon.
Cole specifically talked about memory loss as the most troubling aspect of his recovery:
"The memory stuff is the really, really scary part to me" Cole said, during an appearance on Wrestling Observer Radio (h/t CagesideSeats). "When you're in the middle of a ring and there's thousands of people around you and I have no idea what I'm supposed to be doing. That was really scary. So, I knew pretty early on after my memory started going that something was wrong."
Cole's road to recovery as an especially long one.
"The crazy thing was that after even a month, it was like that's when real serious side effects started happening" he said. "Everything I said in my return in-ring promo that I did all of that was true, and more. There was a lot of stuff that was happening very late into the healing process, or, what I thought was late, like a month-and-a-half, two months."
Cole is gearing up for his return to AEW, with all signs pointing to him stepping back into the ring at Revolution next month.
Donovan Dijak Suffers Injury at NXT Vengeance Day
NXT Vengeance Day was a rousing success for WWE on Saturday which saw a number of headlines come out of the event that was well-received by fans, including an injury suffered by Donovan Dijak during his match with Wes Lee for the North American Championship.
Dijak suffered an apparent broken finger during the match, which was seen on camera and shared on social media.
Following the event NXT general manager Shawn Michaels provided an update on Dijak, stating he did not suffer a broken finger – "Yeah, everybody is good" Michaels said. "I announced it at gorilla, it's got to be a miracle, It's not broken.
"We got him x-ray, they said it's not broken and so yeah, I guess what you do is you kind of numb it and put it back in place and that's what's happening now. But it is, again, a modern miracle because we all saw it, it was pretty gnarly looking. But, apparently, he's going to be okay, which is obviously fantastic news for us and him."
Tony Khan Open to AEW/WWE Crossover
AEW owner and booker Tony Khan is certainly open to the idea of AEW and WWE working together for a potential crossover supershow, despite Khan's consistent blasting of WWE over the last few years.
"It's something I would certainly be open to and I think it's an interesting thing for the future" Khan said during an appearance on WTF with Marc Maron. "It's not something that's ever really been done. They've kind of existed in their own space. We are working with a lot of wrestling promotions."
Khan's AEW has already worked with a number of promotions such as Impact Wrestling and NJPW, and WWE has even warmed to the idea of working with other promotions, as they have with Impact Wrestling, NJPW, and NOAH recently.