Cody vs. Kenny Omega Announced For ROH Supercard of Honor
Ring of Honor announced one of the biggest matches for their upcoming Supercard of Honor XII event – "The American Nightmare" Cody versus "The Cleaner" Kenny Omega.
The company confirmed that former ROH World Champion and the first IWGP United States Champion will collide for the first time in their careers at Supercard of Honor XII. No other bouts have been announced for the card, which takes place on April 7 at the Lakefront Arena in New Orleans. ROH did confirmed that Kota Ibushi and Hiroshi Tanahashi are expected to wrestle at the event. The Women of Honor Championship tournament semifinals will also take place.
BREAKING: @CodyRhodes vs @KennyOmegamanX and the fate of #BulletClub will go down in NOLA at #ROHSupercard on Sat Apr 7! Get your tickets now! #Complicated https://t.co/l12l1lvYVa pic.twitter.com/irTEJHUZML

— ROH Wrestling (@ringofhonor) February 2, 2018
Omega has been the leader of the Bullet Club since he usurped the role from A.J. Styles, but Cody has been the face of the group in Ring of Honor.
There has been tension between the two for over a year and it culminated at New Japan Pro Wrestling's New Beginnings at Sapporo Night 2 when Cody attacked Omega after he lost the U.S. title to Jay White.
Omega was saved by his former Golden Lovers partner Ibushi. Although The Cleaner has commented on the possibility of reuniting with his Golden Lovers tag team partner, he hasn't officially left the Bullet Club.
The match between Omega and Cody was kind of foreshadowed in the latest episode of "Being the Elite."
During the video, Marty Scurll looks at a picture of the Elite, asking "what happened," before singing Avril Lavigne's "Complicated." During the montage, The Young Bucks and Hangman Page are crying before Scurll sheds tears of his own.
The end of the video cuts back and forth between Nick Jackson looking into the future, and Colt Cabana and Ian Riccaboni at Supercard of Honor. The broadcast mentions the civil war within Bullet Club and talks about talk about a matchup fans thought they would never see in the history of wrestling – Cody vs. Omega.
This is a big match for one of ROH's largest cards of the year. However, it seems a bit off that Cody and Omega would have their first match against each other in a Ring of Honor ring.
Bullet Club has its claws in numerous professional wrestling promotions around the world, the two biggest being NJPW and ROH. While Cody has proudly worn the Bullet Club membership on his sleeve in ROH, like the Young Bucks and Hangman Page – and let's not forget Adam Cole – the faction is a property of NJPW and all members, including those who have joined at Ring of Honor events, have to be approved by New Japan's booker Gedo.
The different moments and rifts between Cody and Omega have taken place at NJPW events. It would seem more natural that Cody and Omega would have their first clash at an upcoming NJPW event, or even at the All In show on Sept. 1.  
However, fans will watch this match, no matter where it takes place. Bullet Club narrative aside, this has the makings to be a really good match.
Omega is considered by many to be best professional wrestler in the world and his performances – as NJPW Kevin Kelly once commented – broke the richter scale equivalent of professional wrestling, i.e. the Wrestling Observer Newsletter's star rating system.
Cody has the ability to put on good matches as well and his character work in the ring is some of the best in the industry.  
The match between Cody and Omega at Supercard of Honor could be the first of several matches this year. If their bout goes well at Supercard of Honor XII, fans could see them tussle at future NJPW or ROH events, maybe even Wrestle Kingdom 13.
Cody Rhodes Provides Update on Knee Injury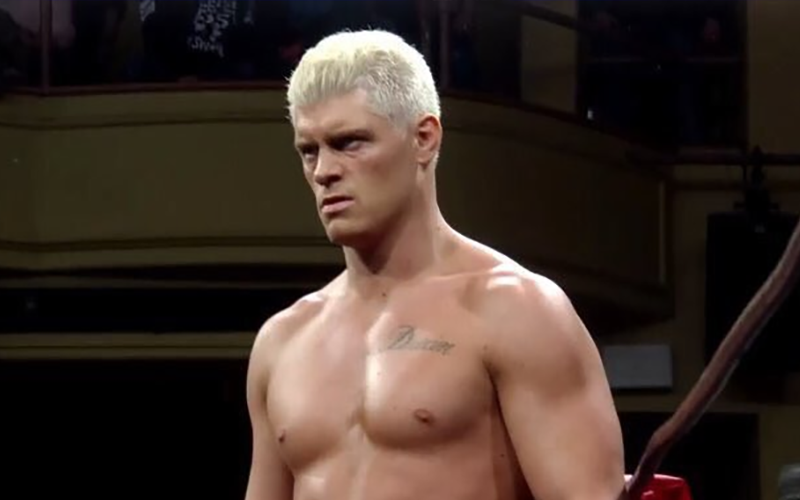 IWGP United States Champion Cody Rhodes announced that he recently suffered a knee injury during a Ring of Honor show that took place in Buffalo, New York, describing hearing a "pop" in his knee when working his way through the crowd.
Rhodes has announced that he has been forced to withdraw from his scheduled IWGP United States Title defense against Beretta and has since provided an update regarding the severity of his knee injury, via his Twitter account.
GOOD news is my doctor is fairly confident that my mcl/pcl/acl are structurally sound.

BAD news is the meniscus is fairly damaged, gonna' require a scope. No dates will be adjusted at the moment, and I'll definitely still compete in the final battle main event & at WK. pic.twitter.com/PtyK1wpoiz

— Cody Rhodes (@CodyRhodes) November 12, 2018
Madison Rayne Discusses Deciding on Ring of Honor Over WWE
Pro wrestling veteran Madison Rayne finally found her way to a WWE ring over this past summer when she competed as Ashley Rayne during WWE's Mae Young Classic II tournament, losing in the first round to Mercedes Martinez.
It was thought that WWE would land Rayne, the former Impact Knockouts Champion, shortly after her appearance, but she opted instead to sign with Ring of Honor.
"Conversations between WWE and myself were always positive," Rayne said, during an appearance on CBS Local Sports: Pittsburgh. "I always got great feedback on everything I did, from the tryout a year ago to just recently doing Mae Young. This past year has been the first and only time that I've ever worked in any capacity with WWE. So, that was really exciting this many years into my career, to finally have been able to do that."
"It's about trying to figure out what was going to be best for me and which company I would flourish the best in. I felt that Ring of Honor was my best option, and that is not saying that WWE offered me something and I said no, I just feel like I was always very honest and upfront about the fact that Columbus was my home and Columbus would remain my home. I understand that they have a system that they put their talent through, regardless of whether you've never taken one bump, or you've been wrestling for many years, and that system starts in Orlando. While wrestling is still very, very important to me, being a mother and being a wife, those two things are greatly more important."
Rayne ultimately told WWE that she wasn't willing to relocate.
"There was never that definitive conversation, but just given the fact that I knew and I never wanted there to be any gray area in my communication with WWE, and I made it clear that I could and would not be willing to relocate, I think that probably kind of settled the question there as far as whether or not a contract with WWE was going to be in my future."
Doug Williams Announces Retirement
Doug Williams, the legendary British wrestler who has had a brilliant 25-year career, lost a career ending match to Trent Seven for the Atlas Championship at Progress' Hello Wembley show on Sunday.
"It was more their decision than mine," Williams said, during an interview with SportBible last week.
"They approached me with doing a different kind of storyline, which was a disgruntled veteran that was bitter about the new guys taking over. But I switched it on them and said I'm thinking about retiring next year anyway, why don't we do a storyline that could culminate in that possibly happening?"
It's late, I'm tired, I'm sore. It's been a hell of a night. Tomorrow I will post my feelings and thoughts on what might happen now. But for tonight THANK YOU EVERYBODY!!

— Doug Williams (@DougWilliamsUK) September 30, 2018