DiMoro's Call: WrestleMania 34 Predictions
WrestleMania 34 is hours away and the rumors are still running rampant, picking up momentum as we approach the biggest WWE event of the year.
Here is the latest updated card, along with my predictions, for Sunday's big show:
Brock Lesnar (c) vs. Roman Reigns (Universal Championship)
Lesnar is on his way back to UFC to resume an MMA career, and while it is likely that WWE will be able to sign Lesnar to a deal that would allow him to compete under both banners.
As for this match, I predict, much like the entire WWE universe, that Reigns will walk away with the WWE title. But, I wouldn't be surprised if it came due to some interference.
With Lesnar departing, Paul Heyman would be left without a role. A turn on Lesnar would write an end to their relationship from a storyline purpose, but give Reigns a mouth piece to help bring his character to the next level of his development and put him under the wing of one of the best mic-men of this generation.
Winner: Roman Reigns
AJ Styles (c) vs. Shinsuke Nakamura (WWE Championship)
I am most excited to witness this match which may challenge everyone's thinking when it comes to the greatest WrestleMania match, or WWE match, of all-time.
It will be hard to sway my opinion on that, as my favorite is the perfect WrestleMania 25 match between The Undertaker and Shawn Michaels, and it would be hard to out-do the often under-appreciated Ricky Steamboat/Randy Savage match from WrestleMania 3.
But Style and Nakamura is a match that will simply crush all the others on the card and should remind everyone around the world what a match between two of the best professional wrestlers around the world can do.
There is no way Nakamura walks out without a WWE title on his shoulder, a fitting chapter in what should be a long rivalry between Styles and the 'King of Strong Style' that has a lot of meat on the bone
Winner: Shinsuke Nakamura
Kurt Angle & Ronda Rousey vs. Triple H & Stephanie McMahon
This is truly the best scenario to give Rousey her big WWE debut, while also masking her obvious green abilities in the ring, which have shined through over the past few weeks.
I don't expect much from Rousey in this encounter. She won't be in there with a ring technician, so I would expect a lot of holds, submission attempts, trash talk, and smack.
Angle will steal this match. It seems he has a chip on his shoulder to prove that he is worthy of more matches down the line, and perhaps a match against Daniel Bryan at WrestleMania 35.
The finish needs to be important, and with the continued rise of the women's division, an ending of Rousey making Triple H tap out to an arm bar would do a lot to further legitimize the women on the roster and, quite frankly, how Rousey's first match can make an immediate, memorable, impact on the future.
Winners: Kurt Angle and Ronda Rousey
Charlotte Flair (c) vs. Asuka (Smackdown Women's Championship)
Both Flair and Asuka have the chance to steal the show, should Styles/Nakamura fall short of the lofty expectations.
This match has all the makings of a classic and features 2 of the best on the roster. Additionally, there is a legit debate over whether Flair will end Asuka's streak or suffer an epic loss to the Empress of Tomorrow.
In the end, I see this 20 minute classic ending with Asuka locking Flair in the Asuka lock to capture her first championship. I do expect a Carmella cash-in, but it will be a quick match. I can see Carmella charging a run down Asuka, who quickly throws her into the Asuka lock for the submission.
From there, I see a year-long build to a Rousey/Asuka showdown at WrestleMania 35.
Winner: Asuka
Daniel Bryan & Shane McMahon vs. Kevin Owens & Sami Zayn
It seems like the deck is stacked against Owens & Zayn as the story of a returning Daniel Bryan, WWE's comeback story, is too good to end in anything less than true redemption: victory.
But that does little to nothing for Owens and Zayn who are a perfect heel duo that have carved out a great role on Smackdown.
With a roster shakeup on the horizon, Owens and Zayn seem destined for RAW, especially if defeat occurs here.
But, I suspect a heel turn by Shane McMahon, who recently just on the same page as Bryan, so, from a storyline perspective, it makes too much sense for McMahon to turn on Bryan, cost his team the match and open the door for Bryan to head to RAW.
Winners: Kevin Owens and Sami Zayn
The Miz (c) vs. Seth Rollins vs. Finn Bálor (Intercontinental Championship)
The Miz is making too much history as the Intercontinental Champion, so it's hard to predict him losing the strap, but WWE is going to want to put a fresh face with the title moving forward.
The issue I have is that with the work that the Miz has done as champion, the build for this match, and this 3-way feud, doesn't really seem fitting.
Don't get me wrong, the talent involved do fit, but for all that Miz has done with the belt, and with his character, I would have loved to see a long-build to an up-and-comer who would eventually derail Miz in a career-defining moment, much like when Bret Hart beat Mr. Perfect in their classic Summerslam match in the early 90s.
If a veteran were to rise up to take the strap from Miz, I would love to see it be Daniel Bryan, who has had to take a lot of Miz's barbs over the past few years when the two were together under the Smackdown banner.
Rollins doesn't need to win as much as Balor does.
Winner: Finn Balor
Randy Orton (c) vs. Bobby Roode vs. Jinder Mahal vs. Rusev (United States Championship)
I hate to be hard on Orton, but he's a forgettable US champ, and that's the issue with this title. It needs a star to help re-legitimize it, not an accomplished star like Orton who is clearly just holding the belt to put some star power behind it, although it seems like just another notch on his career resume.
And that isn't a slight on Orton, who always does solid work. But it just doesn't make sense to me, for him to have a long run.
Mahal would be a terrific heel champ, as he did a solid job as a heel persona with the championship, and with WWE's global expansion, Mahal as the US champ does a lot for the company, but also opens up another wrinkle to his character, that could be entertaining.
But, Roode's title reign was so short, it felt meaningless and WWE needs to fix that. Roode can really do more for the title, long-term, than any of the other competitors in the match can and his win, at his first WrestleMania, is a story WWE would love to tell.
It's hard to call this one, but as long as Orton drops the title, it will bring interest back to the title.
Winner: Bobby Roode
John Cena vs. The Undertaker
The match that is currently a "mystery" is going to happen.
I anticipate Cena coming out to cut yet another scathing promo on Taker, and perhaps this happens if Cena comes out to be a guest commentator, or decides to sit ringside with fans as a "fan".
But during this, the lights will go out, the bells will chime and, eventually, the Undertaker will rise.
Now, I am not sure which Taker will appear, but if the "Deadman" gimmick was "retired" last year, it only makes sense for the American Badass to come lay the hurt on Cena and ride off, on his motorcycle, victorious.
Winner: The Undertaker
The Bar (c) vs. Braun Strowman and unnamed partner (Raw Tag Team Championships)
So, who will be Braun Strowman's partner? Names such as Bray Wyatt, Bobby Lashley, Elias, Rey Mysterio, Samoa Joe, Big Cass (who will be re-branded as Colin Cassady), and even Neville have been mentioned.
Neville could be the big surprise as WWE brings him back as part of the RAW roster and NOT a part of 205, where he was stuck.
Samoa Joe could form one hell of a tag team with Strowman, and his name should be heavily considered due to the potential storylines, but that take Joe out of his rightful spot in the upper card.
However, with Bray Wyatt recently "deleted" and due to his history with Strowman, this seems like the perfect time to bring Wyatt back and help Strowman win his first gold in WWE while giving a re-packaged Wyatt, a much needed victory on the WrestleMania stage.
Winners: Braun Strowman and Bray Wyatt
Alexa Bliss (c) vs. Nia Jax (Raw Women's Championship)
If you told me 6 months ago that Jax would be in line for a title run, I would have groaned. She looked too raw, too green and a bit overwhelmed by big matches.
Fast forward to today and Jax has really improved, so much so, that this seems like the perfect time, the perfect storyline, and the perfect opponent, for Jax to come out on top and start a dominant reign atop the RAW women's division.
While this all goes down, Bliss will prove her often-overlooked value to the RAW roster, as she will mask Jax's flaws and make her look like a star, much like Bliss has with this storyline.
It's sad to see Bliss lose a title that she did a lot of good with, but she may be on the move to SmackDown during the superstar shakeup.
Winner: Nia Jax
Cedric Alexander vs. Mustafa Ali (Cruiserweight Championship)
As much as WWE needs to revamp (and rename) 205, their cruiserweight division, this match will help put the brand on the map in a big way.
Ali and Alexander will certainly get fans interested in 205, and their characters, but WWE needs to take that opportunity to repackage the brand, perhaps as it's own "company" (again, please drop the 205 title) and carry the momentum into the future.
Winner: Cedric Alexander
The Usos vs. The New Day vs. The Bludgeon Brothers (Smackdown Tag Team Championships)
If Reigns aligns with Heyman, wouldn't it make sense to form a stable by bringing the Usos to RAW?
Okay, so that may be me playing fantasy booker, but the Usos' time with the tag titles is coming to an end and the Bludgeon Brothers need a big win to really sell their new gimmicks.
Expect carnage, which needs to be ramped up big time to truly sell people on the violence that the Bludgeon Brothers are capable of.
Winners: The Bludgeon Brothers
Women's Battle Royal
Plenty of legends will get in the fray here, but this will be Becky Lynch's big win.
The final 3 should be Sasha Banks, Bayley and Lynch and Lynch will benefit from Banks and Bayley choosing to take the opportunity to fight one another in vicious fashion, giving Lynch the chance to eliminate them both at the same time to capture the win.
Winner: Becky Lynch
The Andre the Giant Battle Royal
WWE needs to make this match, and the winner of this match, matter.
The past few winners, haven't really done anything significant coming off the win, making the shine of a battle royal victory, rather dull.
Give the win to someone who can use it to go on a tear because of the big win. If that's not the route, then this match will need something at stake (like a title shot at Summerslam) to get anyone to care about it moving forward.
I heard the rumors of a Big Show win, but re-treads aren't going to do any good. Not for the tournament. Not for the trophy. Not for Big Show.
A returning Colin Cassady makes sense, so does Samoa Joe, who can do the most with the win.
However, Matt Hardy would do some crazy things with the trophy to make this match entertaining. In fact, I chuckle thinking about the next year of him working the win into his character, perhaps using it to channel the spirit of Andre.
I know it's wishful thinking (I actually see Samoa Joe winning), but this would be epic for WWE if Hardy walks out victorious.
Winner: Matt Hardy
Mia Yim Returns to WWE: "I'm Ready to get My Retribution"
Mia Yim made her return to WWE during Monday Night RAW following her release from the company back on November 4th, 2021, during a segment between The O.C. and The Judgment Day, by attacking Rhea Ripley.
AJ Styles, Luke Gallows, and Karl Anderson had been looking for some help as they battle with the faction, and Ripley has been a factor in their battles. Now, Yim joins them to help neutralize Ripley.
Yim commented on her return during a backstage interview, and made reference to the former Retribution stable that spelled the end for many promising runs.
"Oh my gosh, it feels so good to be back. It took me a year to try and find myself but now I'm ready. I'm ready to go. I'm ready to kick some ass and get my retribution. But the boys are waiting on me so I'll see ya later."
EXCLUSIVE: @MiaYim is ready to get some retribution in WWE once again!#WWERaw pic.twitter.com/qTJnvjA0Xg

— WWE (@WWE) November 8, 2022
WWE Announces Women's Tag Team Title Tournament
Following the walkout of Sasha Banks and Naomi, who were at the time the WWE Women's Tag Team Champions, details have been mum on what would go on with the vacated titles, but now there finally are some details to share.
With rumors that both Banks and Naomi will be returning to the company with Vince McMahon now in charge, the Women's Tag Team titles are now back in the spotlight after going off the radar at the time of Banks' and Naomi's departures.
WWE has officially announced a new tournament to crown new Women's Tag Team Champions that will finally begin on Raw this upcoming Monday.
While it seems to lineup the returns of Banks and Naomi, no official word has surfaced as of yet.
WWE Smackdown vs. Raw: Who won this week? May 7, 2019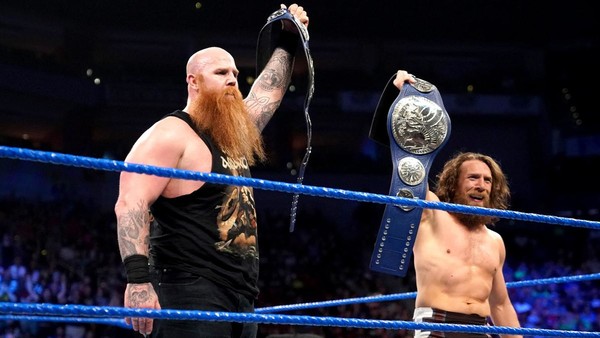 The Good
For Raw, the main event between Kofi Kingston and Daniel Bryan in a Wrestlemania rematch was a good way to end their show. With this new "Wildcard Rule" being introduced at the beginning of Raw, this led to two Smackdown superstars main eventing a Raw show. While we will look into the "Wildcard Rule" later, the match between these two was back and forth and ended with Kingston retaining his championship. Kofi has all the momentum going into the Money in the Bank PPV, which is great considering he is the WWE Champion.
For Smackdown, after the Hardy Boyz had to forfeit their tag team championships due to injury, the match to determine the new champions was great. After Shane McMahon originally was going to give the titles to Daniel Bryan and Rowan, the Usos interrupted and stated that they should at least get the opportunity to earn them. Daniel Bryan and Rowan ended up winning, which is a positive sight moving forward because it will bring more attention to the division with these two as champions.
The Bad
For Raw, even though things were good for the Usos on Smackdown, they were really bad on Raw. They came out during the Revival's match and told them that they put Icey Hot on their ring attire. This led to bad acting and just an attempt at humor, which didn't go well.
For Smackdown, while the Aleister Black promos have been good so far, they are starting to over welcome their stay. This has been going on for about a month, so hopefully we see him in the ring before he loses all momentum.
The Final Verdict
Both brands had interesting shows this week because this new "Wildcard Rule" was introduced.  This "Wildcard Rule" means that four superstars from Raw will be on Smackdown and four Smackdown superstars will be on Raw every week. This idea does seem like a bad one though because it will take time away from superstars in their respective brand. Along with that, this is right after the Superstar Shakeup, which now feels completely pointless. As to who had the better show this week though, Smackdown had better matches and was still able to help put good build towards Money in the Bank. In conclusion, Money in the Bank is still about two weeks away, but proper time has been put into it and all the matches gain momentum in build week by week.