Dixie Carter Comments On Angle Signing
TNA's website has posted a message from President Dixie Carter regarding Kurt Angle signing with the company along with a quote from Angle.
"First, let me say to our talent and our staff, congratulations on our move to primetime. Each of you have worked so hard for this and deserve all the great things that will come with the move. To our fans, none of us would be here without you. Your belief in our product has made all of this possible, and from all of us, thank you. This is just the beginning.
I hope the hype of our announcements last night lived up to or exceeded your expectations. In this industry, it is very hard to keep anything quiet. We are thrilled to have Kurt Angle join our team. Just like with all of our wrestlers, Kurt's family and health will always come first. I'm sure you will be hearing from him in the coming weeks.
I asked Kurt's agent to provide me with a quote for our announcement release. Most times a publicist, manager or agent will prepare a statement for the talent. But after a long film shoot in Nashville last week that ended at midnight, Kurt sat down and hand wrote his heartfelt comments on a hotel note pad. Instead of just pulling a small part from that to use in the press release, I thought his fans would love to share in his full emotions from that night:
"Being with TNA feels like I have finally found my home. I had fun in WWE at certain times, but I was never really happy. Now being a part of TNA, I know I have a purpose. I feel like I am part of history, part of a company that is not only on the rise – not only going to be the number-one watched wrestling show in the world within a short period of time – but TNA gives me an opportunity to spread my wings. This company has no limits to where it can go. The sky is the limit and the main reason is because they brought the "real" back into wrestling and that is a perfect fit for the greatest wrestler in USA Olympic history. I have room to grow here and to help TNA grow. Working for these caring and very giving employers of TNA makes me feel like I have a purpose and that the sky is the limit. I don't feel trapped or held back like I did the first six years in my tenure with the other company. They held me back. Now, our wonderful audience will see the real Kurt Angle doing what I love to do – real wrestling – and that's what puts a smile on my face each time I come to work. I even smile when I think about it. TNA will be the most watched television show on cable television. It's only a matter of time. Now, I get the opportunity and privilege of being a part of it. Thank you TNA for saving my career, my life and my desire to do what I love. I will be here in some capacity for the rest of my life. That's real…that's damn real." – Kurt Angle
Killer Kross Discusses Request for Release from Impact Wrestling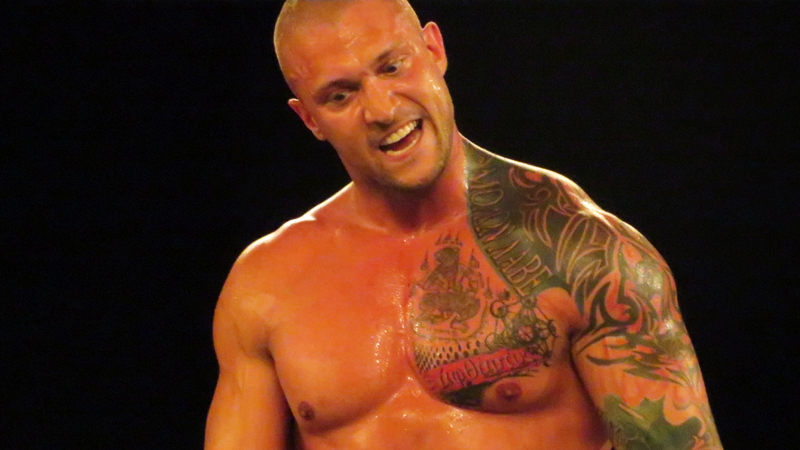 Killer Kross made headlines recently when he requested his release from Impact Wrestling, and now Kross has discussed the decision to ask for his departure from the company in a brand new interview with the 'Wrestling Perspective' podcast.
"I personally really don't really need much," Kross said (h/t Pro Wrestling Sheet). "But it's just different when you have people to take care of, circumstances change in life. You can't anticipate it. […] Being told to go get another job by your job, that's f****d up. You're struggling to make ends meet taking care of people, and the job that you can barely afford to have tells you to go get another job so you can keep that job. It's like working at a corporation being told to go work at McDonald's. It's a weird feeling."
"[…] I found out how much people are being paid, and I wanted to be paid on the same scale as that," Kross continued.
"I wasn't asking for anything that was honestly unreasonable. In all sincerity. And I'm not gonna bullsh*t you guys. I really wasn't. That's ok if the company does not agree that I am worth that. I will not take offense to that. That's ok. It's not my company. I'm just an employee. And I'm not saying that because I think I'm supposed to say that. But if they really feel that way after one year, if they feel that I'm not worth what I'm asking…professionally, kindfully, please…let me go somewhere else, and I will prove it to everyone that I can draw what I'm asking for."
Sting Talks Vince McMahon's Reaction to Signing with TNA
WWE Hall of Famer Sting did finally make his way to WWE, and a match at WrestleMania, but it took a 14-year run in TNA, following his legendary run with WCW, before Sting would finally join the WWE family.
Sting signed with TNA in 2003 and during a recent interview on the Apter Chat Podcast, he revealed McMahon's reaction to his decision.
"I'll never forget that conversation I had with Vince" Sting saud. H"e's on the phone with me and he says, 'You know Sting, I find this hard to believe, the legacy that you leave behind and the thought of you going to TNA, it's just 'bleh'!"
"So. you fast forward to. you know. coming back to do WrestleMania I had set out a text to Vince and Triple H that just said, 'have you guys turned the page on Sting yet?' And I honestly did know? Did they turn the page? Are they done? Or would they consider a run up there?"
Abyss To Be Inducted Into Impact Wrestling Hall Of Fame
Impact Wrestling has announced that Abyss will be inducted to the Impact Wrestling Hall of Fame, joining Sting, Kurt Angle, Jeff Jarrett, Team 3D, Earl Hebner and Gail Kim who have been inducted.
I'm absolutely over whelmed with the response to my upcoming @IMPACTWRESTLING Hall of Fame induction. Thank you ALL for your messages. This is one of the highlights of my career. I'm over come with emotion. Thank you to everyone who ever supported me. This is for all of YOU!!

— Abyss (@TherealAbyss) September 21, 2018