Ethan Carter III Bids Goodbye to Impact Wrestling
There was a lot of buzz generated from the Jan. 13 edition of Impact Wrestling tapings, but one of the bigger developments was the departure of longtime TNA/GFW/Impact Wrestling star Ethan Carter III.
During the tapings, Carter – or as fans know him as EC3 – he wrestled in the Feast or Fired match and captured one of the briefcases.
Below, Jacob Cohen and TheRogueFan, who both attended the tapings, broke down the events leading to Carter's firing.
Carter and Moose, who also captured a briefcase during the match, opened their cases at the same time. While Moose received a shot at the Impact Global Championship, Carter, knowing his fate was sealed, wouldn't open his. Jeremy Borrash opened it instead, revealing Carter had indeed received the pink slip. 
Scoop #43: Moose and EC3 open their cases simultaneously

Moose receives a World Title Shot

EC3 is Fired pic.twitter.com/WgPt3aoqJi

— Jacob Cohen (@MrJacobCohen) January 14, 2018
Update 39: EC3 says it isn't his case. It's Ishimori's case. (😂😂😂)

EC3 says no one can make him open his case. JB opens it. EC3 is fired.

— TheRogueFan (@TheRogueFan) January 14, 2018
After the reveal, Carter said there's no way he should lose his job because of a stipulation in a silly, outdated match. He said he has been the backbone of the company who needs him – and he is Dixie Carter's nephew. It was a good promo from Carter that came full circle. 
Carter then said he is a professional and this recent development will light a spark leading to greatness – that is before he attacked Jeremy Borash. Brian Cage, who made his debut for Impact a day earlier, beat up EC3.
After the beatdown from Cage, Carter said goodbye to the Impact Zone and took a bow – officially signaling his farewell.
EC3 isn't the only the wrestler who left from Impact this week – Chris Adonis announced his departure from the company in a Jan. 13 tweet. However, Ethan Carter III has been a staple in the company for the last four years.
When Matthew Hutter signed with TNA in 2013 he was fresh off a run in WWE where he was known as Derrick Bateman in the company's developmental territories.
Fast forward almost five years later and Hutter, now known as Ethan Carter III, has became one of Impact Wrestling's top names.
Carter debuted in 2013 as Dixie Carter's spoiled nephew. In 2015, he defeated Kurt Angle to win his first of two TNA World Championships.
Carter made a name for himself during his run in Impact, winning its world championship on two occasions and most recently, the Impact Grand Championship.
The Feast or Fired concept has been a way for the company to write off talent, but it appears Carter is actually done with the promotion. According to a December report from Wrestling Inc via Wrestling Observer Newsletter, Carter was speculated to leave the company once his concept expired.
Carter wasn't just a WWE guy who went to TNA to earn a paycheck. He took advantage of the opportunities given to him and he grew his own brand – and it appears he will be able to use the name outside of Impact. In December, PWInsider reported Carter applied to trademark "EC3."
There is speculation Carter will go back to WWE or work in NXT. Although NXT is the WWE's developmental brand, it has also been a good proving ground for several Impact alumni – Eric Young, Samoa Joe and Bobby Roode to name a few.
He may skip NXT and debut on the main roster. Some believe he will make his debut at the Royal Rumble, on Jan. 28.
There is also the potential Carter could sign with Ring of Honor or New Japan Pro Wrestling.
Carter will leave Impact with an impressive resume, wherever he goes, he'll have multiple opportunities to add to it.
Killer Kross Discusses Request for Release from Impact Wrestling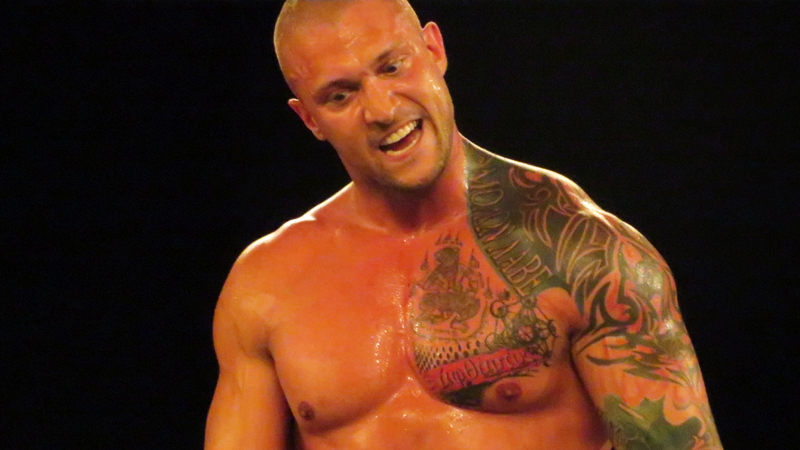 Killer Kross made headlines recently when he requested his release from Impact Wrestling, and now Kross has discussed the decision to ask for his departure from the company in a brand new interview with the 'Wrestling Perspective' podcast.
"I personally really don't really need much," Kross said (h/t Pro Wrestling Sheet). "But it's just different when you have people to take care of, circumstances change in life. You can't anticipate it. […] Being told to go get another job by your job, that's f****d up. You're struggling to make ends meet taking care of people, and the job that you can barely afford to have tells you to go get another job so you can keep that job. It's like working at a corporation being told to go work at McDonald's. It's a weird feeling."
"[…] I found out how much people are being paid, and I wanted to be paid on the same scale as that," Kross continued.
"I wasn't asking for anything that was honestly unreasonable. In all sincerity. And I'm not gonna bullsh*t you guys. I really wasn't. That's ok if the company does not agree that I am worth that. I will not take offense to that. That's ok. It's not my company. I'm just an employee. And I'm not saying that because I think I'm supposed to say that. But if they really feel that way after one year, if they feel that I'm not worth what I'm asking…professionally, kindfully, please…let me go somewhere else, and I will prove it to everyone that I can draw what I'm asking for."
Sting Talks Vince McMahon's Reaction to Signing with TNA
WWE Hall of Famer Sting did finally make his way to WWE, and a match at WrestleMania, but it took a 14-year run in TNA, following his legendary run with WCW, before Sting would finally join the WWE family.
Sting signed with TNA in 2003 and during a recent interview on the Apter Chat Podcast, he revealed McMahon's reaction to his decision.
"I'll never forget that conversation I had with Vince" Sting saud. H"e's on the phone with me and he says, 'You know Sting, I find this hard to believe, the legacy that you leave behind and the thought of you going to TNA, it's just 'bleh'!"
"So. you fast forward to. you know. coming back to do WrestleMania I had set out a text to Vince and Triple H that just said, 'have you guys turned the page on Sting yet?' And I honestly did know? Did they turn the page? Are they done? Or would they consider a run up there?"
Abyss To Be Inducted Into Impact Wrestling Hall Of Fame
Impact Wrestling has announced that Abyss will be inducted to the Impact Wrestling Hall of Fame, joining Sting, Kurt Angle, Jeff Jarrett, Team 3D, Earl Hebner and Gail Kim who have been inducted.
I'm absolutely over whelmed with the response to my upcoming @IMPACTWRESTLING Hall of Fame induction. Thank you ALL for your messages. This is one of the highlights of my career. I'm over come with emotion. Thank you to everyone who ever supported me. This is for all of YOU!!

— Abyss (@TherealAbyss) September 21, 2018