Io Shirai Would Make Great Addition To WWE Roster
Io Shirai has made a name for herself in Japan's World Wonder Ring Stardom but after seven years, the former champion is setting her sights on new horizons.
In a May 29 blog post, Shirai announced that June 17 will be her final appearance for Stardom. Below is the translation from Shirai's post.
For me who has grown with Stardom, Stardom is my life itself.

In order to leave the origin of such a favorite Stadium, I will do more efforts now so that I can regret the pro wrestling life in the future without regret.

Not only accepted the choice of withdrawal but also thanks to Rossi Ogawa, president and stardom fellows, who are willing to send them out pleasantly, I am grateful. Until the day that we have the last, we promise to ride up to the ring with the whole body as usual! I'm glad if you watch over the future purple thunder Io and star dumb. 2018.5.29 Purple Ring Io
Following the announcement came the speculation that Shirai would be signing with WWE, including Tokyo Sports.
WWE has shown interest in Shirai for the last few years – and why not? Shirai has won a plethora of championships in Stardom and other Japanese promotions and is regarded as one of the best wrestlers in the world.
After a tryout at the Performance Center, she had accepted a contract in 2017, only for WWE to rescind it because doctors had found an issue with her heart. While Japanese doctors cleared her, WWE doctors said "No."
The ordeal from 2017 hasn't stopped Shirai from wanting to go to WWE – though fans should remember that the deal isn't official under she and/or WWE announce it.
That being said, Shirai would make a great addition to the WWE's roster, whether she is competing on Raw or Smackdown, or even NXT.
She is a solid technical wrestler and has a lot of charisma. She also comes to WWE with an impressive body of work and a persona that would make her stand out. The language barrier might be an issue when it comes to promos, but wrestlers like Asuka, Shinsuke Nakamura and Kairi Sane have managed to project their persona to the crowd through their wrestling and limited time on the mic.
If Shirai comes to WWE, she will have the opportunity to take her game to the next level and become a superstar.
Shirai is not the only wrestler who is expected to sign a contract with WWE in some capacity.
According to reports, Toni Storm has signed a "UK deal," with WWE. Rather than report to the WWE Performance Center, Storm will have a deal similar to wrestlers like WWE United Kingdom Champion Pete Dunne, Tyler Bate and Trent Seven.
Storm is expected to compete at the two-day United Kingdom event, June 18-19. According to a match listing for Live Nation, which is selling tickets for the event, Storm will face Killer Kelly, Isla Dawn and Progress Women's Champion Jinny on June 18. The winner of that match will face Shayna Baszler for the NXT Women's Championship on June 19.
NXT's Adam Cole Discusses Creative Freedom
NXT Champion Adam Cole is at the height of his success with the promotion, recently defeating Johnny Gargano in another instant classic to capture his first NXT Championship, and he is talking about how things go down in NXT.
Unlike much of the main roster, where promos are often scripted and comedy-acts are more common, Cole says that superstars in NXT get a bit more creative freedom, as he had with Gargano for their match.
"One of the coolest things about NXT is we have a ton of creative liberties to come up with the story and the vision we have for the match" Cole said, during an interview with TalkSport. "Of course, there's input and advice given and there's suggestions or, you know 'we need something this way' (but) we do have a lot of freedom, which is great."
Cole added that he and Gargano came up with the format for their two out of three falls classic at NXT Takeover: New York.
Rey Mysterio Praises Andrade
WWE superstar Rey Mysterio believes that the company has a big star on their hands in Andrade .
"This kid is awesome" Mysterio said, during an appearance on the WINCLY podcast. "I mentioned it before, in previous interviews, but, every time I'm in the ring with him, there's an affiliation to how I would move with Eddie [Guerrero]," Mysterio said.
"This is how good he is! He's thinking a step ahead before you even move. He already knows the positioning, and knows exactly what to do and how to do it. My hat goes off to Andrade, as he's definitely the future of WWE."
Mysterio sees all the tools necessary to succeed in WWE.
"Just like anybody else, once you can dominate the mic skills and English, then he is bound to become a star," Mysterio continued. "I've seen him work on his English, and it's a slow process, but he's moving forward. Once he dominates his English language, he's on his way to stardom."
Fandango, Apollo Crews, Killain Dain Make Returns to NXT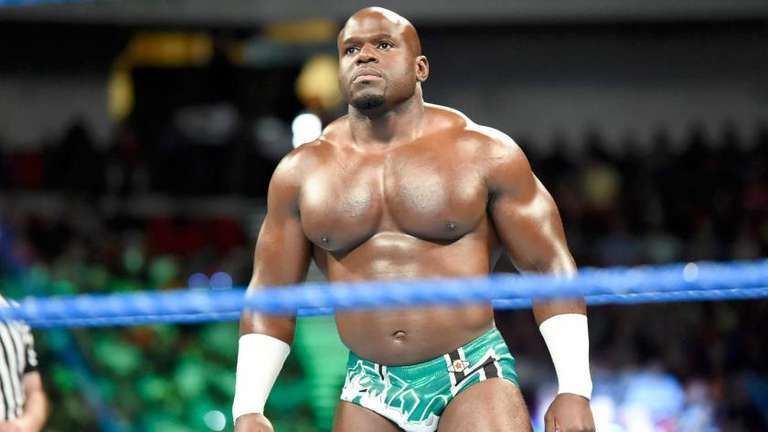 WWE is starting to allow superstars on their main rosters to transition back to NXT, much like they did with Tyler Breeze, who recently returned to NXT, where he had his most success, following around 2 years of meandering on the main roster following his callup.
Fandango, Apollo Crews, and Killian Dain made their returns to NXT tv at Winter Park, FL at Full Sail University for Thursday's NXT TV tapings.
Fandango, also making his return from injury, made the save for his Breezango partner, Tyler Breeze, who was on the receiving end of an attack at the hands of the Forgotten Sons. Crews made his return to take on Kushida in singles competition, and Dain made a brutal attack on Matt Riddle following Riddle's win over Arture Rass.
Fandango had been out of action after suffering a shoulder injury back in July 2018.