Io Shirai Would Make Great Addition To WWE Roster
Io Shirai has made a name for herself in Japan's World Wonder Ring Stardom but after seven years, the former champion is setting her sights on new horizons.
In a May 29 blog post, Shirai announced that June 17 will be her final appearance for Stardom. Below is the translation from Shirai's post.
For me who has grown with Stardom, Stardom is my life itself.

In order to leave the origin of such a favorite Stadium, I will do more efforts now so that I can regret the pro wrestling life in the future without regret.

Not only accepted the choice of withdrawal but also thanks to Rossi Ogawa, president and stardom fellows, who are willing to send them out pleasantly, I am grateful. Until the day that we have the last, we promise to ride up to the ring with the whole body as usual! I'm glad if you watch over the future purple thunder Io and star dumb. 2018.5.29 Purple Ring Io
Following the announcement came the speculation that Shirai would be signing with WWE, including Tokyo Sports.
WWE has shown interest in Shirai for the last few years – and why not? Shirai has won a plethora of championships in Stardom and other Japanese promotions and is regarded as one of the best wrestlers in the world.
After a tryout at the Performance Center, she had accepted a contract in 2017, only for WWE to rescind it because doctors had found an issue with her heart. While Japanese doctors cleared her, WWE doctors said "No."
The ordeal from 2017 hasn't stopped Shirai from wanting to go to WWE – though fans should remember that the deal isn't official under she and/or WWE announce it.
That being said, Shirai would make a great addition to the WWE's roster, whether she is competing on Raw or Smackdown, or even NXT.
She is a solid technical wrestler and has a lot of charisma. She also comes to WWE with an impressive body of work and a persona that would make her stand out. The language barrier might be an issue when it comes to promos, but wrestlers like Asuka, Shinsuke Nakamura and Kairi Sane have managed to project their persona to the crowd through their wrestling and limited time on the mic.
If Shirai comes to WWE, she will have the opportunity to take her game to the next level and become a superstar.
Shirai is not the only wrestler who is expected to sign a contract with WWE in some capacity.
According to reports, Toni Storm has signed a "UK deal," with WWE. Rather than report to the WWE Performance Center, Storm will have a deal similar to wrestlers like WWE United Kingdom Champion Pete Dunne, Tyler Bate and Trent Seven.
Storm is expected to compete at the two-day United Kingdom event, June 18-19. According to a match listing for Live Nation, which is selling tickets for the event, Storm will face Killer Kelly, Isla Dawn and Progress Women's Champion Jinny on June 18. The winner of that match will face Shayna Baszler for the NXT Women's Championship on June 19.
WWE Smackdown vs. Raw: March 11, 2019
The Good
For Raw, their main event was a falls count anywhere match between Dean Ambrose and Drew McIntyre and this was awesome to watch. This match was created after McIntyre sneak attacked Roman Reigns before his match with Baron Corbin, which angered Ambrose and made him demand that match. These two fought all over the arena and McIntyre ended up winning after hitting a claymore kick on Ambrose, who's arm and head were pinned against a rail. It is looking like McIntyre face off against Roman Reigns at Wrestlemania, which should be a solid match.
For Smackdown, the ending segment with Kofi Kingston and Vince McMahon is really making the story for the WWE Championship match at Wrestlemania intriguing. After Kingston confronted McMahon about not getting a championship opportunity after 11 years with WWE, McMahon said he will give him his opportunity, if he can survive a gauntlet match on Smackdown next week. This gauntlet includes Rowan, the Bar, Randy Orton, and Samoa Joe.
The Bad
For Raw, they had a segment between Nia Jax and Natalya, which felt rushed from the beginning. After Natalya announced that Beth Phoenix would accompany her for her match against Jax, the match didn't last longer than a minute before Phoenix interfered and got Natalya DQ'd from the match. This may led to a tag match at Wrestlemania, but having segments that don't last longer than five minutes is not a proper way to build up a match.
For Smackdown, there was a five minute match between Asuka and Sonya Deville and it was not very good. The ending was similar to the PPV match between Asuka and Mandy Rose, but it was very poorly executed this time around. Asuka has been more involved in a storyline between Mandy Rose and Sonya Deville than her actually being champion, which is not how she should be handled.
The Final Verdict
Overall, both shows were solid again this week. Both brands focused heavily on Wrestlemania as well as the fallout from Fastlane. There are lots of exciting stories going into Wrestlemania so hopefully both brands continue to ramp up the intensity of each one. With that said, I will have to say that Raw had the better show this week. A great promo between Batista and Triple H, an entertaining main event, and an emotional goodbye to Kurt Angle is what gave Raw the better show this week. In conclusion, WWE has been doing really good building up the road to Wrestlemania, so hopefully they keep this momentum going after this PPV too.
Kurt Angle vs. John Cena Planned for WrestleMania 35
This week on RAW, WWE Hall of Famer Kurt Angle announced that he will have his farewell match at WrestleMania 35, putting an end to his legendary career.
While an opponent has not been officially announced, sources say that the plan is to put Angle against John Cena, bringing their storyline full-circle.
Cena fueled rumors with a post on Instagram this week, but the match is pretty much set.
Harlem Heat Announced for WWE Hall of Fame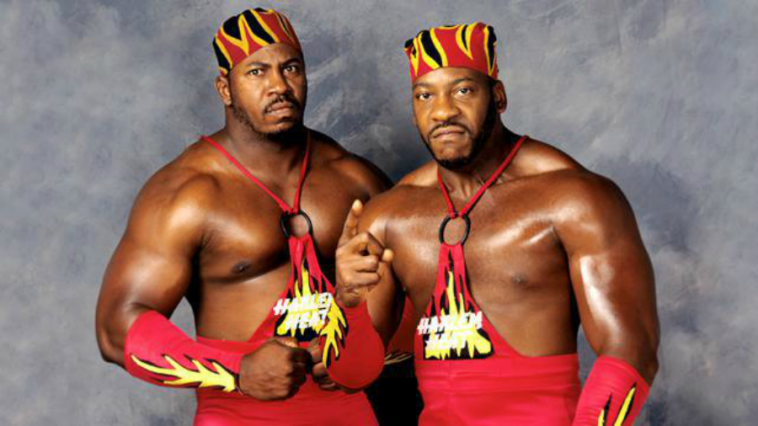 Legendary WCW tag team Harlem Heat has been officially announced for the WWE Hall of Fame Class of 2019.
Harlem Heat will join Torrie Wilson, Billy Gunn, Sean Waltman, Chyna, Triple H, Shawn Michaels, Road Dogg, & the Honkey Tonk Man as this year's inductees and WWE made the announcement during Monday Night Raw with the following video: