Jazzy Gabert Begins Road to Recovery After Successful Surgery
Mae Young Classic alumna and German professional wrestler Jazzy Gabert recently underwent surgery for neck issues.
After the surgery was finished, Gabert posted a tweet letting fans know the surgery was a success, signaling the beginning of her road to recovery.
Never give up… road to recovery starts now! #bealpha pic.twitter.com/DJkEKXuVz5

— Alpha Female (@Jazzy_Gabert) January 15, 2018
On an Dec. 29, 2017 episode of Edge and Christian's "E&C Pod of Awesomeness," Gabert confirmed WWE offered her a contract after she competed in the Mae Young Classic tournament. However the promotion rescinded the offer after it was discovered Gabert had three herniated discs in her neck.
During the interview, Gabert confirmed she needed the surgery and will immediately begin recovery once she has it. The downside for her is she will be unable to make any money during the recovery and she is unsure if she will be back in the ring – which she said really scares her.
Fans have already reached out to Gabert offering her well wishes. Chris Leffler created a GoFundMe page "Alpha Female Surgery Support" where fans can donate money to help Gabert during her recovery.
Fans who have a couple of hours to spare should really listen to the podcast. During the interview, Gabert talks about her rough childhood and the circumstances that led her to become a life long wrestling fan. Japanese wrestling fans will be excited to learn she is the stepdaughter of IWGP Heavyweight champion and NWA World Heavyweight Champion Masahiro Chono.
To paraphrase something Edge said more than once during the interview, Gabert's story is something that could easily be made into a movie.
Gabert began training to be a wrestler in 2001 in what would be the start of a journey that included several trials and tribulations along the way.
She became known as Alpha Female and has wrestled in numerous promotions around the world as well as held numerous titles in her career, including the Pro Wrestling Eve championship in 2012 and which she held for 212 days.
She also found success in Japan's World Wonder Ring Stardom where she captured Artist of Stardom Championship with The Female Predator "Amazon" and Kyoko Kimura, the Goddess of Stardom Championship with Kimura and the World of Stardom Championship.
Gabert also has a 1-1 professional mixed martial arts record that includes an appearance for the Rizin Fighting Federation.
Gabert would eventually reach her goal of coming to WWE as one of the first women announced to compete in the Mae Young Classic. She was eliminated from the tournament in the first round by Abbey Laith. She then wrestling in in a six-woman tag team match, teaming with Tessa Blanchard and Kay Lee Ray to defeat Santana Garrett, Marti Belle and Sarah Logan.
Even though Gabert only wrestled two matches in a WWE ring, fans were impressed with her performances to the point where they chanted "Please sign Jazzy."
Gabert has a look that is different than the women currently in WWE. She looks like a character from Dragon Ball who could destroy you – and that is a compliment. She also has a lengthy resume that befits a seasoned veteran like her and a backstory that will inspire fans who are – as Dusty Rhodes puts it – going through some hard times as well as folks who are attempting follow their dreams.
The road to recovery won't be easy for Gabert, but after listening to her story and learning the obstacles she has overcome, the Alpha Female has the strength and will to return stronger than ever and hopefully that leads to a WWE ring.
If Gabert makes returns to a WWE ring, it could go down as one of the great comeback stories in the history of the business.
To donate to the GoFundMe page set up for Gabert, follow the link: Alpha Female Surgery Support.
NXT's Adam Cole Discusses Creative Freedom
NXT Champion Adam Cole is at the height of his success with the promotion, recently defeating Johnny Gargano in another instant classic to capture his first NXT Championship, and he is talking about how things go down in NXT.
Unlike much of the main roster, where promos are often scripted and comedy-acts are more common, Cole says that superstars in NXT get a bit more creative freedom, as he had with Gargano for their match.
"One of the coolest things about NXT is we have a ton of creative liberties to come up with the story and the vision we have for the match" Cole said, during an interview with TalkSport. "Of course, there's input and advice given and there's suggestions or, you know 'we need something this way' (but) we do have a lot of freedom, which is great."
Cole added that he and Gargano came up with the format for their two out of three falls classic at NXT Takeover: New York.
Rey Mysterio Praises Andrade
WWE superstar Rey Mysterio believes that the company has a big star on their hands in Andrade .
"This kid is awesome" Mysterio said, during an appearance on the WINCLY podcast. "I mentioned it before, in previous interviews, but, every time I'm in the ring with him, there's an affiliation to how I would move with Eddie [Guerrero]," Mysterio said.
"This is how good he is! He's thinking a step ahead before you even move. He already knows the positioning, and knows exactly what to do and how to do it. My hat goes off to Andrade, as he's definitely the future of WWE."
Mysterio sees all the tools necessary to succeed in WWE.
"Just like anybody else, once you can dominate the mic skills and English, then he is bound to become a star," Mysterio continued. "I've seen him work on his English, and it's a slow process, but he's moving forward. Once he dominates his English language, he's on his way to stardom."
Fandango, Apollo Crews, Killain Dain Make Returns to NXT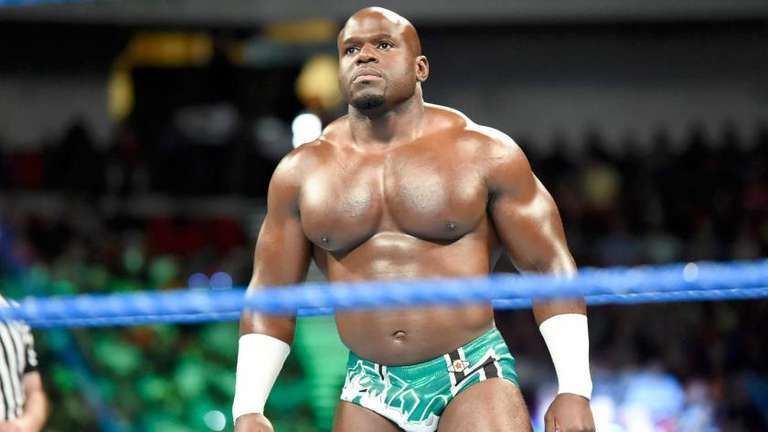 WWE is starting to allow superstars on their main rosters to transition back to NXT, much like they did with Tyler Breeze, who recently returned to NXT, where he had his most success, following around 2 years of meandering on the main roster following his callup.
Fandango, Apollo Crews, and Killian Dain made their returns to NXT tv at Winter Park, FL at Full Sail University for Thursday's NXT TV tapings.
Fandango, also making his return from injury, made the save for his Breezango partner, Tyler Breeze, who was on the receiving end of an attack at the hands of the Forgotten Sons. Crews made his return to take on Kushida in singles competition, and Dain made a brutal attack on Matt Riddle following Riddle's win over Arture Rass.
Fandango had been out of action after suffering a shoulder injury back in July 2018.