Jeff Jarrett Deserves WWE Hall of Fame Induction
WWE confirmed the rumors that former Intercontinental Champion Jeff Jarrett is the newest inductee in the WWE Hall of Fame's Class of 2018.
Jarrett joins fellow former WCW World Heavyweight Champion Goldberg, tag team titleholders Dudley Boyz and former Women's Champion Ivory in this year's Hall of Fame. The ceremony takes place on April 6 in New Orleans during Wrestlemania week.
Several WWE superstars weighed in on the announcement, many of them congratulating Jarrett on the induction. Double J himself also took to social media to share his reaction.
There's not enough space in a tweet or a post to say all the "thank-you's" that I want to say!… https://t.co/fejTooaLwf

— Jeff Jarrett (@RealJeffJarrett) February 19, 2018
Some may look at Jarrett and say "really this guy?" when it comes to the WWE Hall of Fame, but his accomplishments alone make him worthy of the honor. Between this runs in WCW and WWF, Jarrett captured several singles championships, including three WCW United States title reigns and four WCW World Heavyweight Championships. He's also a six-time Intercontinental Champion and had the most reigns with the title from 1999 to 2004.
Jarrett was also the second "Eurocontinental Champion," after winning the European title from D'Lo Brown and a former tag team champion with Owen Hart.
Jarrett is regarded as one of the WWF/E's most polarizing figures. He allegedly extorted six figures from Vince McMahon at No Mercy 1999 minutes before dropping the IC title to Chyna – Jarrett's contract had just been up – then jumped ship to WCW.
People have their thoughts about his main event toward the end of WCW's lifespan, but regardless of what critics thought, he was a main event player for the company until its last days.  
Jarrett's resume is full of championships outside of WWF and WCW, including several runs with the NWA World Heavyweight Championship.
Jarrett also had success as a promoter, a third-generation promoter at that, first with TNA – the company he helped start in 2002 – and later Global Force Wrestling.
Some have criticized his time in TNA for being a promoter who put its world title on himself – when the company was using the NWA World Heavyweight Championship as its top title – but he also helped give a lot of today's top talent their first break, including current WWE Champion A.J.Styles and New Day member Xavier Woods back when he wrestled in TNA as Consequences Creed. He also helped wrestlers like R-Truth – Ron Killings – bring their careers to the next level.
Real talk @realjeffjarrett gave me my first gig wrestling on TV which led to @WWE giving me a shot years later. Cool to see him going in the HOF. Congrats man https://t.co/mNpNd4mXMp

— Austin Creed aka #1 Windjammer (@XavierWoodsPhD) February 19, 2018
Jarrett's last few years in the business haven't been the best, with reports of him being intoxicated at events and the debacle with GFW/Impact Wrestling and Anthem. After some time in a WWE-sponsored rehab, he seems to be on the track to recovery.
It's not a surprise to see Jarrett receive this induction because McMahon is generally a forgiving person when it comes to talent. Jarrett has even said he and McMahon have kept in touch with each other after he left the company.
Jarrett's Hall of Fame induction probably won't lead to him having a significant role in the company in the next few months, but it will provide some feel good moments, including a potential rendition of "With My Baby Tonight," before his Hall of Fame speech – or sing with potential inductor Road Dogg.
Will Ospreay Has Been Contacted by WWE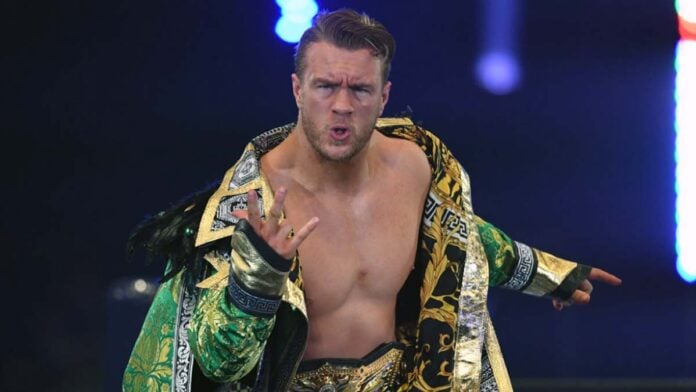 New Japan Pro Wrestling superstar and current  IWGP United States Heavyweight Champion Will Ospreay has confirmed that he has been contacted by WWE and revealed that it is something that he is considering.
Ospreay also mentioned some of the WWE names he would be interested in facing if he were to find himself in WWE.
"I've been approached by them, so I have a lot to think about" he said, according to Tokyo Sports. "I've mentioned Seth Rollins' name many times… Also, considering my history, it would be a dream to fight Ricochet again. I think that because I think we have become completely different wrestlers than when we fought in the past."
Ospreay has competed for AEW, Progress Wrestling, Rev Pro, and Ring of Honor throughout his career, among others.
AJ Styles Praises John Cena's In-Ring Work
AJ Styles made his debut for WWE during the 2016 Royal Rumble and was immediately thrust into some dream matchups following the event, with the likes of future Hall of Famers such as Chris Jericho and John Cena.
Styles has had a successful run during his WWE tenure, and is now engaged in a feud along with his O.C. faction with The Judgment Day.
Styles recently participated in an interview with 'The Halftime Show' and talked about how Cena impressed him with his in-ring work.
"A guy that surprised me with how good he was in the ring would be John Cena" Styles said (h/t Fightful). "John is not known for being a technical mastermind in the ring, but he's pretty good. I had some of my better matches against this guy.
"His mind for how everything needs to work and transition-wise. He's just good. He knows what he's doing. It's one of those things were you thought, 'I'm the superior wrestler in the ring,' but once you get in there with John Cena, you realize, 'Well, okay, I didn't know that. Let's keep going.'
Crown Jewel 2022 WWE Smashes Internal Record
WWE's controversial relationship with the Kingdom of Saudi Arabia has caused some harsh criticism, but the Crown Jewel event has proved to be a record-breaking success, according to a WWE Memo.
According to Fightful Select, a memo was shared internally, informing WWE staff that Crown Jewel 2022 is now the most-viewed international PLE in company history, breaking the record that was previously, albeit briefly, held by this year's Clash at the Castle which took place at Cardiff, Wales in September.
Additionally, the latest Crown Jewel event did a seven-figure viewership on Peacock in the United States.
The next show in Saudi Arabia is currently slated for May 2023.