John Cena vs. Rey Mysterio is a Wrestlemania Worthy Match
The Wrestlemania plans for former WWE Champion John Cena are still up in the air, but there's a chance he may face fellow Hall of Fame worthy wrestler Rey Mysterio at the Showcase of the Immortals.
Sports Illustrated's Justin Barrasso noted that Mysterio was backstage at Smackdown Live the speculation that he would work with Cena at Wrestlemania since the match with The Undertaker is off the table. A report from PWInsider noted that Triple H is the one negotiating with Mysterio, who doesn't want to work a full-time WWE schedule.
However, the site indicated from sources that Mysterio was not at Smackdown Live in Los Angeles, but rather he was at the blue brand's live event in San Diego. It's also reported that Cena wants to work with Mysterio after the positive reception the latter received at the Royal Rumble.
The only factor that could jeopardize this match would be Mysterio's appearance at New Japan Pro Wrestling's Strong Style Evolved event on March 25 where he will face Jushin Thunder Liger. At the moment it seems Mysterio's appearance at New Japan's U.S. event will be a one-off.
Meanwhile Cena was recently inserted in the six-pack challenge for the WWE Championship at Fastlane. He will face defending champion A.J. Styles, along with Kevin Owens, Sami Zayn, Dolph Ziggler and Baron Corbin. It's unlikely he will win the title at the event. 
Even though both Mysterio and Cena have prior commitments, there is a chance this match could happen at the Showcase of the Immortals.
Although there isn't a title at stake, this would be a high profile match between two of WWE's most decorated competitors. Both Cena and Mysterio have won championships on multiple occasions – even winning their first world titles at a Wrestlemania. They have also carried tag team and middle-tier singles titles – Cena is a five-time United States champion and Mysterio has held the Intercontinental Championship on two occasions.
While Cena has stayed with WWE, Mysterio has wrestled in various promotions around the world and continuing to build his legacy. He had a good run in Lucha Underground and made appearances for AAA and The Crash, as well as European promotions like WCPW – now Defiant Wrestling.
The two have wrestled matches against each other in singles and multiple matches – one match that comes to mind is their first bout in 2003 where Cena defeated Mysterio on an episode of Smackdown before that year's Survivor Series. The match was notable because it was around the time when Cena was making his babyface turn.
In 2011, Cena defeated Mysterio on an episode of Raw to reclaim the WWE Championship – hours after Mysterio had defeated Miz in a tournament final to win the title. The evening was capped with C.M. Punk, who had defeated Cena for the WWE title days before, returning to the ring.
Although they have faced each other in a WWE ring, it has not been on a large stage like Wrestlemania, which has been a grand showcase for both wrestlers.
As for the build of this match, fans can see it as a clash between two legends. Cena and Mysterio have reached the 40-year mark, but that doesn't mean they can't have a great showing.  
Both Cena and Mysterio have numerous Wrestlemania moments to their credit and they could add another one to their legacy at this year's event.
Braun Strowman Talks Brock Lesnar Shooting On Him at Royal Rumble
WWE superstar Braun Strowman has had a number of memorable moments during his career at WWE, but none are quite like the 2018 Royal Rumble where Brock Lesnar got upset with Strowman for catching him with a knee.
Lesnar didn't take to kindly and immediately hit Strowman with a flurry of legitimate punches, including a right hand to his jaw.
"Shit got real" Strowman said, during an interview with BT Sport.
"I mean, at the end of the day it's two scary guys, two dominant males, not wanting to give an inch to either one, and we took it from each other. Things happen. We're not playing, we're not ballet, we're not badminton. We're physical. He's [Lesnar] 300lbs, of just unadulterated animalistic beast and I'm a 385lbs monster. Things happen. At the end of the day, we made one hell of a segment, that's what really happened."
"I pat myself on the back. I think I'm the only person in history to take an overhand right from Brock Lesnar and not get knocked out. Anytime you get in the ring with "The Beast" and mix it up, the bigger the challenge the better. If you're not wrestling the best, then who'd you beat?"
Ex-NJPW Star Karl Fredericks Signs with WWE
Former New Japan Pro Wrestling star Karl Fredericks has officially signed with WWE following the conclusion of his four-year tenure with NJPW. Fredericks announced on social media back in summer 2022 that he would not re-sign with NJPW.
Fredericks was initially linked to WWE last September, when he was reportedly spotted at the WWE Performance Center in Orlando, Florida.
According to PW Insider, Fredericks has officially signed with WWE and will be a part of the NXT brand initially.
Will Ospreay Has Been Contacted by WWE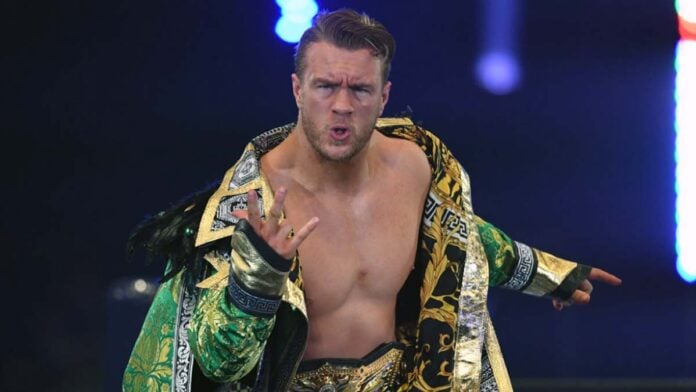 New Japan Pro Wrestling superstar and current  IWGP United States Heavyweight Champion Will Ospreay has confirmed that he has been contacted by WWE and revealed that it is something that he is considering.
Ospreay also mentioned some of the WWE names he would be interested in facing if he were to find himself in WWE.
"I've been approached by them, so I have a lot to think about" he said, according to Tokyo Sports. "I've mentioned Seth Rollins' name many times… Also, considering my history, it would be a dream to fight Ricochet again. I think that because I think we have become completely different wrestlers than when we fought in the past."
Ospreay has competed for AEW, Progress Wrestling, Rev Pro, and Ring of Honor throughout his career, among others.