Lanny Poffo Discusses Refusing To Join Class-Action Lawsuit Against WWE
Former WWE Superstar Lanny Poffo, the brother of WWE Hall of Famer Randy Savage, recently took part in an interview with Wrestlezone and talked about his involvement in the "350 Days" documentary as well as his refusal to take part in a class-action lawsuit against WWE.
"I've been very dear friends with [producer] Evan Ginzburg for about 35 years, and he asked me if I would do it. Anytime he asks me a question like that I always say yes. He was the Associate Producer of The Wrestler—I actually auditioned for that part with Darren Aronofsky, and he said 'Lanny, that was good, but you look like a game show host.
You don't have enough sin on your face.' So I said 'maybe you should hire Jake The Snake Roberts, he's got enough sin for everybody. I'm a little different than the rest of these guys, and that's what so great about this movie. They've got a point of view from people like Superstar Billy Graham, Bret 'Hitman' Hart, Jimmy 'Superfly' Snuka, who is no longer with us.
I'm going to tell you my opinion, and I enjoyed every minute of it, all 21 years I spent on the road. I traveled all over the world, and it didn't cost me a dime, and I appreciated it. The only downside is I had to hang around with wrestlers, and that was like National Lampoon's Animal House."
Poffo then discussed the lawsuit against WWE.
"Oh yes, in fact I got a call a couple of years ago from a lawyer about if I wanted to join a class-action lawsuit against the WWE for concussions. And I said 'absolutely not, I've never had a concussion' and they said it doesn't matter, you can get rich. I said 'wait a minute… I've read John Grisham's novel King Of Tort, and no one gets rich off of class-action lawsuits except for the lawyers.
Who do you think you're talking to here? I used to be The Genius.' What they did was, they needed—this was for NBC—and Gorilla Monsoon came up to me and said 'come here, Lanny, I want to talk to you. I just recommended you, I hope you don't make a monkey out of me.' I said 'I would never make a monkey out of a gorilla, what do you mean?' God bless him, [Gorilla] was always nice to me.
So, he says have you ever done a blade job before? You know, take the razor and give yourself a self-inflicted wound to the head—they cover that in the movie The Wrestler. To tell you the truth, I feel that that is immoral, you know, to self inflict—I don't even have tattoos or piercings—so why would I do that? But, the thing is, if I'm [going to be] a prostitute, let me be a highly paid one, this is NBC.
They needed Andre The Giant, who was the top babyface in the world, they put him with Bobby Heenan but they wanted to give him a serious, mean heat. They needed the sacrificial lamb to help him out, so I did a very good job of it—I've got plenty [of scars]. So he headbutts me and I go over the top rope, and I land in a pool of blood, and I got removed from the scene."
NXT's Adam Cole Discusses Creative Freedom
NXT Champion Adam Cole is at the height of his success with the promotion, recently defeating Johnny Gargano in another instant classic to capture his first NXT Championship, and he is talking about how things go down in NXT.
Unlike much of the main roster, where promos are often scripted and comedy-acts are more common, Cole says that superstars in NXT get a bit more creative freedom, as he had with Gargano for their match.
"One of the coolest things about NXT is we have a ton of creative liberties to come up with the story and the vision we have for the match" Cole said, during an interview with TalkSport. "Of course, there's input and advice given and there's suggestions or, you know 'we need something this way' (but) we do have a lot of freedom, which is great."
Cole added that he and Gargano came up with the format for their two out of three falls classic at NXT Takeover: New York.
Rey Mysterio Praises Andrade
WWE superstar Rey Mysterio believes that the company has a big star on their hands in Andrade .
"This kid is awesome" Mysterio said, during an appearance on the WINCLY podcast. "I mentioned it before, in previous interviews, but, every time I'm in the ring with him, there's an affiliation to how I would move with Eddie [Guerrero]," Mysterio said.
"This is how good he is! He's thinking a step ahead before you even move. He already knows the positioning, and knows exactly what to do and how to do it. My hat goes off to Andrade, as he's definitely the future of WWE."
Mysterio sees all the tools necessary to succeed in WWE.
"Just like anybody else, once you can dominate the mic skills and English, then he is bound to become a star," Mysterio continued. "I've seen him work on his English, and it's a slow process, but he's moving forward. Once he dominates his English language, he's on his way to stardom."
Fandango, Apollo Crews, Killain Dain Make Returns to NXT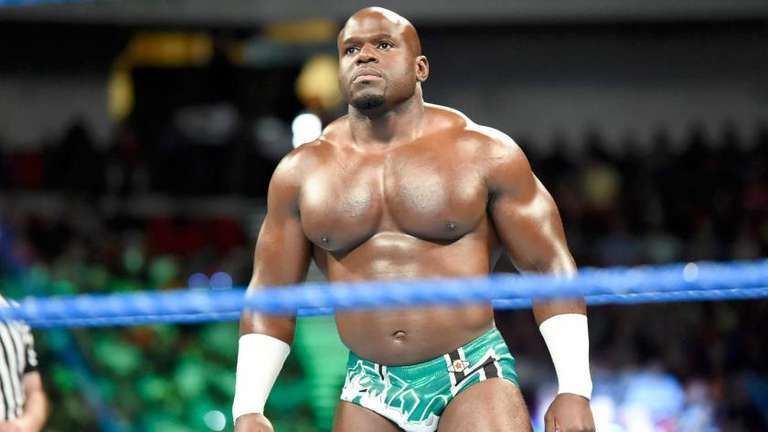 WWE is starting to allow superstars on their main rosters to transition back to NXT, much like they did with Tyler Breeze, who recently returned to NXT, where he had his most success, following around 2 years of meandering on the main roster following his callup.
Fandango, Apollo Crews, and Killian Dain made their returns to NXT tv at Winter Park, FL at Full Sail University for Thursday's NXT TV tapings.
Fandango, also making his return from injury, made the save for his Breezango partner, Tyler Breeze, who was on the receiving end of an attack at the hands of the Forgotten Sons. Crews made his return to take on Kushida in singles competition, and Dain made a brutal attack on Matt Riddle following Riddle's win over Arture Rass.
Fandango had been out of action after suffering a shoulder injury back in July 2018.