Mark Henry Talks WWE Hall of Fame Induction
WWE has confirmed that Mark Henry is bringing the Hall of Pain to the Hall of Fame and will join the likes of Bill Goldberg, The Dudley Boyz, Ivory, Jeff Jarrett, Hillbilly Jim, Kid Rock and Warrior Award recipient Jarrius "JJ" Robertson as a part of the the 2018 WWE Hall of Fame class.
"It was a little while back. I was in Los Angeles with the powers that be… it was just an overwhelming feeling, you know? My face got hot" Henry said in an interview with USA Today.
"A couple of tears fell, and you felt like, instantly, all of the pain and torment that you put your body through, the sacrifices that you made – they were worth it. It paid it all off."
"Well the first conversation I had, I thought it was one of my buddies playing a joke on me and I hung up on him. And my manager at the time called me back and said 'hey, I just had Vince McMahon call you and he said you hung up!' And I was like 'that was Vince McMahon for real!?' I felt so dumb.
Here he is, one of the most influential people in the wrestling industry calls you and you hang up on him thinking it was a joke. Eventually I called back and I said 'hey, I hope you understand, I thought it was somebody playing a joke on me.' And he said 'don't worry about it, I'm glad I could get you back on the phone.'
He was like 'I want you to come to Connecticut and see how we do things up here.' I said 'am I going to get to meet The Undertaker?' You know, I was such a fan, I just wanted to meet everybody.
That was really my primary thing for going down there because I wanted to see the stars. I wanted to see the superstars."
Henry has wrapped up his in ring career and is now transitioning to a backstage role with the company he has been with since 1996.
"You know what, I saw a match – and I always study my matches. I always see what I did wrong, what I could do better. I was watching and there were things that I did that weren't up to the standard that I thought they should have been. And a lot of that… I think some of it was age, some of it was the fact that I had some pre-existing injuries that I really couldn't do all the things that I could do. And I didn't want the fans to remember me being injured and being a shell of my former self.
I want people, when they remember me, to think of the Hall of Pain, when I was catching guys, 275 pounds. Picking up Big Show, close to 500 pounds, over my head and driving him through a table. And picking up Kane, 320 pounds and slamming him through tables. And jumping off the top rope to the ring and jumping out of the ring to the floor and splashing Kurt Angle. I wanted people to remember me at my greatest. Around 2015, I started to see my skills diminish. It happens to everybody. Father Time is undefeated. He is gonna win every time, and I saw him catching me."
Will Ospreay Has Been Contacted by WWE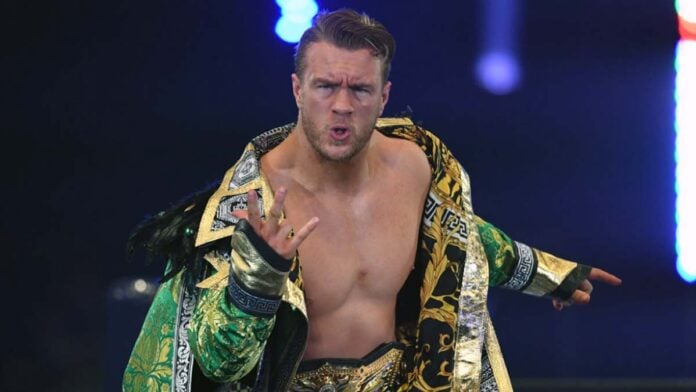 New Japan Pro Wrestling superstar and current  IWGP United States Heavyweight Champion Will Ospreay has confirmed that he has been contacted by WWE and revealed that it is something that he is considering.
Ospreay also mentioned some of the WWE names he would be interested in facing if he were to find himself in WWE.
"I've been approached by them, so I have a lot to think about" he said, according to Tokyo Sports. "I've mentioned Seth Rollins' name many times… Also, considering my history, it would be a dream to fight Ricochet again. I think that because I think we have become completely different wrestlers than when we fought in the past."
Ospreay has competed for AEW, Progress Wrestling, Rev Pro, and Ring of Honor throughout his career, among others.
AJ Styles Praises John Cena's In-Ring Work
AJ Styles made his debut for WWE during the 2016 Royal Rumble and was immediately thrust into some dream matchups following the event, with the likes of future Hall of Famers such as Chris Jericho and John Cena.
Styles has had a successful run during his WWE tenure, and is now engaged in a feud along with his O.C. faction with The Judgment Day.
Styles recently participated in an interview with 'The Halftime Show' and talked about how Cena impressed him with his in-ring work.
"A guy that surprised me with how good he was in the ring would be John Cena" Styles said (h/t Fightful). "John is not known for being a technical mastermind in the ring, but he's pretty good. I had some of my better matches against this guy.
"His mind for how everything needs to work and transition-wise. He's just good. He knows what he's doing. It's one of those things were you thought, 'I'm the superior wrestler in the ring,' but once you get in there with John Cena, you realize, 'Well, okay, I didn't know that. Let's keep going.'
Crown Jewel 2022 WWE Smashes Internal Record
WWE's controversial relationship with the Kingdom of Saudi Arabia has caused some harsh criticism, but the Crown Jewel event has proved to be a record-breaking success, according to a WWE Memo.
According to Fightful Select, a memo was shared internally, informing WWE staff that Crown Jewel 2022 is now the most-viewed international PLE in company history, breaking the record that was previously, albeit briefly, held by this year's Clash at the Castle which took place at Cardiff, Wales in September.
Additionally, the latest Crown Jewel event did a seven-figure viewership on Peacock in the United States.
The next show in Saudi Arabia is currently slated for May 2023.