Matt Hardy Talks Feud With Bray Wyatt, Macho Man, Working With Jeff Hardy
"Woken" Matt Hardy is starting to build momentum for his newly tweaked version in WWE, launched by his feud with Bray Wyatt.
Hardy recently participated in an interview with The Times Record News to promote the upcoming WWE live event in Wichita, Texas.
Hardy spoke being a big fan of 'Macho Man' Randy Savage.
"The first guy I was a fan of was the 'Macho Man' Randy Savage. He motivated me to have a bigger persona, to project on a lot larger level. He did such great character work, but he was also phenomenal in the ring as an athlete."
Hardy also talked about working with his brother Jeff and the success they have experienced over the years.
"My brother and I's initial goal was to succeed and make it to the WWE and to become the WWE Tag team champions, and obviously we exceeded that in quite a healthy fashion.
"The things that allow us to have success on our own is that we both have confidence, we are both individual characters and we both know how to portray ourselves as individual characters."
Hardy also talked about his ongoing feud with Bray Wyatt.
"Woken Matt Hardy has something inside of me that I realize has existed for thousands of years, and there's an entity that lies inside Bray Wyatt–Sister Abigail, who is like a demon that goes almost a thousand years back.
"Myself and what possesses Bray Wyatt have a long history, and it makes for quite an interesting tale. Quite larger than life."
Braun Strowman Talks Brock Lesnar Shooting On Him at Royal Rumble
WWE superstar Braun Strowman has had a number of memorable moments during his career at WWE, but none are quite like the 2018 Royal Rumble where Brock Lesnar got upset with Strowman for catching him with a knee.
Lesnar didn't take to kindly and immediately hit Strowman with a flurry of legitimate punches, including a right hand to his jaw.
"Shit got real" Strowman said, during an interview with BT Sport.
"I mean, at the end of the day it's two scary guys, two dominant males, not wanting to give an inch to either one, and we took it from each other. Things happen. We're not playing, we're not ballet, we're not badminton. We're physical. He's [Lesnar] 300lbs, of just unadulterated animalistic beast and I'm a 385lbs monster. Things happen. At the end of the day, we made one hell of a segment, that's what really happened."
"I pat myself on the back. I think I'm the only person in history to take an overhand right from Brock Lesnar and not get knocked out. Anytime you get in the ring with "The Beast" and mix it up, the bigger the challenge the better. If you're not wrestling the best, then who'd you beat?"
Ex-NJPW Star Karl Fredericks Signs with WWE
Former New Japan Pro Wrestling star Karl Fredericks has officially signed with WWE following the conclusion of his four-year tenure with NJPW. Fredericks announced on social media back in summer 2022 that he would not re-sign with NJPW.
Fredericks was initially linked to WWE last September, when he was reportedly spotted at the WWE Performance Center in Orlando, Florida.
According to PW Insider, Fredericks has officially signed with WWE and will be a part of the NXT brand initially.
Will Ospreay Has Been Contacted by WWE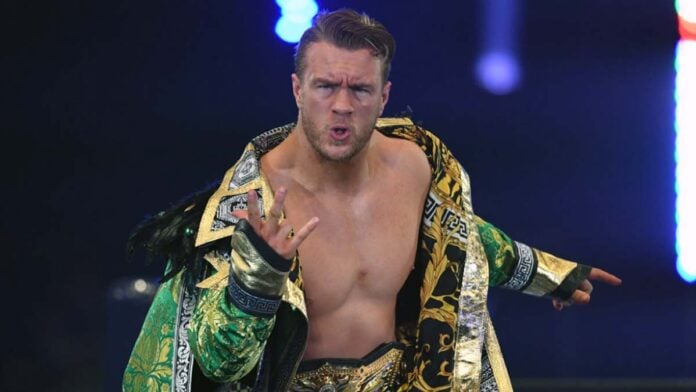 New Japan Pro Wrestling superstar and current  IWGP United States Heavyweight Champion Will Ospreay has confirmed that he has been contacted by WWE and revealed that it is something that he is considering.
Ospreay also mentioned some of the WWE names he would be interested in facing if he were to find himself in WWE.
"I've been approached by them, so I have a lot to think about" he said, according to Tokyo Sports. "I've mentioned Seth Rollins' name many times… Also, considering my history, it would be a dream to fight Ricochet again. I think that because I think we have become completely different wrestlers than when we fought in the past."
Ospreay has competed for AEW, Progress Wrestling, Rev Pro, and Ring of Honor throughout his career, among others.