Ronda Rousey, Stephanie McMahon/HHH Match In Works For WrestleMania
It appears that Ronda Rousey's appearance at the end of the Royal Rumble gave fans an indication as to whom she is going to be stepping into the ring with at WrestleMania 34.
It is apparently not going to be one of the 3 women Rousey was standing in the ring with, Asuka, Charlotte Flair and Alexa Bliss, but whom she interacted with outside of the ring.
The match has actually been in the works for a few years, dating back to WrestleMania 32 and is now in the works for WrestleMania 34.
According to sources, WWE is looking at a mixed-tag match that would pit Ronda Rousey and a male superstar against Stephanie McMahon and HHH.
Now, WWE's top name for the spot is The Rock, as he was involved in the setup, but due to scheduling it is very hard to even pencil the Rock's name in for the match, however WWE is going to give a "full court press".
RAW general manager Kurt Angle has also been discussed as there were seeds planted for an Angle/HHH match back at Survivor Series and a tag-match could be best for all parties involved with Angle'e experience providing a leadership role for Rousey.
WWE could also entertain Roman Reigns, a longshot, in that spot with the hopes that Rousey's popularity and the dislike for HHH and McMahon could help give Reigns a boost. But WWE is still intent on a Reigns/Lesnar main event.
Other names that could be considered are John Cena, if the Undertaker match that is penciled in for the event falls through and Batista, who has mentioned wanting to come back for one final WWE run and also has mentioned a desire to work with Triple H.
Will Ospreay Has Been Contacted by WWE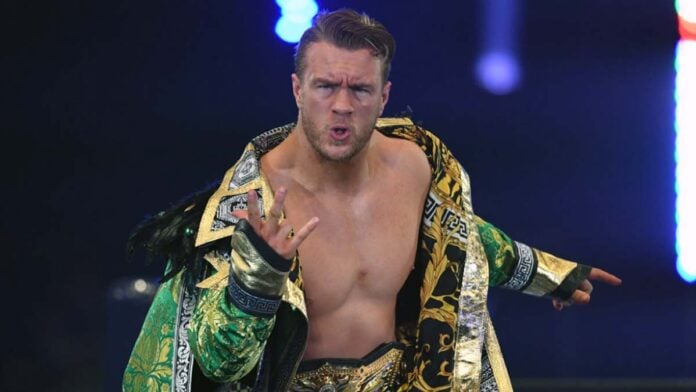 New Japan Pro Wrestling superstar and current  IWGP United States Heavyweight Champion Will Ospreay has confirmed that he has been contacted by WWE and revealed that it is something that he is considering.
Ospreay also mentioned some of the WWE names he would be interested in facing if he were to find himself in WWE.
"I've been approached by them, so I have a lot to think about" he said, according to Tokyo Sports. "I've mentioned Seth Rollins' name many times… Also, considering my history, it would be a dream to fight Ricochet again. I think that because I think we have become completely different wrestlers than when we fought in the past."
Ospreay has competed for AEW, Progress Wrestling, Rev Pro, and Ring of Honor throughout his career, among others.
AJ Styles Praises John Cena's In-Ring Work
AJ Styles made his debut for WWE during the 2016 Royal Rumble and was immediately thrust into some dream matchups following the event, with the likes of future Hall of Famers such as Chris Jericho and John Cena.
Styles has had a successful run during his WWE tenure, and is now engaged in a feud along with his O.C. faction with The Judgment Day.
Styles recently participated in an interview with 'The Halftime Show' and talked about how Cena impressed him with his in-ring work.
"A guy that surprised me with how good he was in the ring would be John Cena" Styles said (h/t Fightful). "John is not known for being a technical mastermind in the ring, but he's pretty good. I had some of my better matches against this guy.
"His mind for how everything needs to work and transition-wise. He's just good. He knows what he's doing. It's one of those things were you thought, 'I'm the superior wrestler in the ring,' but once you get in there with John Cena, you realize, 'Well, okay, I didn't know that. Let's keep going.'
Crown Jewel 2022 WWE Smashes Internal Record
WWE's controversial relationship with the Kingdom of Saudi Arabia has caused some harsh criticism, but the Crown Jewel event has proved to be a record-breaking success, according to a WWE Memo.
According to Fightful Select, a memo was shared internally, informing WWE staff that Crown Jewel 2022 is now the most-viewed international PLE in company history, breaking the record that was previously, albeit briefly, held by this year's Clash at the Castle which took place at Cardiff, Wales in September.
Additionally, the latest Crown Jewel event did a seven-figure viewership on Peacock in the United States.
The next show in Saudi Arabia is currently slated for May 2023.