Ronda Rousey to Team With Kurt Angle at Wrestlemania 34
Recent WWE signee and former UFC women's bantamweight champion "Rowdy" Ronda Rousey now has her Wrestlemania match.
Raw General Manager opened Monday Night Raw to announce that he and Rousey would take on Triple H and Stephanie McMahon at the Show of Shows.
Yup, it's happening. @RealKurtAngle & @RondaRousey vs. @TripleH & @StephMcMahon on The #GrandestStageOfThemAll, #WrestleMania! #RAW pic.twitter.com/bkjgwYQefO

— WWE Network (@WWENetwork) March 6, 2018
McMahon attempted to get out of the match, saying she is an executive and she couldn't compete at Wrestlemania. The Olympic Gold Medalist fired back by saying she and Triple H had deals as WWE superstars and used the technicality to set up the match between the two teams.
Like any good team, Angle and Rousey took down Triple H and McMahon, officially kicking off their feud.
WWE has been building toward this match in the last couple of weeks, starting at Elimination Chamber when Rousey signed her contract and put Triple H through a table. Fans could even say the angle began three years ago during Wrestlemania 31 when Rousey was in a segment with The Rock, Triple H and McMahon.
There have been reports that Rousey's Wrestlemania match would involve Triple H and McMahon, though there were questions as to who she would team with at the event. Angle's name was among the potential partners for the Rowdy one, as were The Rock, Braun Strowman and Seth Rollins.
It's speculated that The Rock wouldn't compete at Wrestlemania due to his role in Hollywood while Strowman and Rollins are potentially competing for the Intercontinental Championship at the event. There's even rumor that Strowman is a backup plan for the Universal title picture in case Roman Reigns or Brock Lesnar are unavailable for Wrestlemania.
The benefit of having Angle in the match as opposed to The Rock is that a full-time individual will compete at Wrestlemania as opposed to a part-time competitor. Although Angle is the Raw General Manager, he has competed in two matches since he returned to WWE – teaming with Dean Ambrose and Rollins at TLC and the captain of Team Raw at Survivor Series.
Pairing Rousey with Angle makes sense for this match. Angle is the benevolent authority figure – the yin to McMahon's yang – on Raw and he would want to make sure his investment in Rousey is protected.
They are also accomplished athletes in their respective combat sports backgrounds – and they are Olympic medalists. Angle won a gold medal in freestyle wrestling in 1996 and Rousey won a bronze in judo in 2008.
The match will be a good test to see how far Rousey has come in her training, It also gives Rousey her first big WWE win without the company having to sacrifice one of the superstars in their women's division.
Having experienced wrestlers like Triple H and Angle can alleviate some of the weight off her shoulders.
WrestleMania 34 will take place April 8 at the Mercedes-Benz Superdome in New Orleans, Louisiana.
Matches confirmed for the show include
Brock Lesnar defending the Universal Championship against Roman Reigns

Shinsuke Nakamura challenging the WWE Champion – the winner of the six-pack challenge at Fastlane

The finals of the WWE Cruiserweight Championship tournament

Asuka challenging for the Raw or Smackdown women's championship
WWE Smackdown vs. Raw: Who won this week? May 7, 2019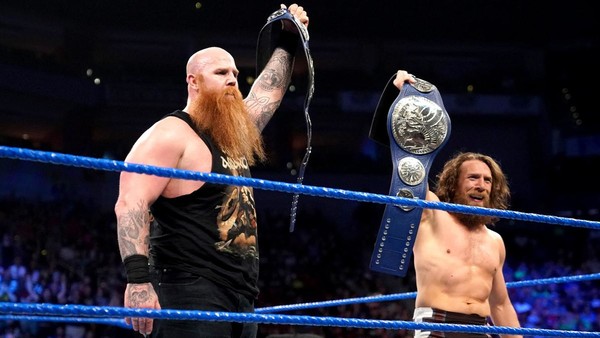 The Good
For Raw, the main event between Kofi Kingston and Daniel Bryan in a Wrestlemania rematch was a good way to end their show. With this new "Wildcard Rule" being introduced at the beginning of Raw, this led to two Smackdown superstars main eventing a Raw show. While we will look into the "Wildcard Rule" later, the match between these two was back and forth and ended with Kingston retaining his championship. Kofi has all the momentum going into the Money in the Bank PPV, which is great considering he is the WWE Champion.
For Smackdown, after the Hardy Boyz had to forfeit their tag team championships due to injury, the match to determine the new champions was great. After Shane McMahon originally was going to give the titles to Daniel Bryan and Rowan, the Usos interrupted and stated that they should at least get the opportunity to earn them. Daniel Bryan and Rowan ended up winning, which is a positive sight moving forward because it will bring more attention to the division with these two as champions.
The Bad
For Raw, even though things were good for the Usos on Smackdown, they were really bad on Raw. They came out during the Revival's match and told them that they put Icey Hot on their ring attire. This led to bad acting and just an attempt at humor, which didn't go well.
For Smackdown, while the Aleister Black promos have been good so far, they are starting to over welcome their stay. This has been going on for about a month, so hopefully we see him in the ring before he loses all momentum.
The Final Verdict
Both brands had interesting shows this week because this new "Wildcard Rule" was introduced.  This "Wildcard Rule" means that four superstars from Raw will be on Smackdown and four Smackdown superstars will be on Raw every week. This idea does seem like a bad one though because it will take time away from superstars in their respective brand. Along with that, this is right after the Superstar Shakeup, which now feels completely pointless. As to who had the better show this week though, Smackdown had better matches and was still able to help put good build towards Money in the Bank. In conclusion, Money in the Bank is still about two weeks away, but proper time has been put into it and all the matches gain momentum in build week by week.
WWE Smackdown vs. Raw: Who won this week? April 30, 2019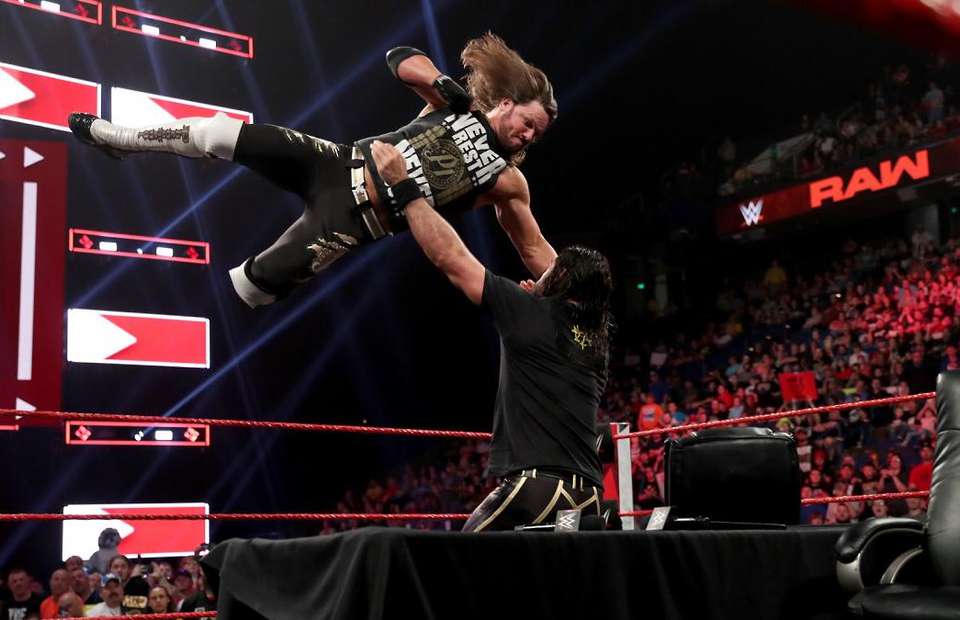 The Good
For Raw, the contract signing between AJ Styles and Seth Rollins was a great segment to end their show and continue to build up their match for Money in the Bank. They exchanged insults and eventually came to blows and the final shot we saw was AJ Styles standing over Rollins after he hit him with a phenomenal forearm through a table.
For Smackdown, the build up between Kofi Kingston and Kevin Owens got a lot of time featured on their show this week, and it was all really good material. It opened and closed their show and ended with Kofi Kingston getting the upper hand after he brawled with Owens. Overall, this match is getting a lot of attention and it should considering this is for the WWE Championship.
The Bad
For Raw, unfortunately, it looks like the rumors with Lio Rush not getting along with people backstage is true because when Bobby Lashley went on Miz TV, Rush was nowhere to be found. While it is unknown what the future holds for Rush, WWE has to start all over with Bobby Lashley again by himself and he's not even in the Money in the Bank match either.
For Smackdown, they had a tag match which had Kairi Sane and Asuka versus two local competitors and this match felt like filler. With the main focus being on the women's ladder match and neither Asuka or Sane being in that match, there really is nothing for those two to do at the moment.
The Final Verdict
Both brands are focusing on the Money in the Bank PPV, but some delivery of the matches have fell flat. Both the men's and women's ladder match competitors were just announced instead of each competitor actually earning an opportunity to get in the ladder match. But, as far as their championship matches, both men's and women's, have been given plenty of time and those matches do feel more important. As far as who had the better show, Raw has more matches on the PPV, therefore they were able to put more time into them. In conclusion, Money in the Bank is still a few weeks away, but WWE has given a lot of time into it so the fans should be excited for the first PPV since Wrestlemania.
WWE Smackdown vs. Raw: Who won this week? April 23, 2019
The Good
For Raw, they had a series of matches to determine who would face Seth Rollins for the Universal Championship at Money in the Bank. All of these matches were pretty solid and in the end, AJ Styles ended up winning it all. This has been a dream match WWE fans have asked for ever since Styles came to WWE, so Raw should be able to build this up properly.
For Smackdown, we all knew that Kevin Owens was going to turn on the New Day, it was just a matter of when. Owens decided that this week was the week to do it as he attacked both Kofi Kingston and Xavier Woods after Kingston's match against Shinsuke Nakamura. This is going to lead to a WWE Championship match between Kevin Owens and Kofi Kingston and this is another solid match added to the Money in the Bank PPV.
The Bad
For Raw, after WWE was torn apart by the fans by naming the War Raiders the Viking Experience, they decided to change their name again. This time, the new name is the Viking Raiders. It is a little bit of an improvement, but not to name them the War Raiders to begin with is still baffling. They had a segment on the show this week they felt like filler as well as they attacked Lucha House Party before they could even begin their match with them.
For Smackdown, Becky Lynch is deciding to defend both of her belts at Money in the Bank, but her challenger from Smackdown is a sight WWE fans have seen too many times. Charlotte Flair ended up earning her opportunity by beating Bayley in a number one contender's match. While WWE wants to show that Charlotte did earn her opportunity, it's just a match we have seen one too many times.
The Final Verdict
Both brands put on pretty good shows this week. Even though there was some mix up in the superstar shake up (Andrade and Aleister Black going from Smackdown to Raw, then back to Smackdown), WWE was was still able to bounce back from that confusion. Both brands were able to establish number one contenders for their biggest championships, and help put a story behind them too. But, as far as a better show from start to finish, it seems that Raw had the more impactful and better show. A wacky segment with Bray Wyatt, a dream match in the making for the Universal Championship, and proper time given to their women's championship match helped Raw this week. Overall, both brands are starting to layout the blueprint for what is in store for WWE Money in the Bank, so hopefully WWE is able to capitalize on this moving forward.