The Miz vs. Braun Strowman Should Happen at Wrestlemania 34
The WWE is less than 48 hours away from the annual Royal Rumble and Braun Strowman has the opportunity to win the WWE Universal Championship.
However, there may be different Wrestlemania plan for the monster. According to a report from Wrestling Inc., – via the Wrestling Observer Newsletter – the backstage plan is still for Roman Reigns to challenge Brock Lesnar for the Universal Championship at Wrestlemania.
As for Strowman, the big man will still have an opportunity to capture WWE gold, specifically the Intercontinental Championship.
The report states Strowman is set to challenge The Miz for the Intercontinental Championship at the Show of Shows in New Orleans. Miz recently defeated Reigns for the IC title on Raw to begin his eighth reign with the championship. It's said the reason Miz went over clean was to make his match with Strowman one of the featured bouts at Wrestlemania.
The Intercontinental Championship is one of the cornerstones in WWE's legacy and the title has been featured in several Wrestlemania bouts over the years, with a few of those matches etching their name in the annals of professional wrestling. The two that come to mind are the title match between "Macho Man" Randy Savage and Ricky Steamboat at Wrestlemania III, as well as the ladder match between Razor Ramon and Shawn Michaels at Wrestlemania X.
An Intercontinental title bout between Miz and Strowman has the potential to be one of the most important matches at Wrestlemania. Fans who are dreading the idea of Reigns-Lesnar II have a new match to look forward to.  
Both Miz and Strowman have shined on RAW in terms of in-ring work and mic time. Miz is widely regarded as one of the best heels in the company – his promos are second to none and he can work in the ring. Many fans and critics have praised Miz for helping elevate the Intercontinental Championship to a place it hasn't been in a long time.
Strowman has has gotten over with the audience as this monster and can put on a good performance.
There's also speculation that Miz winning the IC title is the beginning of a major push for him, one that could lead to a program for the Universal title. If Reigns wins the title from Lesnar, he and Miz could continue where their feud left off.
But if Miz is going to challenge Reigns for the Universal title, does that mean Strowman wins the IC championship at Wrestlemania? Probably and that's a good thing.
Fans love Strowman and they want to see him succeed and win the Universal title. Having him defend the Intercontinental Championship would be a good test to see if he can carry the weight and pressure that comes with being a WWE Champion. If Strowman can shine with the IC title, then it won't be long before he is wearing the Universal Championship – or the WWE Championship if he gets traded to Smackdown Live.
If Strowman's IC title reign doesn't work out or if Miz's push gets derailed – this is WWE after all –  then the two can feud over the Intercontinental Championship.
Will Ospreay Has Been Contacted by WWE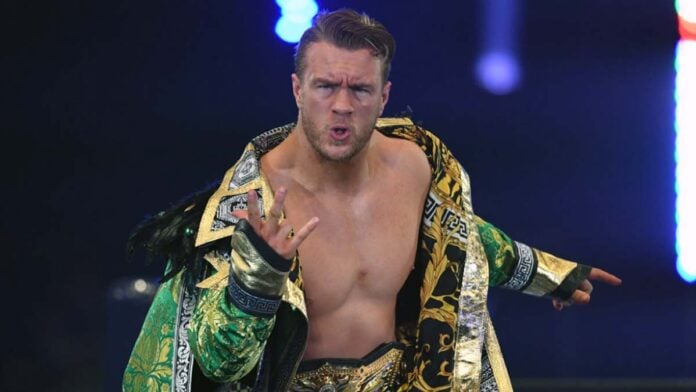 New Japan Pro Wrestling superstar and current  IWGP United States Heavyweight Champion Will Ospreay has confirmed that he has been contacted by WWE and revealed that it is something that he is considering.
Ospreay also mentioned some of the WWE names he would be interested in facing if he were to find himself in WWE.
"I've been approached by them, so I have a lot to think about" he said, according to Tokyo Sports. "I've mentioned Seth Rollins' name many times… Also, considering my history, it would be a dream to fight Ricochet again. I think that because I think we have become completely different wrestlers than when we fought in the past."
Ospreay has competed for AEW, Progress Wrestling, Rev Pro, and Ring of Honor throughout his career, among others.
AJ Styles Praises John Cena's In-Ring Work
AJ Styles made his debut for WWE during the 2016 Royal Rumble and was immediately thrust into some dream matchups following the event, with the likes of future Hall of Famers such as Chris Jericho and John Cena.
Styles has had a successful run during his WWE tenure, and is now engaged in a feud along with his O.C. faction with The Judgment Day.
Styles recently participated in an interview with 'The Halftime Show' and talked about how Cena impressed him with his in-ring work.
"A guy that surprised me with how good he was in the ring would be John Cena" Styles said (h/t Fightful). "John is not known for being a technical mastermind in the ring, but he's pretty good. I had some of my better matches against this guy.
"His mind for how everything needs to work and transition-wise. He's just good. He knows what he's doing. It's one of those things were you thought, 'I'm the superior wrestler in the ring,' but once you get in there with John Cena, you realize, 'Well, okay, I didn't know that. Let's keep going.'
Crown Jewel 2022 WWE Smashes Internal Record
WWE's controversial relationship with the Kingdom of Saudi Arabia has caused some harsh criticism, but the Crown Jewel event has proved to be a record-breaking success, according to a WWE Memo.
According to Fightful Select, a memo was shared internally, informing WWE staff that Crown Jewel 2022 is now the most-viewed international PLE in company history, breaking the record that was previously, albeit briefly, held by this year's Clash at the Castle which took place at Cardiff, Wales in September.
Additionally, the latest Crown Jewel event did a seven-figure viewership on Peacock in the United States.
The next show in Saudi Arabia is currently slated for May 2023.