TNA Show In Connecticut Shut Down By Competitor
TNA's house show tonight in Connecticut was cancelled after building inspectors showed up. TNA intially had to move the show from another venue because inspectors showed up and said the building didn't meet the requirements to hold the show. These were two different inspectors from two different towns, but both found something that would shut TNA down. Among the violations the inspectors cited tonight was a crack in one of the Exit signs. It's not clear who made the phone calls to building inspectors, but one of the police officers told one of the TNA officials on site, "You know you have a competitor up here who isn't making your life easy". Tonight's show was scheduled to be the first show run by TNA in Connecticut, home base of World Wrestling Entertainment.
Now WWE was quick to issue a statement absolving themselves of guilt. Gary Davis, WWE's Vice President of Corporate Communications, sent an email to 1wrestling.com tonight regarding the cancellation of tonight's TNA show in Connecticut. "Please make clear to your readers that there is no truth to the assertion that WWE had anything to do with the cancellation of the TNA event in Bloomfield. I don't know why the event was cancelled, but, whatever the reason, it had nothing to do with us."
I am amazed at how quickly the WWE had a statement ready and sent, almost like they were prepared for this. And a police officer made it pretty clear who called the inspectors. And one of the infractions noted was a crack in one of the Exit signs. You don't have to be a rocket scientist to figure out what went down here. There is no way Vince McMahon would allow a competitor – and he does consider TNA competition no matter what he says in public – run a show in his backyard. And all he had to do to insure this was to have one of his lackeys make a few phone calls. I don't care what the WWE press release says, it is a flat out lie. It is corporate speak to try and look innocent. It is digusting that the WWE would stoop to this level of calling inspectors and then have the audacity to issue a statement denying it. I am 110% sure that inspectors wouldn't have stopped a WWE show for a cracked Exit sign.
Killer Kross Discusses Request for Release from Impact Wrestling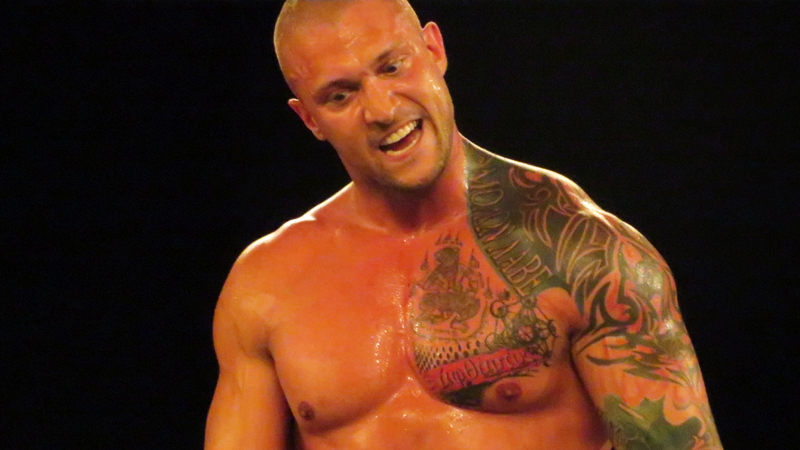 Killer Kross made headlines recently when he requested his release from Impact Wrestling, and now Kross has discussed the decision to ask for his departure from the company in a brand new interview with the 'Wrestling Perspective' podcast.
"I personally really don't really need much," Kross said (h/t Pro Wrestling Sheet). "But it's just different when you have people to take care of, circumstances change in life. You can't anticipate it. […] Being told to go get another job by your job, that's f****d up. You're struggling to make ends meet taking care of people, and the job that you can barely afford to have tells you to go get another job so you can keep that job. It's like working at a corporation being told to go work at McDonald's. It's a weird feeling."
"[…] I found out how much people are being paid, and I wanted to be paid on the same scale as that," Kross continued.
"I wasn't asking for anything that was honestly unreasonable. In all sincerity. And I'm not gonna bullsh*t you guys. I really wasn't. That's ok if the company does not agree that I am worth that. I will not take offense to that. That's ok. It's not my company. I'm just an employee. And I'm not saying that because I think I'm supposed to say that. But if they really feel that way after one year, if they feel that I'm not worth what I'm asking…professionally, kindfully, please…let me go somewhere else, and I will prove it to everyone that I can draw what I'm asking for."
Sting Talks Vince McMahon's Reaction to Signing with TNA
WWE Hall of Famer Sting did finally make his way to WWE, and a match at WrestleMania, but it took a 14-year run in TNA, following his legendary run with WCW, before Sting would finally join the WWE family.
Sting signed with TNA in 2003 and during a recent interview on the Apter Chat Podcast, he revealed McMahon's reaction to his decision.
"I'll never forget that conversation I had with Vince" Sting saud. H"e's on the phone with me and he says, 'You know Sting, I find this hard to believe, the legacy that you leave behind and the thought of you going to TNA, it's just 'bleh'!"
"So. you fast forward to. you know. coming back to do WrestleMania I had set out a text to Vince and Triple H that just said, 'have you guys turned the page on Sting yet?' And I honestly did know? Did they turn the page? Are they done? Or would they consider a run up there?"
Abyss To Be Inducted Into Impact Wrestling Hall Of Fame
Impact Wrestling has announced that Abyss will be inducted to the Impact Wrestling Hall of Fame, joining Sting, Kurt Angle, Jeff Jarrett, Team 3D, Earl Hebner and Gail Kim who have been inducted.
I'm absolutely over whelmed with the response to my upcoming @IMPACTWRESTLING Hall of Fame induction. Thank you ALL for your messages. This is one of the highlights of my career. I'm over come with emotion. Thank you to everyone who ever supported me. This is for all of YOU!!

— Abyss (@TherealAbyss) September 21, 2018