Vanguard 1 Returns to 'Woken' Matt Hardy
"Woken" Matt Hardy is no longer alone in his quest to rid the WWE Universe of Bray Wyatt and his cosmic entity Sister Abigail.
Hardy recently posted a video on his Youtube channel featuring the return of one of the Broken Universe's most beloved characters – Vanguard 1.
From the video's description:
As The Lake of REINCARNATION thaws from its recent FROZEN SLUMBER, the MAGIC of The Hardy Compound becomes more POTENT, more MYSTICAL.. As my Platoon prepares for The Great War with The Consumer of Terrestrial Entities & the GROTESQUE Sister Abigail.
Introduced during The Final Deletion, Vanguard 1 was established as one of the core characters of the Broken Universe. Since then, the drone has appeared in various segments during Broken Matt Hardy's run in TNA It was also involved in promos for the Hardys' opponents outside of the promotion, including Ring of Honor where it received a super kick from The Young Bucks.
For fans who followed Broken Matt Hardy from TNA, it was a glorious sight to see Vanguard 1 return, but not too surprising given recent events.
Earlier this week, Hardy announced he successfully acquired the rights to the core characters of the Broken Universe from Anthem. He even tweeted a photo of him and Ed Nordholm, calling him and Anthem "Majestic beings who stand on the side of light." It is the latest in Anthem's effort to rework their contracts to allow talent to have ownership over their characters.
I am thrilled to PROCLAIM that we have ACQUIRED new ALLIES on our side of #TheGreatWar. Ed Nordholm & The Owl of Anthem have revealed themselves as MAJESTIC beings who stand on the side of the LIGHT.

The LIGHT always EMERGES, #WOKENWarriors.

Everything is COPASETIC & WONDERFUL! pic.twitter.com/bL6fN4cjnE

— #WOKEN Matt Hardy (@MATTHARDYBRAND) January 10, 2018
Since Hardy now has ownership of the Broken Universe, there is a good chance fans could see other characters make their presence known – Rebecca, King Maxel and Senior Benjamin. Whether Jeff Hardy returns as Brother Nero remains to be seen. Jeff Hardy is still injured and there's speculation he will move up the singles card when he makes his return to Raw.
Still, having the Hardy family and Vanguard 1 may alleviate some criticism labeled at the current angle between the Woken One and Wyatt. Most complaints stem from "Woken" Matt Hardy's program with Wyatt as not being the same as "Broken" Matt Hardy and the Final Deletion fans fell in love with in the first place.
Part of the issue could be WWE's creative department doesn't know what they could and couldn't do with the Broken Universe characters and concepts because of potential legal issues.
It's harder to bring in Matt Hardy's family into the WWE ring, but Vanguard 1 could be a player as this program continues.
One benefit of having Vanguard 1 on WWE TV, is fans could see some interesting vignettes and segments being filmed from the drone's perspective. One idea for a segment would be to have Vanguard 1 led the rest of Hardy's aerial assault robots attack the Wyatt Compound.
In one instance, Wyatt could end up stealing Vanguard 1 and turning it into his own servant. Having Wyatt kidnap Vanguard 1 is a way to give him an upper hand over Hardy. Part of Matt Hardy's struggle would be to get Vanguard 1 back from Wyatt's clutches. 
Some fans have already made up their minds on "Woken" Matt Hardy in WWE, but the return of Vanguard 1 could breathe new life into this angle.
NXT's Adam Cole Discusses Creative Freedom
NXT Champion Adam Cole is at the height of his success with the promotion, recently defeating Johnny Gargano in another instant classic to capture his first NXT Championship, and he is talking about how things go down in NXT.
Unlike much of the main roster, where promos are often scripted and comedy-acts are more common, Cole says that superstars in NXT get a bit more creative freedom, as he had with Gargano for their match.
"One of the coolest things about NXT is we have a ton of creative liberties to come up with the story and the vision we have for the match" Cole said, during an interview with TalkSport. "Of course, there's input and advice given and there's suggestions or, you know 'we need something this way' (but) we do have a lot of freedom, which is great."
Cole added that he and Gargano came up with the format for their two out of three falls classic at NXT Takeover: New York.
Rey Mysterio Praises Andrade
WWE superstar Rey Mysterio believes that the company has a big star on their hands in Andrade .
"This kid is awesome" Mysterio said, during an appearance on the WINCLY podcast. "I mentioned it before, in previous interviews, but, every time I'm in the ring with him, there's an affiliation to how I would move with Eddie [Guerrero]," Mysterio said.
"This is how good he is! He's thinking a step ahead before you even move. He already knows the positioning, and knows exactly what to do and how to do it. My hat goes off to Andrade, as he's definitely the future of WWE."
Mysterio sees all the tools necessary to succeed in WWE.
"Just like anybody else, once you can dominate the mic skills and English, then he is bound to become a star," Mysterio continued. "I've seen him work on his English, and it's a slow process, but he's moving forward. Once he dominates his English language, he's on his way to stardom."
Fandango, Apollo Crews, Killain Dain Make Returns to NXT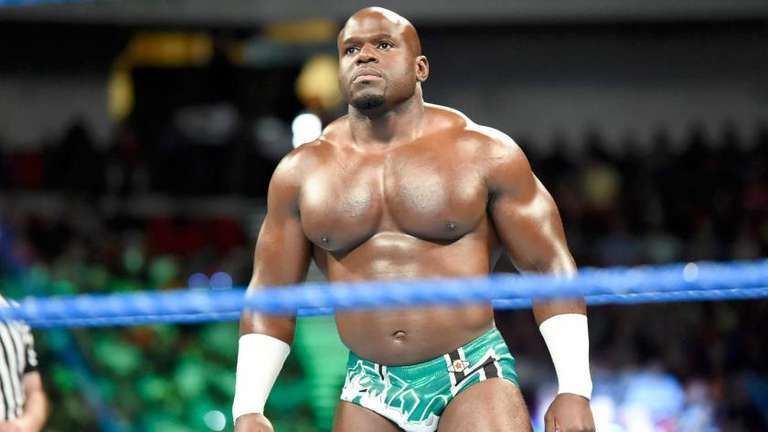 WWE is starting to allow superstars on their main rosters to transition back to NXT, much like they did with Tyler Breeze, who recently returned to NXT, where he had his most success, following around 2 years of meandering on the main roster following his callup.
Fandango, Apollo Crews, and Killian Dain made their returns to NXT tv at Winter Park, FL at Full Sail University for Thursday's NXT TV tapings.
Fandango, also making his return from injury, made the save for his Breezango partner, Tyler Breeze, who was on the receiving end of an attack at the hands of the Forgotten Sons. Crews made his return to take on Kushida in singles competition, and Dain made a brutal attack on Matt Riddle following Riddle's win over Arture Rass.
Fandango had been out of action after suffering a shoulder injury back in July 2018.