Will Vince McMahon's Role With WWE Change After XFL Relaunch?
Sports fans and the professional wrestling world knew it was coming – WWE founder and chairman Vince McMahon announced the return of the XFL.
During a press conference streamed on Alpha Entertainment, McMahon announced the XFL will return in January 2020. Although the WWE owner is funding the football league, things will be different this go around – no crossover with WWE, no flashy characters or gimmicks behind the league, just good old fashioned football that will go back to the football fans. It's akin to Tommy Dreamer's motto for his House of Hardcore promotion – "No politics, no BS, just wrestling."
In case you missed it, catch a highlight of Vince McMahon's historic @xfl2020 press announcement. #XFL2020 pic.twitter.com/vzG8QDJ1Jf

— Alpha Entertainment (@alphaentllc) January 26, 2018
It's a 180-degree from McMahon's first foray into football in 2001.
The basics of the revamped XFL include eight teams to start each with 40 man rosters. There will be a 10-game season beginning in January.
The game will also feature a goal of only two hours – with the potential of eliminating halftime. Players won't get to take a stance on issues on the field and any athlete with a criminal record will not play. McMahon is friends with Donald Trump, who is a WWE Hall of Famer and also criticized the NFL and players for sitting and kneeling during the National Anthem.
According to ESPN, the initial outlay is expected to be around $100 million, which is the same amount of WWE stock McMahon sold in December and funneled into Alpha Entertainment.
Of course there's speculation as McMahon's role with WWE going forward. McMahon said it will be two years before the XFL plays its first game, which he is time to get everything right.
McMahon also noted his duties with WWE will not change when the XFL launches. The WWE chairman said the press conference is most likely the last time he will be up front for the league. He said he would hire executives who know what they are doing.
It sounds like McMahon is learning his lesson in not spreading himself too thin when it comes to building the XFL and his duties in WWE. However, fans may not buy the idea of McMahon simple sitting back and letting a company play with his investment.
McMahon is has his fingers on the pulse when it comes to WWE – to borrow a phrase form Freddie Prinze Jr., the WWE is McMahon's toybox and he doesn't necessarily like others playing with his toys.
Sure McMahon will hire executives who know the game of football, but it's highly unlikely he will sit back and let someone else have the final say with the XFL – especially when it's $100 million he is investing.
Some folks are hoping McMahon's newest venture results in him taking time away from WWE so that Triple H can step in and have sole booking power with the promotion. This would result in more long-term booking, similar to what fans see in NXT.
This also could change if McMahon decides to sell WWE or if the promotion decides to leave the USA Network and move to a new broadcast channel.
The only person who really knows all of this is McMahon himself. 
NXT's Adam Cole Discusses Creative Freedom
NXT Champion Adam Cole is at the height of his success with the promotion, recently defeating Johnny Gargano in another instant classic to capture his first NXT Championship, and he is talking about how things go down in NXT.
Unlike much of the main roster, where promos are often scripted and comedy-acts are more common, Cole says that superstars in NXT get a bit more creative freedom, as he had with Gargano for their match.
"One of the coolest things about NXT is we have a ton of creative liberties to come up with the story and the vision we have for the match" Cole said, during an interview with TalkSport. "Of course, there's input and advice given and there's suggestions or, you know 'we need something this way' (but) we do have a lot of freedom, which is great."
Cole added that he and Gargano came up with the format for their two out of three falls classic at NXT Takeover: New York.
Rey Mysterio Praises Andrade
WWE superstar Rey Mysterio believes that the company has a big star on their hands in Andrade .
"This kid is awesome" Mysterio said, during an appearance on the WINCLY podcast. "I mentioned it before, in previous interviews, but, every time I'm in the ring with him, there's an affiliation to how I would move with Eddie [Guerrero]," Mysterio said.
"This is how good he is! He's thinking a step ahead before you even move. He already knows the positioning, and knows exactly what to do and how to do it. My hat goes off to Andrade, as he's definitely the future of WWE."
Mysterio sees all the tools necessary to succeed in WWE.
"Just like anybody else, once you can dominate the mic skills and English, then he is bound to become a star," Mysterio continued. "I've seen him work on his English, and it's a slow process, but he's moving forward. Once he dominates his English language, he's on his way to stardom."
Fandango, Apollo Crews, Killain Dain Make Returns to NXT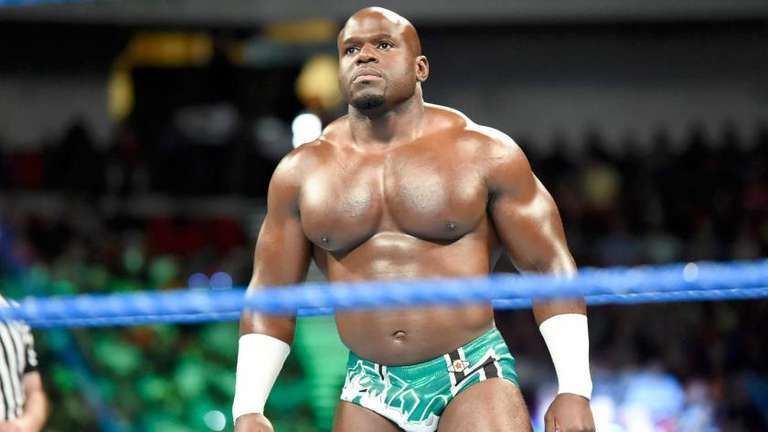 WWE is starting to allow superstars on their main rosters to transition back to NXT, much like they did with Tyler Breeze, who recently returned to NXT, where he had his most success, following around 2 years of meandering on the main roster following his callup.
Fandango, Apollo Crews, and Killian Dain made their returns to NXT tv at Winter Park, FL at Full Sail University for Thursday's NXT TV tapings.
Fandango, also making his return from injury, made the save for his Breezango partner, Tyler Breeze, who was on the receiving end of an attack at the hands of the Forgotten Sons. Crews made his return to take on Kushida in singles competition, and Dain made a brutal attack on Matt Riddle following Riddle's win over Arture Rass.
Fandango had been out of action after suffering a shoulder injury back in July 2018.