WWE: Eight Winners From Saudi Arabia Tryouts
WWE recently completed their tryouts in Saudi Arabia, and ended with eight winners.
The tryouts are being held in conjunction with WWE's April 28 Greatest Royal Rumble event and provided local athletes an opportunity to experience WWE training under Performance Center Head Coach Matt Bloom.
Visited the 4th day of #KSATryouts today. This week was a huge success due to the hard work of @WWE Talent Development, @WWEPerformCtr coaches and @WWENXT talent. #WWEGRR pic.twitter.com/u2MDgDHy3A

— Triple H (@TripleH) April 21, 2018
In a news release, the company announced the winners, who all come from a variety of athletic backgrounds.
Hussain Aldagal, a 6-foot-3, 215-pounder with a background in volleyball and bodybuilding
Mansoor Al-Shehail, a 6-foot, 175-pounder who has trained under WWE Hall of Famer Dory Funk Jr.
Faisal Kurdi, a 5-foot-9, 180-pound MMA fighter, amateur grappler and Muay Thai boxer
Nasser Bawazer, a 6-foot-3, 250-pound champion in boxing, MMA and aikido
Khalid Alhothali, a competitor in bodybuilding, as well as combat sports, including boxing and jiu-jitsu
Abdullah Almagrabi, a 225-pound karate champion and boxing trainer
Faisal Allabboudy, a 23-year-old whose athletic background includes competitive swimming, boxing and bodybuilding
Asaad Alshareef, a 23-year-old Greco Roman and freestyle wrestler who has also trained in various martial arts
WWE announced the eight athletes would continue to receive training leading up to the Royal Rumble event and one of those athletes will be a part of the Greatest Royal Rumble event on April 28. However, WWE didn't specify as to whether the athlete will be in the Royal Rumble match or just have a role on the show.
WWE is looking to expand their operations around the world and having training for athletes in countries where they are holding events is a good way to familiarize themselves with talent who are from the area. It doesn't appear the eight winners have much – if any at all – wrestling experience, but their athletic backgrounds give them a good foundation they can build off of whether they get signed by WWE or decide to pursue their own wrestling career.
Fans won't probably see many of these athletes in NXT, New Japan Pro Wrestling or the independents – there's a chance some of them won't go into pro wrestling. If these athletes do have a good experience, they will relay that to their friends and peers who may have pro wrestling aspirations.
While North America, Japan and Europe are known for being wrestling hotbeds have produced great wrestlers, there could be a hidden gem of talent or two in countries like Saudi Arabia. WWE is smart for holding tryouts because other promotions aren't looking into those areas for talent at this time.
The Greatest Royal Rumble will air on the WWE Network on April 28. All of the WWE's main roster men's championships will be on the line. There will also be a singles match between John Cena and Triple H, as well as a casket match between The Undertaker and Rusev..
Below are the wrestlers who are confirmed for the Royal Rumble match.
Daniel Bryan

Big Show

Braun Strowman

Kurt Angle

Apollo Crews

Titus O'Neil

Elias

Goldust

Mojo Rawley

Dolph Ziggler

Baron Corbin

Chad Gable

Big E

Kofi Kingston

Xavier Woods

Shelton Benjamin

Chris Jericho

Sin Cara
NXT's Adam Cole Discusses Creative Freedom
NXT Champion Adam Cole is at the height of his success with the promotion, recently defeating Johnny Gargano in another instant classic to capture his first NXT Championship, and he is talking about how things go down in NXT.
Unlike much of the main roster, where promos are often scripted and comedy-acts are more common, Cole says that superstars in NXT get a bit more creative freedom, as he had with Gargano for their match.
"One of the coolest things about NXT is we have a ton of creative liberties to come up with the story and the vision we have for the match" Cole said, during an interview with TalkSport. "Of course, there's input and advice given and there's suggestions or, you know 'we need something this way' (but) we do have a lot of freedom, which is great."
Cole added that he and Gargano came up with the format for their two out of three falls classic at NXT Takeover: New York.
Rey Mysterio Praises Andrade
WWE superstar Rey Mysterio believes that the company has a big star on their hands in Andrade .
"This kid is awesome" Mysterio said, during an appearance on the WINCLY podcast. "I mentioned it before, in previous interviews, but, every time I'm in the ring with him, there's an affiliation to how I would move with Eddie [Guerrero]," Mysterio said.
"This is how good he is! He's thinking a step ahead before you even move. He already knows the positioning, and knows exactly what to do and how to do it. My hat goes off to Andrade, as he's definitely the future of WWE."
Mysterio sees all the tools necessary to succeed in WWE.
"Just like anybody else, once you can dominate the mic skills and English, then he is bound to become a star," Mysterio continued. "I've seen him work on his English, and it's a slow process, but he's moving forward. Once he dominates his English language, he's on his way to stardom."
Fandango, Apollo Crews, Killain Dain Make Returns to NXT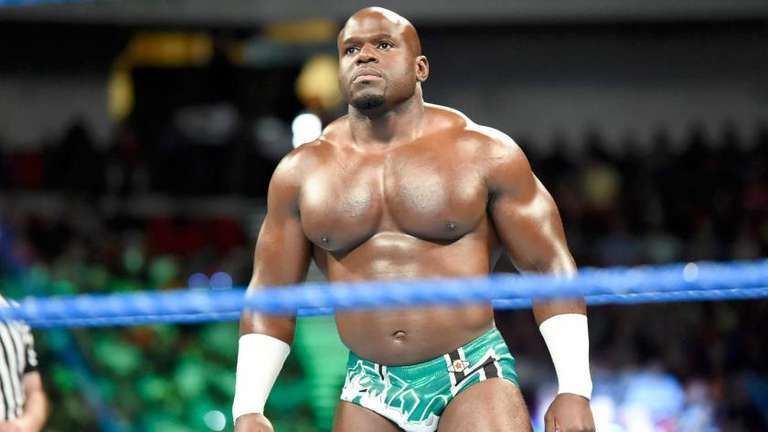 WWE is starting to allow superstars on their main rosters to transition back to NXT, much like they did with Tyler Breeze, who recently returned to NXT, where he had his most success, following around 2 years of meandering on the main roster following his callup.
Fandango, Apollo Crews, and Killian Dain made their returns to NXT tv at Winter Park, FL at Full Sail University for Thursday's NXT TV tapings.
Fandango, also making his return from injury, made the save for his Breezango partner, Tyler Breeze, who was on the receiving end of an attack at the hands of the Forgotten Sons. Crews made his return to take on Kushida in singles competition, and Dain made a brutal attack on Matt Riddle following Riddle's win over Arture Rass.
Fandango had been out of action after suffering a shoulder injury back in July 2018.