WWE Hall of Famer Stevie Ray Talks Not Joining WWE After WCW Buyout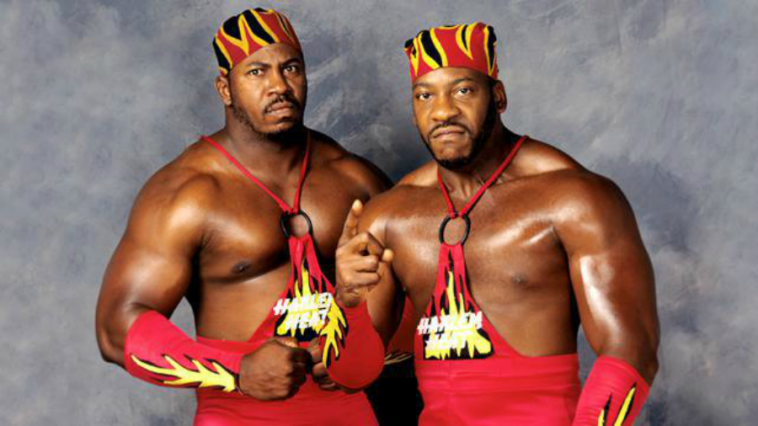 WWE Hall of Famer Stevie Ray, who was inducted as part of Harlem Heat, alongside his brother Booker 2, in this year's WWE Hall of Fame, recently discussed why he never joined WWE following his career in WCW.
Stevie Ray recently appeared on an episdoe of 'Conversations with the Big Guy' with host, and former WWE superstar, Ryback and talked about his thinking when WWE bought WCW.
Although his brother Booker T went on to WWE, Stevie Ray didn't want to do the same.
"I didn't want to go to WWF (WWE). As a matter of fact, the last WCW Nitro, I didn't even attend and they sent me a ticket. Bu,t I was always in the mindset of this is competition to me. This is NFL vs AFL, or National League versus American League in baseball. WCW vs WWF, to be honest with you, bro, I didn't want to go out like a bitch."
The Monday Night Wars were hard to get past for Stevie Ray.
"We had been fighting for the team (WCW). But when I heard Vince McMahon had come in, and stuff like that, which I knew was coming, it's like, you saw the writing on the wall and you put it in the back of your mind.
But at the end of the day I knew it was going to happen. But I didn't attend the last show because my brother [Booker T] said that they (WWE) are going to be auditioning people. I told him that he should do it, but I'm done."
Stevie Ray was concerned that WWE would change to Harlem Heat, stripping them of the elements that made that tag team so special.
"I wanted people to remember Harlem Heat as an ass-kicking tag team of color, you see what I'm saying? I didn't want us to be something else. I didn't want us to turn into a "Doink the Clown". So, I'm not saying that they would have done this with Harlem Heat, but, I didn't want to lose the edge that we once had as Harlem Heat."
Adam Cole Discusses Troubling Injury Recovery
AEW superstar Adam Cole has opened up about what he calls a "scary" recovery from a second concussion that he suffered at AEW and NJPW's 'Forbidden Door' event back in June 2022, with Cole set to make his return to the ring soon.
Cole specifically talked about memory loss as the most troubling aspect of his recovery:
"The memory stuff is the really, really scary part to me" Cole said, during an appearance on Wrestling Observer Radio (h/t CagesideSeats). "When you're in the middle of a ring and there's thousands of people around you and I have no idea what I'm supposed to be doing. That was really scary. So, I knew pretty early on after my memory started going that something was wrong."
Cole's road to recovery as an especially long one.
"The crazy thing was that after even a month, it was like that's when real serious side effects started happening" he said. "Everything I said in my return in-ring promo that I did all of that was true, and more. There was a lot of stuff that was happening very late into the healing process, or, what I thought was late, like a month-and-a-half, two months."
Cole is gearing up for his return to AEW, with all signs pointing to him stepping back into the ring at Revolution next month.
Donovan Dijak Suffers Injury at NXT Vengeance Day
NXT Vengeance Day was a rousing success for WWE on Saturday which saw a number of headlines come out of the event that was well-received by fans, including an injury suffered by Donovan Dijak during his match with Wes Lee for the North American Championship.
Dijak suffered an apparent broken finger during the match, which was seen on camera and shared on social media.
Following the event NXT general manager Shawn Michaels provided an update on Dijak, stating he did not suffer a broken finger – "Yeah, everybody is good" Michaels said. "I announced it at gorilla, it's got to be a miracle, It's not broken.
"We got him x-ray, they said it's not broken and so yeah, I guess what you do is you kind of numb it and put it back in place and that's what's happening now. But it is, again, a modern miracle because we all saw it, it was pretty gnarly looking. But, apparently, he's going to be okay, which is obviously fantastic news for us and him."
Tony Khan Open to AEW/WWE Crossover
AEW owner and booker Tony Khan is certainly open to the idea of AEW and WWE working together for a potential crossover supershow, despite Khan's consistent blasting of WWE over the last few years.
"It's something I would certainly be open to and I think it's an interesting thing for the future" Khan said during an appearance on WTF with Marc Maron. "It's not something that's ever really been done. They've kind of existed in their own space. We are working with a lot of wrestling promotions."
Khan's AEW has already worked with a number of promotions such as Impact Wrestling and NJPW, and WWE has even warmed to the idea of working with other promotions, as they have with Impact Wrestling, NJPW, and NOAH recently.