WWE Issues Press Release On 2007 DVD Lineup
DVD Unwrapped posted a press release issued by World Wrestling Entertainment detailing their 2007 DVD release schedule.
World Wrestling Entertainment® today unveiled its home entertainment release schedule for 2007. Twenty-five new titles are slated for release in 2007. Among the highlights is "Royal Rumble The Complete Anthology," a 20-disc box set covering the first 20 Royal Rumble events, including 14 never before released on DVD. Additionally the schedule includes a profile DVD on one of the most popular professional wrestling factions of all time, Ric Flair and the Four Horsemen, plus a first ever WWE DVD release on the recent library acquisition of World Class Championship Wrestling, and an in-depth look back at the history of the Ladder Match. Additional profile DVDs about John Cena, Rey Mysterio®, and Stone Cold Steve Austin will cover their lives both inside and outside professional wrestling.
Under a multi-year agreement announced last month, Genius Products, LLC. is now the exclusive home entertainment distributor of all WWE DVDs. The first WWE home entertainment release to be distributed by Genius, "Born to Controversy: The Roddy Piper(TM) Story," is available on DVD today. "Born to Controversy" is a three-disc release and the first to focus on WWE Legend "Rowdy" Roddy Piper. The DVD covers Piper's extensive career and intense rivalry with Hulk Hogan, plus more than 20 years of Piper's Pit and 17 all-time great Piper matches in their entirety.
The 2007 WWE Home Entertainment release schedule (all titles and dates are subject to change) is:
January: Armageddon® 2006 (1/16); ECW®: Extreme Rules (1/30)
February: The New Year's Revolution(TM) 2007 (2/6); The New & Improved D-Generation X(TM) (2/20); Royal Rumble 2007 (2/27)
March: Royal Rumble: The Complete Anthology Box Set (3/13); No Way Out® 2007 (3/20)
April: Ric Flair® and the Four Horsemen (4/10)
May: WrestleMania® 23 (5/22); Backlash® 2007 (5/29)
June: Great Families of Wrestling (6/5); Judgment Day® 2007 (6/19)
July: ECW One Night Stand(TM) 2007 (7/10); Vengeance® 2007 (7/24)
August: The Great American Bash® 2007 (8/21); The Ladder Match (8/28)
September: The Triumph & Tragedy of World Class Championship Wrestling (9/18); SummerSlam® 2007 (9/25)
October: Unforgiven® 2007 (10/16); Rey Mysterio: The Biggest Little Man (10/23)
November: No Mercy® 2007 (11/6); John Cena: My Life (11/06); Stone Cold Steve Austin's Life and Legacy (11/20)
December: WWE Cyber Sunday(TM) (12/4); Survivor Series® 2007 (12/26)
World Wrestling Entertainment, Inc. (NYSE:WWE – News), is an integrated media and entertainment company headquartered in Stamford, Conn., with offices in New York City, Los Angeles, Toronto and London. Additional information on the company can be found at wwe.com and corporate.wwe.com.
Trademarks: All World Wrestling Entertainment, Inc. programming, talent names, images, likenesses, slogans, wrestling moves, and logos are the exclusive property of World Wrestling Entertainment, Inc. All other trademarks, logos and copyrights are the property of their respective owners.
Forward-Looking Statements: This news release contains forward-looking statements pursuant to the safe harbor provisions of the Securities Litigation Reform Act of 1995, which are subject to various risks and uncertainties. These risks and uncertainties include the conditions of the markets for live events, broadcast television, cable television, pay-per-view, Internet, entertainment, professional sports, and licensed merchandise; acceptance of the Company's brands, media and merchandise within those markets; uncertainties relating to litigation; risks associated with producing live events both domestically and internationally; uncertainties associated with international markets; risks relating to maintaining and renewing key agreements, including television distribution agreements; and other risks and factors set forth from time to time in Company filings with the Securities and Exchange Commission. Actual results could differ materially from those currently expected or anticipated. In addition to these risks and uncertainties, our dividend is based on a number of factors, including our liquidity and historical and projected cash flow, strategic plan, our financial results and condition, contractual and legal restrictions on the payment of dividends and such other factors as our board of directors may consider relevant.
WWE Smackdown vs. Raw: Who won this week? April 16, 2019
The Good
For Raw, they got the best addition from the shakeup to their show, which was AJ Styles. After Styles really made his mark on Smackdown, it seemed like WWE creative was running out of ideas of what to do with Styles on Smackdown. So, having him on Raw is really intriguing now and it should be interesting to see what the future holds for him on Raw.
For Smackdown, their biggest addition from the shakeup was Roman Reigns and the way they introduced him to the show was entertaining. After Vince McMahon announced that the "biggest addition in Smackdown history" was Elias, Roman Reigns interrupted and ended up clearing out the ring and declaring that Smackdown is his yard now. Reigns needed a change of scenery after being on Raw for few years, so this is something the WWE universe should be excited for.
The Bad
For Raw, while it was great to see an NXT tag team called up, the name they gave him is horrible. Formerly known as the War Raiders, who are the current NXT tag team champions were called up to Monday nights. But, they decided to change their name to the Viking Experience, which is one of the worst name changes in WWE history.
For Smackdown, they had a match between Carmella and Charlotte Flair and this felt like filler. After all the new names that they brought onto Smackdown during the shakeup for the women's division, they could have had one of them in this match instead of putting them all together in the 8-women tag match that was featured on the show later.
The Final Verdict
For these being the superstar shakeup episodes, both shows felt a little underwhelming. While we are able to think of the possibility of matchups that we will see in the future because of this shakeup, the introduction of these new names felt like they should have been a bigger deal. Along with that, it seemed like WWE either was confused on how to handle some of these shakeups or they purposely wanted to confuse the fans. A prime example is how Finn Balor went to Smackdown with the Intercontinental championship. Since this was introduced to us on Smackdown, is there no secondary belt now on Raw? Or did Samoa Joe just automatically move to Raw because he currently was holding the original secondary belt on Smackdown? Overall, as to who had the better show, I will have to say that Raw had the better show. The additions of the Miz, the Usos, Rey Mysterio, Andrade, AJ Styles, and Naomi are all new faces that were due for this. In conclusion, while the shakeup could've been handled better, the future should be intriguing as WWE prepares to fully move on from Wrestlemania.
Matt Hardy Responds to John Oliver's WWE Segment
John Oliver, host of HBO's popular 'Last Week Tonight', took WWE to task in a recent episode over their lack of healthcare for their performers, bringing a dark element of the treatment of WWE superstars to light.
Since then, wrestlers have spoken out, both in support of Oliver's segment and coming to the defense of WWE.
One of those coming to WWE's defense is WWE superstar and future Hall of Famer Matt Hardy, who praised WWE and how far they have come over the years.
"When I first started here [1997/1998] the locker room, everything was like the wild wild west then" Hardy said in an interview with FOX Sports (h/t Wrestling Inc). "  The change that has happened in those 20-plus years has been unreal. I mean, now the drug testing is very stringent. … You have to be here, and you have to be good and you have to be on top of your game. You have to be a professional. The physicals they do as far as cardiovascular and just checking you over and over — [there have] been several guys they caught that have had serious [health] issues that could have been life threatening if they didn't catch it here, and just the way they take care of you. "
"Every surgery I ever had, WWE has paid for. They're very faithful and very good about that. It's just some of the stuff that the John talked about was kind of passé, kind of outdated because now they really do [take care of wrestlers' health]. They take care of everything especially stuff that happens in house. As far as the whole health insurance thing, that's kind of a different argument, because we do a different gig in many many ways. But WWE has never done anything but be great to me.
"They've taking care of me in every capacity, every front. And they've given me a great life. I mean one of the characters I play is 'Big Money' Matt, who's like this millionaire that's been around for a long time, and you know there's a lot of truth to it in some ways, and I wouldn't have that persona and I wouldn't have the great life that I have right now if it wasn't for WWE."
WWE Hall of Famer Stevie Ray Talks Not Joining WWE After WCW Buyout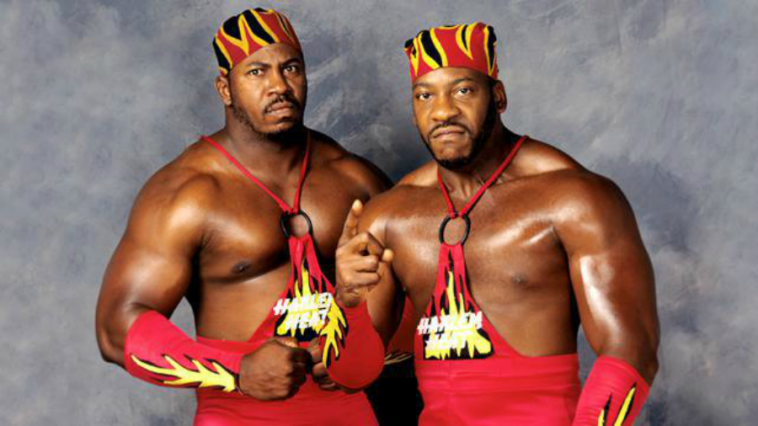 WWE Hall of Famer Stevie Ray, who was inducted as part of Harlem Heat, alongside his brother Booker 2, in this year's WWE Hall of Fame, recently discussed why he never joined WWE following his career in WCW.
Stevie Ray recently appeared on an episdoe of 'Conversations with the Big Guy' with host, and former WWE superstar, Ryback and talked about his thinking when WWE bought WCW.
Although his brother Booker T went on to WWE, Stevie Ray didn't want to do the same.
"I didn't want to go to WWF (WWE). As a matter of fact, the last WCW Nitro, I didn't even attend and they sent me a ticket. Bu,t I was always in the mindset of this is competition to me. This is NFL vs AFL, or National League versus American League in baseball. WCW vs WWF, to be honest with you, bro, I didn't want to go out like a bitch."
The Monday Night Wars were hard to get past for Stevie Ray.
"We had been fighting for the team (WCW). But when I heard Vince McMahon had come in, and stuff like that, which I knew was coming, it's like, you saw the writing on the wall and you put it in the back of your mind.
But at the end of the day I knew it was going to happen. But I didn't attend the last show because my brother [Booker T] said that they (WWE) are going to be auditioning people. I told him that he should do it, but I'm done."
Stevie Ray was concerned that WWE would change to Harlem Heat, stripping them of the elements that made that tag team so special.
"I wanted people to remember Harlem Heat as an ass-kicking tag team of color, you see what I'm saying? I didn't want us to be something else. I didn't want us to turn into a "Doink the Clown". So, I'm not saying that they would have done this with Harlem Heat, but, I didn't want to lose the edge that we once had as Harlem Heat."