WWE Issues Press Release On 2007 DVD Lineup
DVD Unwrapped posted a press release issued by World Wrestling Entertainment detailing their 2007 DVD release schedule.
World Wrestling Entertainment® today unveiled its home entertainment release schedule for 2007. Twenty-five new titles are slated for release in 2007. Among the highlights is "Royal Rumble The Complete Anthology," a 20-disc box set covering the first 20 Royal Rumble events, including 14 never before released on DVD. Additionally the schedule includes a profile DVD on one of the most popular professional wrestling factions of all time, Ric Flair and the Four Horsemen, plus a first ever WWE DVD release on the recent library acquisition of World Class Championship Wrestling, and an in-depth look back at the history of the Ladder Match. Additional profile DVDs about John Cena, Rey Mysterio®, and Stone Cold Steve Austin will cover their lives both inside and outside professional wrestling.
Under a multi-year agreement announced last month, Genius Products, LLC. is now the exclusive home entertainment distributor of all WWE DVDs. The first WWE home entertainment release to be distributed by Genius, "Born to Controversy: The Roddy Piper(TM) Story," is available on DVD today. "Born to Controversy" is a three-disc release and the first to focus on WWE Legend "Rowdy" Roddy Piper. The DVD covers Piper's extensive career and intense rivalry with Hulk Hogan, plus more than 20 years of Piper's Pit and 17 all-time great Piper matches in their entirety.
The 2007 WWE Home Entertainment release schedule (all titles and dates are subject to change) is:
January: Armageddon® 2006 (1/16); ECW®: Extreme Rules (1/30)
February: The New Year's Revolution(TM) 2007 (2/6); The New & Improved D-Generation X(TM) (2/20); Royal Rumble 2007 (2/27)
March: Royal Rumble: The Complete Anthology Box Set (3/13); No Way Out® 2007 (3/20)
April: Ric Flair® and the Four Horsemen (4/10)
May: WrestleMania® 23 (5/22); Backlash® 2007 (5/29)
June: Great Families of Wrestling (6/5); Judgment Day® 2007 (6/19)
July: ECW One Night Stand(TM) 2007 (7/10); Vengeance® 2007 (7/24)
August: The Great American Bash® 2007 (8/21); The Ladder Match (8/28)
September: The Triumph & Tragedy of World Class Championship Wrestling (9/18); SummerSlam® 2007 (9/25)
October: Unforgiven® 2007 (10/16); Rey Mysterio: The Biggest Little Man (10/23)
November: No Mercy® 2007 (11/6); John Cena: My Life (11/06); Stone Cold Steve Austin's Life and Legacy (11/20)
December: WWE Cyber Sunday(TM) (12/4); Survivor Series® 2007 (12/26)
World Wrestling Entertainment, Inc. (NYSE:WWE – News), is an integrated media and entertainment company headquartered in Stamford, Conn., with offices in New York City, Los Angeles, Toronto and London. Additional information on the company can be found at wwe.com and corporate.wwe.com.
Trademarks: All World Wrestling Entertainment, Inc. programming, talent names, images, likenesses, slogans, wrestling moves, and logos are the exclusive property of World Wrestling Entertainment, Inc. All other trademarks, logos and copyrights are the property of their respective owners.
Forward-Looking Statements: This news release contains forward-looking statements pursuant to the safe harbor provisions of the Securities Litigation Reform Act of 1995, which are subject to various risks and uncertainties. These risks and uncertainties include the conditions of the markets for live events, broadcast television, cable television, pay-per-view, Internet, entertainment, professional sports, and licensed merchandise; acceptance of the Company's brands, media and merchandise within those markets; uncertainties relating to litigation; risks associated with producing live events both domestically and internationally; uncertainties associated with international markets; risks relating to maintaining and renewing key agreements, including television distribution agreements; and other risks and factors set forth from time to time in Company filings with the Securities and Exchange Commission. Actual results could differ materially from those currently expected or anticipated. In addition to these risks and uncertainties, our dividend is based on a number of factors, including our liquidity and historical and projected cash flow, strategic plan, our financial results and condition, contractual and legal restrictions on the payment of dividends and such other factors as our board of directors may consider relevant.
NXT's Adam Cole Discusses Creative Freedom
NXT Champion Adam Cole is at the height of his success with the promotion, recently defeating Johnny Gargano in another instant classic to capture his first NXT Championship, and he is talking about how things go down in NXT.
Unlike much of the main roster, where promos are often scripted and comedy-acts are more common, Cole says that superstars in NXT get a bit more creative freedom, as he had with Gargano for their match.
"One of the coolest things about NXT is we have a ton of creative liberties to come up with the story and the vision we have for the match" Cole said, during an interview with TalkSport. "Of course, there's input and advice given and there's suggestions or, you know 'we need something this way' (but) we do have a lot of freedom, which is great."
Cole added that he and Gargano came up with the format for their two out of three falls classic at NXT Takeover: New York.
Rey Mysterio Praises Andrade
WWE superstar Rey Mysterio believes that the company has a big star on their hands in Andrade .
"This kid is awesome" Mysterio said, during an appearance on the WINCLY podcast. "I mentioned it before, in previous interviews, but, every time I'm in the ring with him, there's an affiliation to how I would move with Eddie [Guerrero]," Mysterio said.
"This is how good he is! He's thinking a step ahead before you even move. He already knows the positioning, and knows exactly what to do and how to do it. My hat goes off to Andrade, as he's definitely the future of WWE."
Mysterio sees all the tools necessary to succeed in WWE.
"Just like anybody else, once you can dominate the mic skills and English, then he is bound to become a star," Mysterio continued. "I've seen him work on his English, and it's a slow process, but he's moving forward. Once he dominates his English language, he's on his way to stardom."
Fandango, Apollo Crews, Killain Dain Make Returns to NXT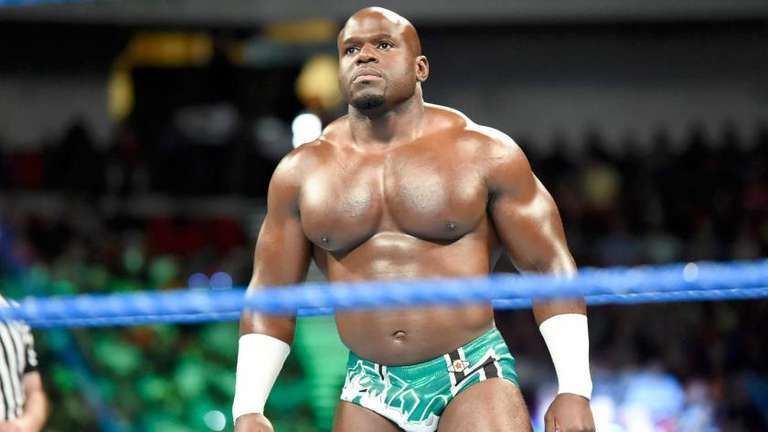 WWE is starting to allow superstars on their main rosters to transition back to NXT, much like they did with Tyler Breeze, who recently returned to NXT, where he had his most success, following around 2 years of meandering on the main roster following his callup.
Fandango, Apollo Crews, and Killian Dain made their returns to NXT tv at Winter Park, FL at Full Sail University for Thursday's NXT TV tapings.
Fandango, also making his return from injury, made the save for his Breezango partner, Tyler Breeze, who was on the receiving end of an attack at the hands of the Forgotten Sons. Crews made his return to take on Kushida in singles competition, and Dain made a brutal attack on Matt Riddle following Riddle's win over Arture Rass.
Fandango had been out of action after suffering a shoulder injury back in July 2018.