WWE Shares Balor Club History, References NJPW and Bullet Club
The WWE Universe witnessed one of the most highly anticipated faction formations on Raw. Former WWE Universal Champion Finn Balor has formed a union with former Raw Tag Team titleholders Karl Anderson and Luke Gallows.
For wrestling fans who have followed the trio's careers in the last 6-7 years, it was a joyful site to see the three former members of the Bullet Club standing aside each other and throwing up a too sweet.
Some fans speculate whether or not WWE would acknowledge these three were at one time in the Bullet Club. Anderson and Balor, when he was Prince Devitt, were two of the founding members when the group formed on May 3, 2013 and served as leaders of the faction. Gallows joined the group on Nov. 23 of that year.
Broadcasters have run down Balor's accolades in New Japan, as well as Anderson's and Gallows', but they have never given much air to mentioning Bullet Club, except for when talent did it themselves or social posted a reference to the NJPW stable, and in those instances they were usually edited out.
However, WWE has in fact acknowledged the trio as former Bullet Club members in a video it released on its Youtube page.
The video, "Who are The Bálor Club and how do they know each other?" shares some information about the trio's days in New Japan Pro Wrestling and founding of the Bullet Club. It also references how the three were on seperate paths when they came to WWE – Balor's journey from NJPW to NXT and main roster while Gallows and Anderson formed "The Club" with A.J. Styles when they arrived.
The video does not feature any audio narration, but displays still images with text and music. It's not the usual style of WWE videos and it's reminiscent of pieces produced from pro wrestling Youtube channels.
The trio teamed up on the Jan. 1 episode of Raw to defeat Elias, Bo Dallas and Curtis Axel. The next week, they formed the Balor Club and  defeated Raw Tag Team Champions Seth Rollins and Jason Jordan, and Intercontinental Champion Roman Reigns in a 6 man tag team match.
The win against Rollins, Jordan and Reigns was a good way to introduce the group as a new force on Raw. IT also gives Anderson and Gallows something to do, and associates them with a major talent on the roster in Balor.
The Balor Club may not reach the heights that the Bullet Club has, but it is an opportunity for Anderson and Gallows, and especially Balor, for have a fresh start in the WWE and really get over with the crowd. Balor also has a chance to delve back into his heel Prince Devitt persona and try it out in front of a WWE audience. Fans may not see him make gun gestures with his fingers, but they could get some of his personality to shine.
The WWE does not have to limit the Balor to Club to just Balor, Anderson and Gallows. The company could move the stable to Smackdown Live and add A.J. Styles. There is also room for the group to add its first female member, possibly Balor's Mixed Match Challenge partner Sasha Banks.
That does not mean the Balor Club needs more members to be successful.
Balor, Gallows and Anderson have good chemistry together and when you get wrestlers in a faction who are good friends in real life, it translates well in and out of the ring. Fans have seen this type of chemistry with the current incarnation of the Bullet Club, The Shield and The New Day. If WWE allows the Balor Club to be themselves in front of the camera and in the ring, fans will see how much fun they are having together and how they cool they are and gravitate toward them.
As Balor said during a backstage segment, 2018 is the year of the Balor Club. He may be right.
NXT's Adam Cole Discusses Creative Freedom
NXT Champion Adam Cole is at the height of his success with the promotion, recently defeating Johnny Gargano in another instant classic to capture his first NXT Championship, and he is talking about how things go down in NXT.
Unlike much of the main roster, where promos are often scripted and comedy-acts are more common, Cole says that superstars in NXT get a bit more creative freedom, as he had with Gargano for their match.
"One of the coolest things about NXT is we have a ton of creative liberties to come up with the story and the vision we have for the match" Cole said, during an interview with TalkSport. "Of course, there's input and advice given and there's suggestions or, you know 'we need something this way' (but) we do have a lot of freedom, which is great."
Cole added that he and Gargano came up with the format for their two out of three falls classic at NXT Takeover: New York.
Rey Mysterio Praises Andrade
WWE superstar Rey Mysterio believes that the company has a big star on their hands in Andrade .
"This kid is awesome" Mysterio said, during an appearance on the WINCLY podcast. "I mentioned it before, in previous interviews, but, every time I'm in the ring with him, there's an affiliation to how I would move with Eddie [Guerrero]," Mysterio said.
"This is how good he is! He's thinking a step ahead before you even move. He already knows the positioning, and knows exactly what to do and how to do it. My hat goes off to Andrade, as he's definitely the future of WWE."
Mysterio sees all the tools necessary to succeed in WWE.
"Just like anybody else, once you can dominate the mic skills and English, then he is bound to become a star," Mysterio continued. "I've seen him work on his English, and it's a slow process, but he's moving forward. Once he dominates his English language, he's on his way to stardom."
Fandango, Apollo Crews, Killain Dain Make Returns to NXT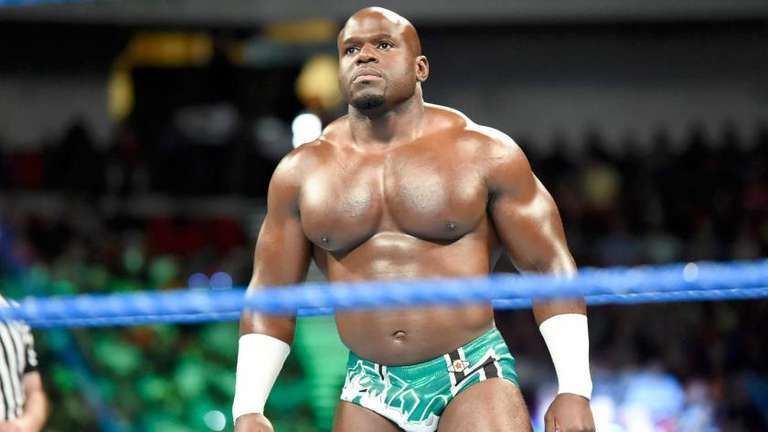 WWE is starting to allow superstars on their main rosters to transition back to NXT, much like they did with Tyler Breeze, who recently returned to NXT, where he had his most success, following around 2 years of meandering on the main roster following his callup.
Fandango, Apollo Crews, and Killian Dain made their returns to NXT tv at Winter Park, FL at Full Sail University for Thursday's NXT TV tapings.
Fandango, also making his return from injury, made the save for his Breezango partner, Tyler Breeze, who was on the receiving end of an attack at the hands of the Forgotten Sons. Crews made his return to take on Kushida in singles competition, and Dain made a brutal attack on Matt Riddle following Riddle's win over Arture Rass.
Fandango had been out of action after suffering a shoulder injury back in July 2018.