WWE Smackdown vs. Raw: Who won this week? April 30, 2019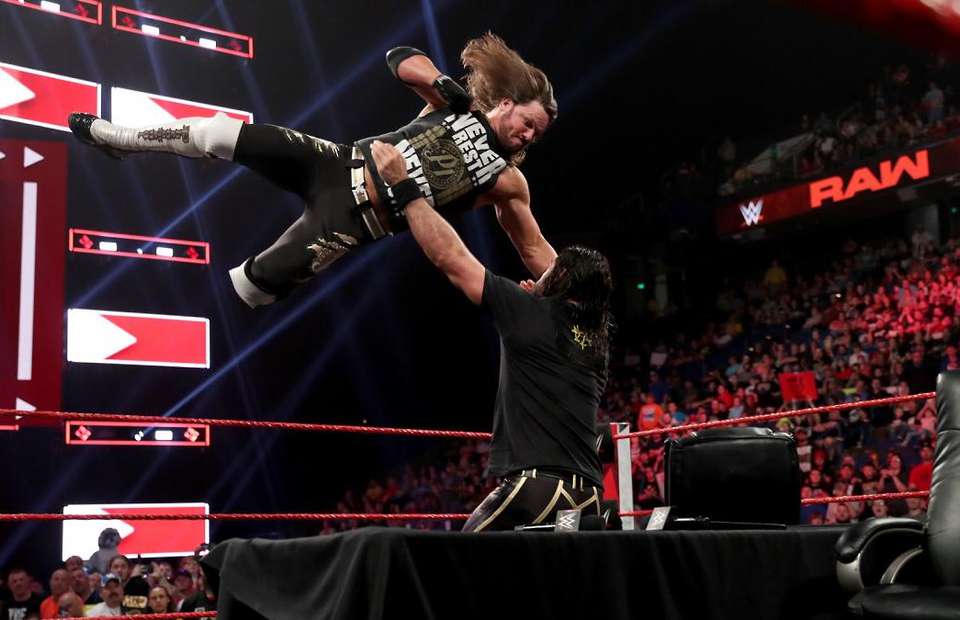 The Good
For Raw, the contract signing between AJ Styles and Seth Rollins was a great segment to end their show and continue to build up their match for Money in the Bank. They exchanged insults and eventually came to blows and the final shot we saw was AJ Styles standing over Rollins after he hit him with a phenomenal forearm through a table.
For Smackdown, the build up between Kofi Kingston and Kevin Owens got a lot of time featured on their show this week, and it was all really good material. It opened and closed their show and ended with Kofi Kingston getting the upper hand after he brawled with Owens. Overall, this match is getting a lot of attention and it should considering this is for the WWE Championship.
The Bad
For Raw, unfortunately, it looks like the rumors with Lio Rush not getting along with people backstage is true because when Bobby Lashley went on Miz TV, Rush was nowhere to be found. While it is unknown what the future holds for Rush, WWE has to start all over with Bobby Lashley again by himself and he's not even in the Money in the Bank match either.
For Smackdown, they had a tag match which had Kairi Sane and Asuka versus two local competitors and this match felt like filler. With the main focus being on the women's ladder match and neither Asuka or Sane being in that match, there really is nothing for those two to do at the moment.
The Final Verdict
Both brands are focusing on the Money in the Bank PPV, but some delivery of the matches have fell flat. Both the men's and women's ladder match competitors were just announced instead of each competitor actually earning an opportunity to get in the ladder match. But, as far as their championship matches, both men's and women's, have been given plenty of time and those matches do feel more important. As far as who had the better show, Raw has more matches on the PPV, therefore they were able to put more time into them. In conclusion, Money in the Bank is still a few weeks away, but WWE has given a lot of time into it so the fans should be excited for the first PPV since Wrestlemania.
Adam Cole Discusses Troubling Injury Recovery
AEW superstar Adam Cole has opened up about what he calls a "scary" recovery from a second concussion that he suffered at AEW and NJPW's 'Forbidden Door' event back in June 2022, with Cole set to make his return to the ring soon.
Cole specifically talked about memory loss as the most troubling aspect of his recovery:
"The memory stuff is the really, really scary part to me" Cole said, during an appearance on Wrestling Observer Radio (h/t CagesideSeats). "When you're in the middle of a ring and there's thousands of people around you and I have no idea what I'm supposed to be doing. That was really scary. So, I knew pretty early on after my memory started going that something was wrong."
Cole's road to recovery as an especially long one.
"The crazy thing was that after even a month, it was like that's when real serious side effects started happening" he said. "Everything I said in my return in-ring promo that I did all of that was true, and more. There was a lot of stuff that was happening very late into the healing process, or, what I thought was late, like a month-and-a-half, two months."
Cole is gearing up for his return to AEW, with all signs pointing to him stepping back into the ring at Revolution next month.
Donovan Dijak Suffers Injury at NXT Vengeance Day
NXT Vengeance Day was a rousing success for WWE on Saturday which saw a number of headlines come out of the event that was well-received by fans, including an injury suffered by Donovan Dijak during his match with Wes Lee for the North American Championship.
Dijak suffered an apparent broken finger during the match, which was seen on camera and shared on social media.
Following the event NXT general manager Shawn Michaels provided an update on Dijak, stating he did not suffer a broken finger – "Yeah, everybody is good" Michaels said. "I announced it at gorilla, it's got to be a miracle, It's not broken.
"We got him x-ray, they said it's not broken and so yeah, I guess what you do is you kind of numb it and put it back in place and that's what's happening now. But it is, again, a modern miracle because we all saw it, it was pretty gnarly looking. But, apparently, he's going to be okay, which is obviously fantastic news for us and him."
Tony Khan Open to AEW/WWE Crossover
AEW owner and booker Tony Khan is certainly open to the idea of AEW and WWE working together for a potential crossover supershow, despite Khan's consistent blasting of WWE over the last few years.
"It's something I would certainly be open to and I think it's an interesting thing for the future" Khan said during an appearance on WTF with Marc Maron. "It's not something that's ever really been done. They've kind of existed in their own space. We are working with a lot of wrestling promotions."
Khan's AEW has already worked with a number of promotions such as Impact Wrestling and NJPW, and WWE has even warmed to the idea of working with other promotions, as they have with Impact Wrestling, NJPW, and NOAH recently.