WWE Smackdown vs. Raw: Who won this week? April 30, 2019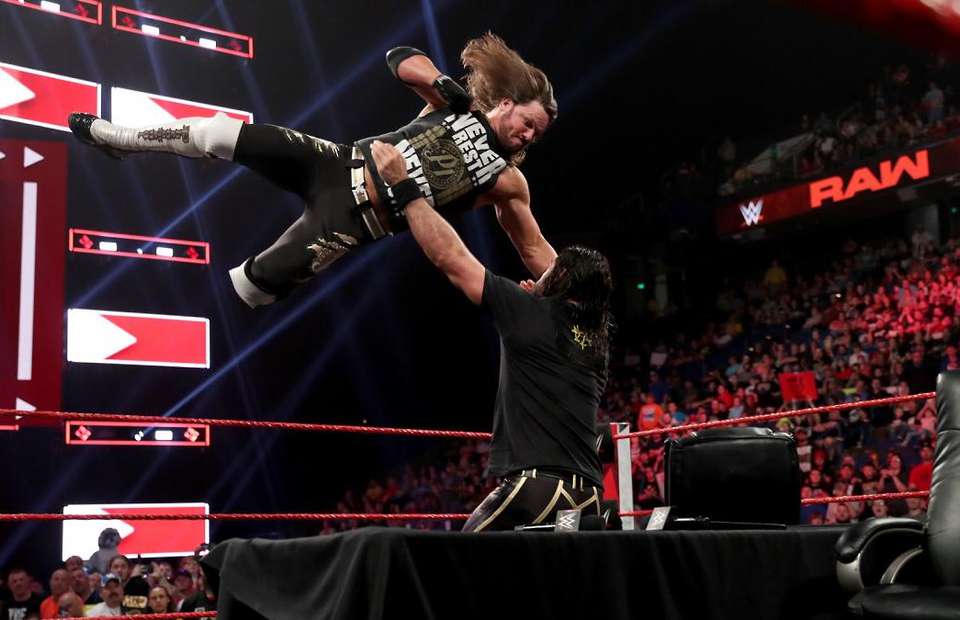 The Good
For Raw, the contract signing between AJ Styles and Seth Rollins was a great segment to end their show and continue to build up their match for Money in the Bank. They exchanged insults and eventually came to blows and the final shot we saw was AJ Styles standing over Rollins after he hit him with a phenomenal forearm through a table.
For Smackdown, the build up between Kofi Kingston and Kevin Owens got a lot of time featured on their show this week, and it was all really good material. It opened and closed their show and ended with Kofi Kingston getting the upper hand after he brawled with Owens. Overall, this match is getting a lot of attention and it should considering this is for the WWE Championship.
The Bad
For Raw, unfortunately, it looks like the rumors with Lio Rush not getting along with people backstage is true because when Bobby Lashley went on Miz TV, Rush was nowhere to be found. While it is unknown what the future holds for Rush, WWE has to start all over with Bobby Lashley again by himself and he's not even in the Money in the Bank match either.
For Smackdown, they had a tag match which had Kairi Sane and Asuka versus two local competitors and this match felt like filler. With the main focus being on the women's ladder match and neither Asuka or Sane being in that match, there really is nothing for those two to do at the moment.
The Final Verdict
Both brands are focusing on the Money in the Bank PPV, but some delivery of the matches have fell flat. Both the men's and women's ladder match competitors were just announced instead of each competitor actually earning an opportunity to get in the ladder match. But, as far as their championship matches, both men's and women's, have been given plenty of time and those matches do feel more important. As far as who had the better show, Raw has more matches on the PPV, therefore they were able to put more time into them. In conclusion, Money in the Bank is still a few weeks away, but WWE has given a lot of time into it so the fans should be excited for the first PPV since Wrestlemania.
AEW's Nyla Rose Talks About Being Promotion's 1st Transgender Wrestler
All Elite Wrestling has already impressed with their 'Double or Nothing' event last month in Las Vegas, and their roster of professional wrestlers continue to make headlines with their matches, and the work they do on social media as well.
One AEW wrestler who is receiving the spotlight is Nyla Rose, the promotion's first transgender wrestler, who is discussing her journey to AEW and her future.
"As much negativity that I do see, I do see much more love and acceptance," Rose said, during an interview with Sports Illustrated. "It's just that sadly negative things seem to get highlighted more than positive things."
She continued, ""If I can bear the weight, if I can hold up all the hatred and everything and carry that on my back, I know that I'm strong enough to do it, If the people out there need to beat me up and I need to absorb that so that the next generation, the youth, can have an easier time, I gladly welcome that."
"I'm really hoping to set the tone and set the pace and create that environment that's going to fuel the next generation" Rose commented "Not just trans people, but inspire anybody to say, 'Hey, these women lit that on fire. I want to be that. I want to do that.'"
"AEW has felt that I am worthy of a chance. All I can ask is that some of the people out there, the fans who might be a little bit tight-minded, just give me a chance to show you what I can do in the ring. That's all."
NXT's Adam Cole Discusses Creative Freedom
NXT Champion Adam Cole is at the height of his success with the promotion, recently defeating Johnny Gargano in another instant classic to capture his first NXT Championship, and he is talking about how things go down in NXT.
Unlike much of the main roster, where promos are often scripted and comedy-acts are more common, Cole says that superstars in NXT get a bit more creative freedom, as he had with Gargano for their match.
"One of the coolest things about NXT is we have a ton of creative liberties to come up with the story and the vision we have for the match" Cole said, during an interview with TalkSport. "Of course, there's input and advice given and there's suggestions or, you know 'we need something this way' (but) we do have a lot of freedom, which is great."
Cole added that he and Gargano came up with the format for their two out of three falls classic at NXT Takeover: New York.
Scarlett Bordeaux Granted Release From Impact Wrestling
Scarlett Bordeaux has been granted her release from Impact Wrestling.
Impact Wrestling confirmed that they have parted ways with the 28-year old Bordeaux.
"IMPACT Wrestling confirms that it has released Scarlett Bordeaux from her commitments to IMPACT" Impact Wrestling said in an official statement. "We wish her every success in her future endeavors."
I couldn't be more excited to just be a free agent for a while. With that being said, promoters I'm looking to fill July 6th and July 19th! [email protected]#Independent #Smokeshow #StillMakingWrestlingSexyAgain https://t.co/owUZskKWro

— Scarlett Bordeaux (@Lady_Scarlett13) June 18, 2019