WWE Smackdown vs. Raw: Who won this week? July 23, 2018
The Good
For Raw, the big announcement Stephanie McMahon had to start the show was that WWE will have its first ever all women's PPV. This is such a great achievement for women's wrestling and they definitely deserve to have the spotlight. This event will be in late October and it should be something all wrestling fans should look forward to.
For Smackdown, we got heel Randy Orton back and it is going to be great. Orton came out and finally explained his actions as to why he attacked Jeff Hardy. He said that he wasn't getting the respect he deserves and he is absolutely right considering how the fans treated him when he was a good guy. Orton stated his main goal is to now take the superstars that are considered "heroes" and take them out. Fans demanded for Orton to be a heel and they got him now in full effect.
The Bad
For Raw, you would think that when a rivalry that has a trilogy of fights, that those were good fights and the third one is to finish it once and for all. That is NOT the  case with Roman Reigns and Brock Lesnar. Reigns defeated Bobby Lashley to face Lesnar at Summerslam and I do not understand why WWE insists on going down this route. Their match at Wrestlemania was the worst of the night and now they plan on having this as the main event again?!? This also now makes Lashley beating Reigns at Extreme Rules completely irrelevant too. WWE just wants to shove Roman Reigns down our throat at this point and I find it ridiculous that we have to see this terrible rivalry get built up again.
For Smackdown, they are going to try and build Asuka back up by defeating Billie Kay in a singles match this week, but after the disaster that happened with her and Carmella, it may take a while before we see her back on the top. What also doesn't make much sense is that later in the show, Paige finally decided to fire James Ellsworth. That also just leaves Asuka hanging because then it asks, what would happen if she faced Carmella without Ellsworth interfering in both matches? Either way, this whole ordeal doesn't help Asuka much.
The Final Verdict
Overall, both shows are starting to establish the card for Summerslam. We had a few championship matches announced as well as a match with a very important stipulation. With that being said though, I would have to say that Smackdown had the better show this week. We had entertaining matches, got a segment to find out who will face AJ Styles at Summerslam, and we have a mini tournament to decide who will face the Bludgeon Brothers at Summerslam too. Both brands are going to be pushing their big matches as much as possible going forward. Hopefully though, they can just tell the stories right so that fans can get behind them.
Mia Yim Returns to WWE: "I'm Ready to get My Retribution"
Mia Yim made her return to WWE during Monday Night RAW following her release from the company back on November 4th, 2021, during a segment between The O.C. and The Judgment Day, by attacking Rhea Ripley.
AJ Styles, Luke Gallows, and Karl Anderson had been looking for some help as they battle with the faction, and Ripley has been a factor in their battles. Now, Yim joins them to help neutralize Ripley.
Yim commented on her return during a backstage interview, and made reference to the former Retribution stable that spelled the end for many promising runs.
"Oh my gosh, it feels so good to be back. It took me a year to try and find myself but now I'm ready. I'm ready to go. I'm ready to kick some ass and get my retribution. But the boys are waiting on me so I'll see ya later."
EXCLUSIVE: @MiaYim is ready to get some retribution in WWE once again!#WWERaw pic.twitter.com/qTJnvjA0Xg

— WWE (@WWE) November 8, 2022
WWE Announces Women's Tag Team Title Tournament
Following the walkout of Sasha Banks and Naomi, who were at the time the WWE Women's Tag Team Champions, details have been mum on what would go on with the vacated titles, but now there finally are some details to share.
With rumors that both Banks and Naomi will be returning to the company with Vince McMahon now in charge, the Women's Tag Team titles are now back in the spotlight after going off the radar at the time of Banks' and Naomi's departures.
WWE has officially announced a new tournament to crown new Women's Tag Team Champions that will finally begin on Raw this upcoming Monday.
While it seems to lineup the returns of Banks and Naomi, no official word has surfaced as of yet.
WWE Smackdown vs. Raw: Who won this week? May 7, 2019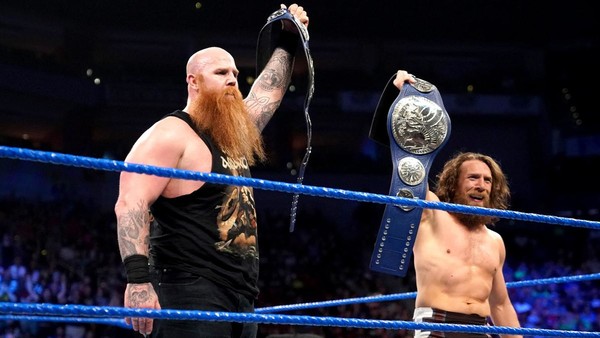 The Good
For Raw, the main event between Kofi Kingston and Daniel Bryan in a Wrestlemania rematch was a good way to end their show. With this new "Wildcard Rule" being introduced at the beginning of Raw, this led to two Smackdown superstars main eventing a Raw show. While we will look into the "Wildcard Rule" later, the match between these two was back and forth and ended with Kingston retaining his championship. Kofi has all the momentum going into the Money in the Bank PPV, which is great considering he is the WWE Champion.
For Smackdown, after the Hardy Boyz had to forfeit their tag team championships due to injury, the match to determine the new champions was great. After Shane McMahon originally was going to give the titles to Daniel Bryan and Rowan, the Usos interrupted and stated that they should at least get the opportunity to earn them. Daniel Bryan and Rowan ended up winning, which is a positive sight moving forward because it will bring more attention to the division with these two as champions.
The Bad
For Raw, even though things were good for the Usos on Smackdown, they were really bad on Raw. They came out during the Revival's match and told them that they put Icey Hot on their ring attire. This led to bad acting and just an attempt at humor, which didn't go well.
For Smackdown, while the Aleister Black promos have been good so far, they are starting to over welcome their stay. This has been going on for about a month, so hopefully we see him in the ring before he loses all momentum.
The Final Verdict
Both brands had interesting shows this week because this new "Wildcard Rule" was introduced.  This "Wildcard Rule" means that four superstars from Raw will be on Smackdown and four Smackdown superstars will be on Raw every week. This idea does seem like a bad one though because it will take time away from superstars in their respective brand. Along with that, this is right after the Superstar Shakeup, which now feels completely pointless. As to who had the better show this week though, Smackdown had better matches and was still able to help put good build towards Money in the Bank. In conclusion, Money in the Bank is still about two weeks away, but proper time has been put into it and all the matches gain momentum in build week by week.