WWE's Chris Benoit And Family Found Dead In Georgia
World Wrestling Entertainment announced the passing of Chris Benoit and his family. The Atlanta-Journal Constitution is reporting that authorities have confirmed that Chris Benoit, his wife, Nancy and their 7-year-old son Daniel were found dead at the home near White Water Country Club in Fayetteville, Georgia. Officials would not say how the family died, other than to say they weren't shot to death. Lieutenant Tommy Pope of the Fayette County Sheriff's Department said the three were found about 2:30 p.m., but he would release no other details. Pope said results of autopsies on Benoit, his wife Nancy, and 7-year-old son Daniel were expected Tuesday. He would not say how the bodies were discovered, or who found them. Police are investigating the deaths as a homicide.
Benoit, 40, was a former world heavyweight champion, Intercontinental champion and held several tag-team titles over his career. Benoit's wife, Nancy, managed several wrestlers and went by the stage name, "Woman." They met when her then-husband drew up a script that had them involved in a relationship as part of an ongoing storyline on World Championship Wrestling. Soon after, the two became romantically involved in real life and later got married. Chris Benoit is survived by his son David and his daughter Megan from a prior relationship.
Instead of its announced programming for tonight on USA Network, WWE will air a three-hour tribute to Chris Benoit. Inside Pro Wrestling extends its condolences and prayers to the Benoit family and loved ones in this time of tragedy.
UPDATE: 1Wrestling.com has some details about Benoit missing a recent house show and the Vengence pay per view last night: Chris Benoit had been scheduled to appear on a WWE house show on Saturday. Sources tell us Benoit called to first say he would be taking a later flight, and then to say he would not be attending the house show due to a family illness. According to one source, Benoit said both his wife and son were throwing up blood and he needed to stay to take care of them. Sources tell 1Wrestling.com that police were dispatched to the Benoit home after receiving a call from WWE officials who were concerned that they were not able to get in touch with Benoit.
Harlem Heat Announced for WWE Hall of Fame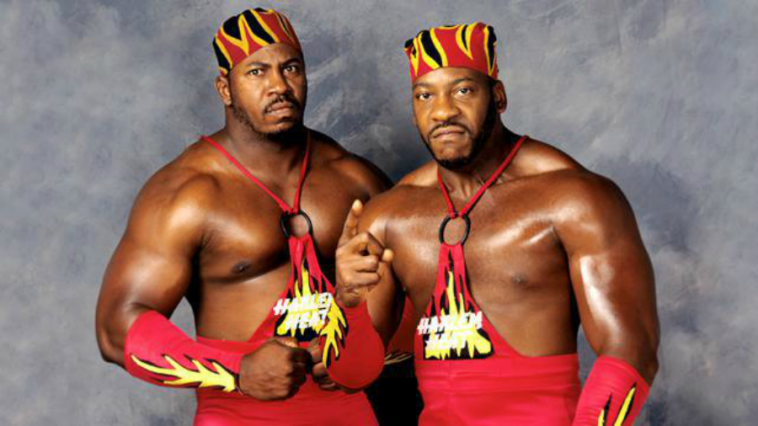 Legendary WCW tag team Harlem Heat has been officially announced for the WWE Hall of Fame Class of 2019.
Harlem Heat will join Torrie Wilson, Billy Gunn, Sean Waltman, Chyna, Triple H, Shawn Michaels, Road Dogg, & the Honkey Tonk Man as this year's inductees and WWE made the announcement during Monday Night Raw with the following video:
NWA Legend Dick Slater Passes Away
National Wrestling Alliance legend, and decorated champion, Dick Slater has passed away at the age of 67, according to post that paid tribute to Slater made my NWA.
The National Wrestling Alliance sends its deepest sympathies and condolences to the family, friends and fans of Dick Slater.

As tough as they come. A decorated champion of the @NWA across every territory he wrestled including being United States, Mid-Atlantic and TV champion. pic.twitter.com/dqHlLqnOJx

— NWA (@nwa) October 18, 2018
Slater wrestled professionally from 1972 to 1996 for promotions including NWA and WCW, where he finished his career. Slater was a 4 time Georgia Heavyweight Champion, 2-time NWA Macon Heavyweight Champion, NWA United States Champion, NWA Mid-Atlantic Champion, 2-time NWA TV Champion, 2-time NWA Florida Heavyweight Champion, and NWA Brass Knuckles Champion.
Sting Talks Scorpion Deathlock
WWE Hall of Famer Sting recently appeared on the Apter Chat podcast to discuss a number of topics, including where he got the idea of the Scorpion Deathlock finisher from, a move he used throughout his storied career.
Sting revealed that he the inspiration from wrestler Riki Choshu at a Japanese show.
"I was fortunate enough in those early days, while I was still with Bill Watts, (Giant) Baba from Japan wanted me to come do a show. Bill sent me to Japan and there was a wrestler named Riki Choshu. He used that hold and I went 'oh, I like that' and so then the scorpion kinda popped in all at the same time and attempting to brand myself" Sting said.
Sting also talked about the demise of WCW, which was eventually bought out by WWE.
"It was shocking, it was surreal, it was emotional because it was a lot of years of a lot of sacrifice" Sting explained. "Fighting tooth and nail to not be the second class wrestling organization, but to finally evolve into the number one wrestling organization in the world.
"To be that first class wrestling organization, a global machine, and to just watch it slip through your fingers and be gone and totally out of your control. I always said it was like the enemy coming into your camp and having their way."