Brian Cage Makes Impact Wrestling Debut, Tyrus Returns
Impact Wrestling is making a ton of buzz in its first set of tapings of 2018. Fans already witnessed the return of former TNA World champion Austin Aries, who captured the Global Championship from Eli Drake.
On the Jan. 11 set of tapings, fans witnessed the debut of Impact Wrestlings newest talent – Brian Cage – as well as the return of one of its tenured performers, Tyrus.
Impact Wrestling confirmed Cages signing's signing and debut on its Twitter. A fan with the Twitter handle "The Rogue Fan," posted Tyrus' return on their page. 
There are some BIG names showing up at the IMPACT taping tonight at @UniversalORL! Here's an exclusive First Look at one of them. Any guesses who it is? pic.twitter.com/Fxhpt3I8SN

— IMPACT (@IMPACTWRESTLING) January 11, 2018
During the tapings, Cage wrestled and won a couple of matches against local enhancement talent. Tyrus reunited with partner Ethan Carter III – EC3 – and the two were victorious in a tag team match against Johnny Impact and Matt Sydal.
Signing Cage was a good move for Impact. He had a couple of cups of coffee in TNA, one in 2012 where he wrestled a tryout match against Robbie E. He also made appearances in 2013 for another tryout match and in 2014 where he competed in a triple threat match against Sanada and Crazzy Steve.
As for Tyrus, he no doubt returned home to a hero's welcome. He debuted with Impact in 2014 and had a good three-year run with the company. He released a video in August, declaring he would leave the promotion because he felt he was being treated unfairly.
 Both Tyrus and Cage are well-known among wrestling fans online, especially those who have watched Lucha Underground and Impact.
Cage is coming off a star-making run in Lucha Underground where he won the Gift of the Gods Championship and challenged Matanza Cueto for the Lucha Underground title in a losing effort. In 2017, he started working for Pro Wrestling Noah where he unsuccessfully challenged Katsuhiko Nakajima for the GHC Heavyweight Championship.
Cage comes into Impact with a lot of momentum and he could be someone who makes an impact – no pun intended – in the promotion's mid-card on his way to the top. In his first few months with the company, he could set his sights on fellow Lucha Underground alumni Johnny Impact – who wrestled as Johnny Mundo – and Alberto El Patron. On the other hand, coming to Impact provides him with new talent to face.
The same could be said for Tyrus. He's been a stalwart in Impact for the last few years, but there have new faces added to the company, which means new adversaries to go up against. 
One idea would be to pair him with EC3 as a permanent tag team to bolster Impact's tag team division, which could use another team or three into the mix.
Both Tyrus and Cage are solid workers and imposing figures in the ring. When they step through the ropes, fans can't help but marvel at the size of these two larger than life athletes.
Impact Wrestling will continue to bolster its roster with talent from different promotions. It will be interesting to see how Cage and Tyrus do in this new era of Impact.
Killer Kross Discusses Request for Release from Impact Wrestling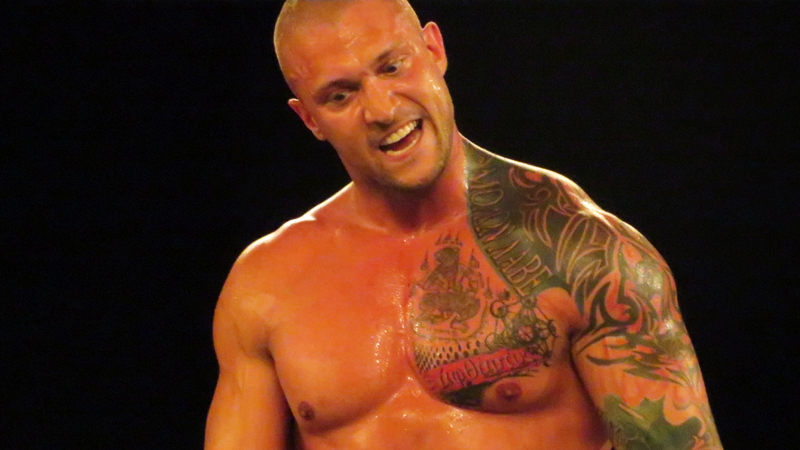 Killer Kross made headlines recently when he requested his release from Impact Wrestling, and now Kross has discussed the decision to ask for his departure from the company in a brand new interview with the 'Wrestling Perspective' podcast.
"I personally really don't really need much," Kross said (h/t Pro Wrestling Sheet). "But it's just different when you have people to take care of, circumstances change in life. You can't anticipate it. […] Being told to go get another job by your job, that's f****d up. You're struggling to make ends meet taking care of people, and the job that you can barely afford to have tells you to go get another job so you can keep that job. It's like working at a corporation being told to go work at McDonald's. It's a weird feeling."
"[…] I found out how much people are being paid, and I wanted to be paid on the same scale as that," Kross continued.
"I wasn't asking for anything that was honestly unreasonable. In all sincerity. And I'm not gonna bullsh*t you guys. I really wasn't. That's ok if the company does not agree that I am worth that. I will not take offense to that. That's ok. It's not my company. I'm just an employee. And I'm not saying that because I think I'm supposed to say that. But if they really feel that way after one year, if they feel that I'm not worth what I'm asking…professionally, kindfully, please…let me go somewhere else, and I will prove it to everyone that I can draw what I'm asking for."
Sting Talks Vince McMahon's Reaction to Signing with TNA
WWE Hall of Famer Sting did finally make his way to WWE, and a match at WrestleMania, but it took a 14-year run in TNA, following his legendary run with WCW, before Sting would finally join the WWE family.
Sting signed with TNA in 2003 and during a recent interview on the Apter Chat Podcast, he revealed McMahon's reaction to his decision.
"I'll never forget that conversation I had with Vince" Sting saud. H"e's on the phone with me and he says, 'You know Sting, I find this hard to believe, the legacy that you leave behind and the thought of you going to TNA, it's just 'bleh'!"
"So. you fast forward to. you know. coming back to do WrestleMania I had set out a text to Vince and Triple H that just said, 'have you guys turned the page on Sting yet?' And I honestly did know? Did they turn the page? Are they done? Or would they consider a run up there?"
Abyss To Be Inducted Into Impact Wrestling Hall Of Fame
Impact Wrestling has announced that Abyss will be inducted to the Impact Wrestling Hall of Fame, joining Sting, Kurt Angle, Jeff Jarrett, Team 3D, Earl Hebner and Gail Kim who have been inducted.
I'm absolutely over whelmed with the response to my upcoming @IMPACTWRESTLING Hall of Fame induction. Thank you ALL for your messages. This is one of the highlights of my career. I'm over come with emotion. Thank you to everyone who ever supported me. This is for all of YOU!!

— Abyss (@TherealAbyss) September 21, 2018