WWE: Hulk Hogan Back In Hall Of Fame
WWE's Extreme Rules event is minutes away and the event, but whatever happens tonight will likely take a backseat to the company's reinstatement of former world champion Hulk Hogan to its Hall of Fame.
WWE announced it reinstated the former WWE Champion to its Hall of Fame in a news release.
STAMFORD, Conn. — After a three-year suspension, Hulk Hogan has been reinstated into the WWE Hall of Fame. This second chance follows Hogan's numerous public apologies and volunteering to work with young people, where he is helping them learn from his mistake. These efforts led to a recent induction into the Boys & Girls Clubs of America Alumni Hall of Fame.
In 2015, WWE terminated its contract with Hogan and removed all references to him on the website after the National Enquirer and Radar Online released a video of Hogan using racist language in a leaked sex tape.
Hogan has not made an appearance for WWE since he was fired. WWE COO Triple H said he would be open to a Hogan return and the company has kept their eyes on him and reactions to appearances for events like the Boys and Girls Club of America Alumni Hall of Fame ceremony – he was inducted into the organization's HOF earlier this year – and the Andre the Giant documentary event.
On his Twitter account, Hogan said he was backstage at Extreme Rules and met with all of the superstars.
Just met with the @WWE Superstars and on all levels the volume of love and support was overwhelming. I've been praying for this day and I finally feel like I made it back home. Only Love 4 the #WWEUNIVERSE brother HH

— Hulk Hogan (@HulkHogan) July 15, 2018
According to a report from PW Insider, Hogan made a formal apology to all of the talent and "apologized for embarrassing himself and the company, and told the wrestlers to be careful what the say as they could be recorded without knowing it." The report adds that Hogan received a positive reception for the apology. Prior to meeting with the talent, Hogan met with company officials.
There's speculation that Hogan may appear on Raw or Smackdown this week, but nothing is confirmed at this time.
Since Hogan's comments came to light, there has been mixed feelings from wrestlers and fans. Older African American wrestlers like Virgil and Kamala dismissed the idea of Hogan being racist. Popular independent performers like Nick and Matt Jackson – the Young Bucks – have thrown out the idea of working with Hogan.
However WWE Hall of Famer Mark Henry was supportive of the company's no tolerance toward Hogan's comments.
Even though it has been three years since WWE terminated Hogan's contract, fans have to wonder if it too soon for the company to bring him back? Some fans are elated the idea of Hogan returning to the WWE fold and feels he deserves a second chance.
Others are not so forgiving and do not want to see him on WWE ever again as he said horrible things and alienated an entire race of fans.
But that is the case with popular celebrities who say terrible, unacceptable things. If a person's favorite MMA fighter or boxer says something or commits a heinous, they are willing to come to the defense of the individual – and in some cases justifying the actions that got them into hot water in the first place.
Hogan isn't the first wrestler to say something horrible and controversial. Fellow Hall of Famer the Ultimate Warrior and Ring of Honor's Jay Briscoe made homophobic comments. In the case of Briscoe, he apologized and said those comments a reflection of his character, and he actually donated funds to the charity Partners Against Hate.
Meanwhile the Warrior never apologized for his rant, even after he was inducted into the Hall of Fame.
It is still going to take a long time for fans to fully accept Hogan, and some never will. 
NXT's Adam Cole Discusses Creative Freedom
NXT Champion Adam Cole is at the height of his success with the promotion, recently defeating Johnny Gargano in another instant classic to capture his first NXT Championship, and he is talking about how things go down in NXT.
Unlike much of the main roster, where promos are often scripted and comedy-acts are more common, Cole says that superstars in NXT get a bit more creative freedom, as he had with Gargano for their match.
"One of the coolest things about NXT is we have a ton of creative liberties to come up with the story and the vision we have for the match" Cole said, during an interview with TalkSport. "Of course, there's input and advice given and there's suggestions or, you know 'we need something this way' (but) we do have a lot of freedom, which is great."
Cole added that he and Gargano came up with the format for their two out of three falls classic at NXT Takeover: New York.
Rey Mysterio Praises Andrade
WWE superstar Rey Mysterio believes that the company has a big star on their hands in Andrade .
"This kid is awesome" Mysterio said, during an appearance on the WINCLY podcast. "I mentioned it before, in previous interviews, but, every time I'm in the ring with him, there's an affiliation to how I would move with Eddie [Guerrero]," Mysterio said.
"This is how good he is! He's thinking a step ahead before you even move. He already knows the positioning, and knows exactly what to do and how to do it. My hat goes off to Andrade, as he's definitely the future of WWE."
Mysterio sees all the tools necessary to succeed in WWE.
"Just like anybody else, once you can dominate the mic skills and English, then he is bound to become a star," Mysterio continued. "I've seen him work on his English, and it's a slow process, but he's moving forward. Once he dominates his English language, he's on his way to stardom."
Fandango, Apollo Crews, Killain Dain Make Returns to NXT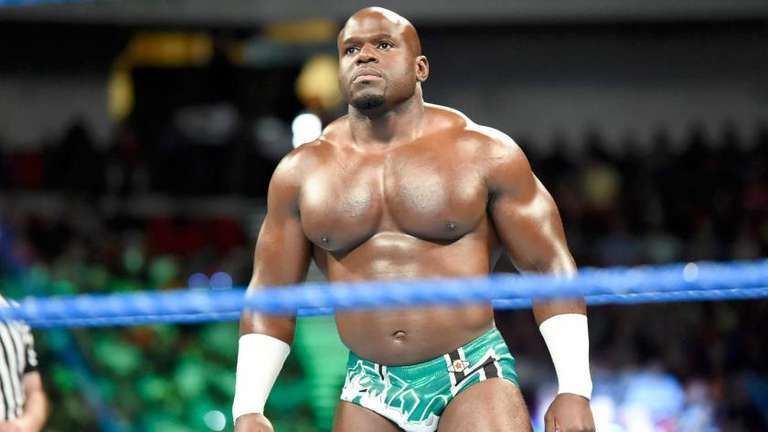 WWE is starting to allow superstars on their main rosters to transition back to NXT, much like they did with Tyler Breeze, who recently returned to NXT, where he had his most success, following around 2 years of meandering on the main roster following his callup.
Fandango, Apollo Crews, and Killian Dain made their returns to NXT tv at Winter Park, FL at Full Sail University for Thursday's NXT TV tapings.
Fandango, also making his return from injury, made the save for his Breezango partner, Tyler Breeze, who was on the receiving end of an attack at the hands of the Forgotten Sons. Crews made his return to take on Kushida in singles competition, and Dain made a brutal attack on Matt Riddle following Riddle's win over Arture Rass.
Fandango had been out of action after suffering a shoulder injury back in July 2018.