Ideas to Support WWE Women For Greatest Royal Rumble
Many members of the WWE Universe are angry about the company's holding the Greatest Royal Rumble (GRR) in Saudi Arabia.
There are several reasons fans are upset about WWE's upcoming event, but the main problem people have is the company is holding the event in a country but the women are not competing on the event. Other point out how women in Saudi Arabia have limited to no rights compared to the men.
Some are trying to look at the positives in all of this – Triple H talking about how there could be a culture shift where women could eventually compete in KSA in a few years to Jerry Lawler noting a possible payday for WWE's female talent for not competing on the show.
Some fans taking a stance of boycotting the GRR as a way to support women, as well as encouraging others to watch women's wrestling on that day.
WWE's #GreatestRoyalRumble is tomorrow and a LOT of people are angry at Saudi Arabia's ban of women performers.

To combat & provide an alternative we're offering 7 days of #WomensWrestling with #EVEonDemand FOR FREE to anyone who signs up now until #GRR.https://t.co/QXQYgkvXR4 pic.twitter.com/ZfAawVnd3L

— EVE – Women's Pro Wrestling (@ProWrestlingEVE) April 26, 2018
Pro Wrestling Eve is offering a free week for their On Demand service for fans who are looking for an alternative, which I recommend you watch, not because I am personally boycotting GRR. Pro Wrestling Eve has a great product and everyone should watch it – especially their big event Wrestle Queendom on May 12.
Fans have a right to be upset at WWE and if they want to boycott GRR and dump their subscription, they can do that. But if their reason is because they want to support women's wrestling, there are other, more positive ways they can do this.
One way is to watch as much women's wrestling as they can. The easiest way would be to go on the WWE Network and watch the Mae Young Classic in its entirety. Fans could also rewatch events like NXT Takeover: Brooklyn, NXT: The End or NXT: Rival. Almost every episode and NXT Takeover special since 2014 has featured a women's match on the card.  
WWE also has different 24 documents focused on the "Women's Revolution" – I know that's a dirty term wrestling fans don't like. There's also Hell in a Cell 2016, the 2018 Royal Rumble event or even Wrestlemania 34.
Now fans are probably noticing all of the aforementioned options are strictly WWE programming.
Impact Wrestling, Ring of Honor, Shimmer, Shine, Rise, World Ring of Stardom and Lucha Underground have good, quality women's wrestling. Fans should support them, but it shouldn't take something like GRR for them to take the step and commit to watching them.
However, the female talent on those promotions will still get to wrestle this weekend. The female talent who are really hurt by GRR and the exclusion of women's matches are the superstars on Raw and Smackdown Live.
Even NXT talent will still get to compete at live events this weekend.
Main roster talent like Nia Jax, Carmella, Charlotte Flair, Sasha Banks, Bayley, Becky Lynch, Alexa Bliss and others have to miss the opportunity to wrestle tomorrow.
Another way to support women's wrestling on GRR Day is to open your wallet. Purchase merchandise of your favorite women wrestlers. But again, I challenge fans to go to WWEShop.com and purchase items of WWE women.
If you don't want to open your wallet, you can make the simple gesture of sending a nice message to your favorite superstar.
Come hang out with us FRIDAY for the LONGEST Royal Rumble Reaction Livestream! HALF of ALL Superchats we receive during the stream will be donated to @SaintJohnsPRC to help empower and support homeless women and children! #WWEGRR #sdlive pic.twitter.com/Igz6vgOSee

— Going In Raw Podcast (@REALGoingInRaw) April 25, 2018
You can also go beyond wrestling and support women in other ways. Going in Raw's Steve and Larson is going to host a livestream of GRR and donate a portion of the money they raise in Superchat to a women's charity. You could do the same for a local women's charity in your area.
Will Ospreay Has Been Contacted by WWE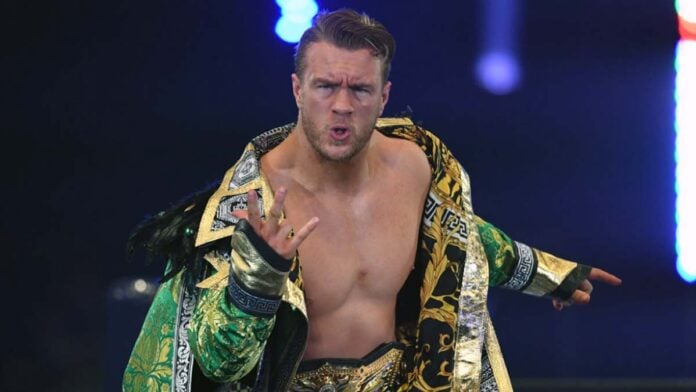 New Japan Pro Wrestling superstar and current  IWGP United States Heavyweight Champion Will Ospreay has confirmed that he has been contacted by WWE and revealed that it is something that he is considering.
Ospreay also mentioned some of the WWE names he would be interested in facing if he were to find himself in WWE.
"I've been approached by them, so I have a lot to think about" he said, according to Tokyo Sports. "I've mentioned Seth Rollins' name many times… Also, considering my history, it would be a dream to fight Ricochet again. I think that because I think we have become completely different wrestlers than when we fought in the past."
Ospreay has competed for AEW, Progress Wrestling, Rev Pro, and Ring of Honor throughout his career, among others.
AJ Styles Praises John Cena's In-Ring Work
AJ Styles made his debut for WWE during the 2016 Royal Rumble and was immediately thrust into some dream matchups following the event, with the likes of future Hall of Famers such as Chris Jericho and John Cena.
Styles has had a successful run during his WWE tenure, and is now engaged in a feud along with his O.C. faction with The Judgment Day.
Styles recently participated in an interview with 'The Halftime Show' and talked about how Cena impressed him with his in-ring work.
"A guy that surprised me with how good he was in the ring would be John Cena" Styles said (h/t Fightful). "John is not known for being a technical mastermind in the ring, but he's pretty good. I had some of my better matches against this guy.
"His mind for how everything needs to work and transition-wise. He's just good. He knows what he's doing. It's one of those things were you thought, 'I'm the superior wrestler in the ring,' but once you get in there with John Cena, you realize, 'Well, okay, I didn't know that. Let's keep going.'
Crown Jewel 2022 WWE Smashes Internal Record
WWE's controversial relationship with the Kingdom of Saudi Arabia has caused some harsh criticism, but the Crown Jewel event has proved to be a record-breaking success, according to a WWE Memo.
According to Fightful Select, a memo was shared internally, informing WWE staff that Crown Jewel 2022 is now the most-viewed international PLE in company history, breaking the record that was previously, albeit briefly, held by this year's Clash at the Castle which took place at Cardiff, Wales in September.
Additionally, the latest Crown Jewel event did a seven-figure viewership on Peacock in the United States.
The next show in Saudi Arabia is currently slated for May 2023.