Jericho Replaces Rusev, Mysterio in Rumble, LIJ in ROH
There were a couple of developments for WWE's upcoming Greatest Royal Rumble event.
The first being Chris Jericho replacing Rusev in the latter's casket match against the Undertaker. This came one day after WWE announced Rusev would originally be facing The Undertaker at the event.
According to WWE, Rusev's wife Lana will not allow him to compete in the match.
All over the world, little boys and girls are celebrating #RusevDay, they smile for the greatest Superstar ever ! I've already spoke with @WWE officials to change that match because I REFUSE to let my husband @RusevBUL compete in a Casket Match at #WWEGRR! Happy #RusevDay

— CJ (Lana) Perry (@LanaWWE) April 12, 2018
While WWE has provided a storyline reason for the change, there isn't a backstage story as to why Rusev was taken out of the match. This latest news doesn't well for Rusev – the Bulgarian Brute would have worked the biggest match of his career with the Dead Man.
Life is life….. it will be #RusevDay somewhere

— Rusev (@RusevBUL) April 12, 2018
It appears Jericho will be pulling double duty as he is still scheduled to return at the Greatest Royal Rumble.
Jericho isn't the only legend making a return at the Greatest Royal Rumble.
According to a report from PWInsider, former WWE and World Champion Rey Mysterio will return for the match. His last appearance was at the 2018 Royal Rumble where he entered at No. 27 and received an ovation. Since the 2018 Royal Rumble, Mysterio and WWE have been in talks about a potential agreement.
It is unclear whether Mysterio will be in the 50-man Royal Rumble, or if he will compete in a singles match.
The Greatest Royal Rumble takes place Friday, April 27, at 7 p.m. AST. The event will air on the WWE Network at 12 p.m. ET/9 a.m. PT, and with a special, one-hour Greatest Royal Rumble Kickoff starting at 11 a.m. ET/8 a.m. PT.
WWE isn't the only company having big names for upcoming events. Ring of Honor announced New Japan Pro Wrestling's Los Ignorables de Japon will compete on the War of the Worlds Tour.
Below is the news release from ROH:
Los Ingobernables de Japon, one of the hottest stables in New Japan Pro-Wrestling, will appear on all four nights of the fifth annual War of the Worlds Tour this May, ROH officials have announced.

LIJ is led by Tetsuya Naito, one of the most highly regarded and charismatic pro wrestlers in the world. The former IWGP Heavyweight and IWGP Intercontinental champion will be joined on the tour by fellow LIJ members IWGP Heavyweight Tag Team Champions EVIL and SANADA, Hiromu Takahashi, and BUSHI, all of whom have been champions in NJPW.LIJ is led by Tetsuya Naito, one of the most highly regarded and charismatic pro wrestlers in the world. The former IWGP Heavyweight and IWGP Intercontinental champion will be joined on the tour by fellow LIJ members EVIL, SANADA, Hiromu Takahashi and BUSHI, all of whom have been champions in NJPW.
LIJ has become one of the most popular stables in NJPW and 2017 was a remarkable year for all of the members involved. The stable was awarded Best Gimmick for 2017 from the Wrestling Observer Newsletter awards while Naito was named Most Charismatic.
There is no word as to what role LIJ will have on the tour, but it wouldn't be too surprising if they competed for the ROH Six-man Tag Team titles.
Cody Rhodes Provides Update on Knee Injury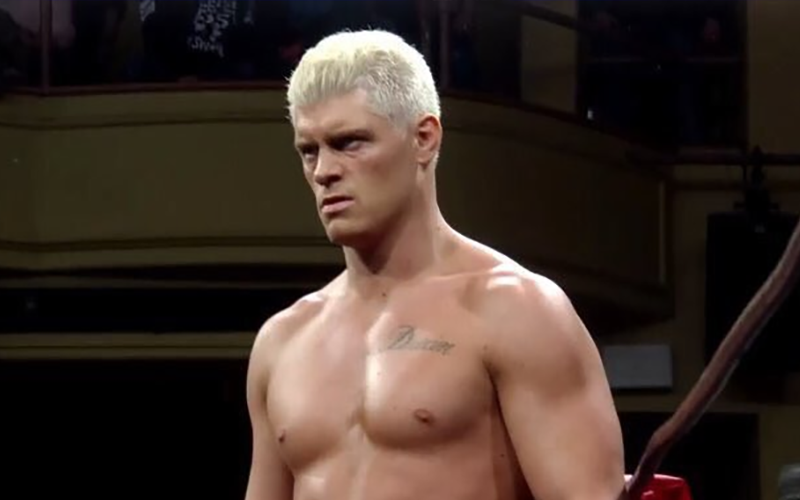 IWGP United States Champion Cody Rhodes announced that he recently suffered a knee injury during a Ring of Honor show that took place in Buffalo, New York, describing hearing a "pop" in his knee when working his way through the crowd.
Rhodes has announced that he has been forced to withdraw from his scheduled IWGP United States Title defense against Beretta and has since provided an update regarding the severity of his knee injury, via his Twitter account.
GOOD news is my doctor is fairly confident that my mcl/pcl/acl are structurally sound.

BAD news is the meniscus is fairly damaged, gonna' require a scope. No dates will be adjusted at the moment, and I'll definitely still compete in the final battle main event & at WK. pic.twitter.com/PtyK1wpoiz

— Cody Rhodes (@CodyRhodes) November 12, 2018
Madison Rayne Discusses Deciding on Ring of Honor Over WWE
Pro wrestling veteran Madison Rayne finally found her way to a WWE ring over this past summer when she competed as Ashley Rayne during WWE's Mae Young Classic II tournament, losing in the first round to Mercedes Martinez.
It was thought that WWE would land Rayne, the former Impact Knockouts Champion, shortly after her appearance, but she opted instead to sign with Ring of Honor.
"Conversations between WWE and myself were always positive," Rayne said, during an appearance on CBS Local Sports: Pittsburgh. "I always got great feedback on everything I did, from the tryout a year ago to just recently doing Mae Young. This past year has been the first and only time that I've ever worked in any capacity with WWE. So, that was really exciting this many years into my career, to finally have been able to do that."
"It's about trying to figure out what was going to be best for me and which company I would flourish the best in. I felt that Ring of Honor was my best option, and that is not saying that WWE offered me something and I said no, I just feel like I was always very honest and upfront about the fact that Columbus was my home and Columbus would remain my home. I understand that they have a system that they put their talent through, regardless of whether you've never taken one bump, or you've been wrestling for many years, and that system starts in Orlando. While wrestling is still very, very important to me, being a mother and being a wife, those two things are greatly more important."
Rayne ultimately told WWE that she wasn't willing to relocate.
"There was never that definitive conversation, but just given the fact that I knew and I never wanted there to be any gray area in my communication with WWE, and I made it clear that I could and would not be willing to relocate, I think that probably kind of settled the question there as far as whether or not a contract with WWE was going to be in my future."
Doug Williams Announces Retirement
Doug Williams, the legendary British wrestler who has had a brilliant 25-year career, lost a career ending match to Trent Seven for the Atlas Championship at Progress' Hello Wembley show on Sunday.
"It was more their decision than mine," Williams said, during an interview with SportBible last week.
"They approached me with doing a different kind of storyline, which was a disgruntled veteran that was bitter about the new guys taking over. But I switched it on them and said I'm thinking about retiring next year anyway, why don't we do a storyline that could culminate in that possibly happening?"
It's late, I'm tired, I'm sore. It's been a hell of a night. Tomorrow I will post my feelings and thoughts on what might happen now. But for tonight THANK YOU EVERYBODY!!

— Doug Williams (@DougWilliamsUK) September 30, 2018