Kofi Kingston Celebrates 10 Years in WWE
While WWE superstars, Hall of Famers, alumni and fans are celebrating Monday Night Raw's 25 Anniversary, one of the company's top performers, Kofi Kingston, is reveling in his own milestone.
Kingston recently passed the 10-year mark with the company. Like many WWE superstars, Kingston and his fellow New Day members Big E and Xavier Woods made an appearance on Raw's 25th anniversary.
Congrats to @truekofi for today being his TEN years with @wwe – he was always my favorite wrestler when I was a kid – here's his debut! https://t.co/RwE9JNCDZP pic.twitter.com/JycN5NoXhO

— Austin Creed aka #1 Windjammer (@XavierWoodsPhD) January 22, 2018
In an interview with WWE.com, the New Day member expressed his thoughts on being a 10-year veteran with the company.
"It's really, really cool. Ten years is a long time. I always tell people when you're with WWE for a while, it starts to become the thing you've done the longest. It used to be, high school was four years, then college was four years, you worked at a certain job for two years and another job for another two years, then all of a sudden, you're here … for 10 years? It's a really weird feeling. I remember when I debuted; it feels like just yesterday, but at the same time, it feels forever ago. It's like this bizarre time warp. But I'm grateful to be one of the guys that's been here for that long."
On. Jan. 22, 2008, Kingston made his official WWE debut as he defeated local wrestler David Owen on ECW on Syfy. Throughout the month prior, vignettes for Kingston's television debut began airing on ECW – marking the first time a Jamaican wrestler was competing in WWE – he is actually from Kumasi, Ashanti, Ghana.
After some time in ECW, Kingston was brought to the Raw brand during the supplemental draft. He would get his first taste of WWE gold when he defeated Chris Jericho for the Intercontinental Championship in his first match as a Raw superstar – and in the process becoming the first wrestler from Ghana to hold a championship in WWE.
Kingston was widely regarded – and still is – as one of the WWE's top performers, using his high flying offense to captivate audiences. His Royal Rumble and Money in the Bank spots have also etched their way into WWE history.
While he is regarded as a great worker in the ring, Kingston never seemed to move past the midcard. He had some brushes with main event stars like Randy Orton, but he never seemed to be in the main event scene. Like many superstars who have been with the company for a long time, Kingston had a slow period where he wasn't doing much. 
Then he joined the New Day with Big E and Woods and things took a different turn. Although fans still witnessed Kingston's impressive in-ring skills, they also saw a side of him many thought would never emerge – heel. Alongside Big E and Woods, Kingston relished in the heel role and showcased his comedy chops. Overtime, the New Day went from being one of the best heel acts in the company to one of the most over face groups in professional wrestling.
Kingston has held numerous championships in WWE: four Intercontinental championships, three U.S. titles and a variety of seven tag team championships with the likes of C.M. Punk, Evan Bourne, R-Truth, as well as his New Day brethren Big E and Woods.
When asked what is next for him and the New Day, Kingston had this answer:
"The next step is to keep climbing the ladder. Every year. I think it's been four years — which is crazy to even think about; it's been four years or almost four years that I've been with The New Day. That, legitimately, feels like yesterday that we were trying so hard and desperately fighting for our jobs to get on television. And now here we are with pancakes and unicorn horns and "who" chants. But we're always just looking forward."
Kingston, Woods and Big E are coming off one of their most successful years in WWE and they don't seem to be slowing down anytime soon. Here's to 10 years for Kingston in the WWE, and let's hope he has another 10 years – and more – ahead of him.
NXT's Adam Cole Discusses Creative Freedom
NXT Champion Adam Cole is at the height of his success with the promotion, recently defeating Johnny Gargano in another instant classic to capture his first NXT Championship, and he is talking about how things go down in NXT.
Unlike much of the main roster, where promos are often scripted and comedy-acts are more common, Cole says that superstars in NXT get a bit more creative freedom, as he had with Gargano for their match.
"One of the coolest things about NXT is we have a ton of creative liberties to come up with the story and the vision we have for the match" Cole said, during an interview with TalkSport. "Of course, there's input and advice given and there's suggestions or, you know 'we need something this way' (but) we do have a lot of freedom, which is great."
Cole added that he and Gargano came up with the format for their two out of three falls classic at NXT Takeover: New York.
Rey Mysterio Praises Andrade
WWE superstar Rey Mysterio believes that the company has a big star on their hands in Andrade .
"This kid is awesome" Mysterio said, during an appearance on the WINCLY podcast. "I mentioned it before, in previous interviews, but, every time I'm in the ring with him, there's an affiliation to how I would move with Eddie [Guerrero]," Mysterio said.
"This is how good he is! He's thinking a step ahead before you even move. He already knows the positioning, and knows exactly what to do and how to do it. My hat goes off to Andrade, as he's definitely the future of WWE."
Mysterio sees all the tools necessary to succeed in WWE.
"Just like anybody else, once you can dominate the mic skills and English, then he is bound to become a star," Mysterio continued. "I've seen him work on his English, and it's a slow process, but he's moving forward. Once he dominates his English language, he's on his way to stardom."
Fandango, Apollo Crews, Killain Dain Make Returns to NXT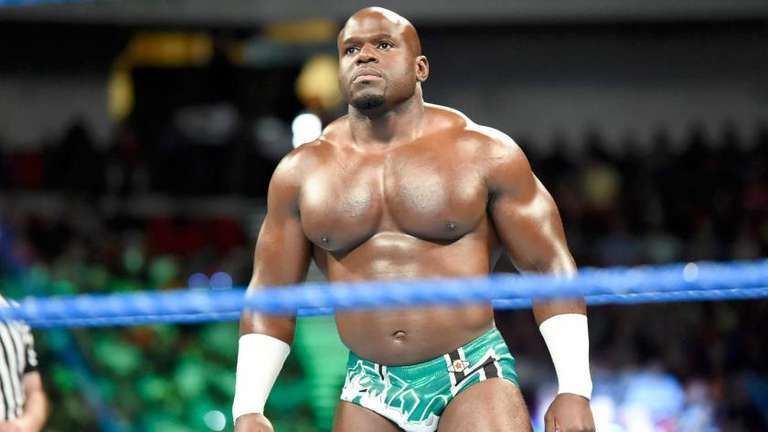 WWE is starting to allow superstars on their main rosters to transition back to NXT, much like they did with Tyler Breeze, who recently returned to NXT, where he had his most success, following around 2 years of meandering on the main roster following his callup.
Fandango, Apollo Crews, and Killian Dain made their returns to NXT tv at Winter Park, FL at Full Sail University for Thursday's NXT TV tapings.
Fandango, also making his return from injury, made the save for his Breezango partner, Tyler Breeze, who was on the receiving end of an attack at the hands of the Forgotten Sons. Crews made his return to take on Kushida in singles competition, and Dain made a brutal attack on Matt Riddle following Riddle's win over Arture Rass.
Fandango had been out of action after suffering a shoulder injury back in July 2018.