Ronda Rousey Going into UFC Hall of Fame
Even though she hasn't competed in the octagon in over two years, WWE superstar Ronda Rousey continues to receive UFC accolades.
During last night's UFC 225 broadcast, it was announced that Rousey would be inducted in UFC Hall of Fame Modern Wing on July 5 during the UFC's International Fight Week festivities.
Champion. Pioneer. Legend.@RondaRousey enters the Modern Wing of the #UFCHoF July 5! pic.twitter.com/ExQslOwW84

— UFC (@ufc) June 10, 2018
Rousey will join fellow inductees Matt Serra, former UFC Welterweight Champion who is going into the Pioneer Wing, and former UFC television producer Bruce Connel and promotion co-founder Art Davie, who are both entering the Contributor Wing. Also joining her will be former Strikeforce and Pride Champion Dan Henderson and UFC Light Heavyweight Champion Mauricio Rua who are being inducted for their classic fight in 2011.
Rousey is going to be the first woman to be inducted in the UFC Hall of Fame, which was established in 2003. The UFC's Hall has 45 inductees, including three in its modern wing. She will join former UFC Champions Forrest Griffin and B.J. Penn and former WEC featherweight titleholder Urijah Faber.
That vignette for @RondaRousey was awesome! I'm super stoked to see her inducted into the #UFCHallOfFame She deserves it ❤️👊💯#UFC225Live#UFC225 #UFCChicago

— Tara LaRosa (@TaraLaRosa) June 10, 2018
It's a worthy accomplishment for Rousey. While she isn't the first woman to lace up a pair of gloves and compete in mixed martial arts, she is the catalyst for women competing in the UFC, which went from having no female divisions to now having four weight classes with champions.
When Rousey gets inducted, she might have already claimed her piece of WWE gold. At next week's Money in the Bank pay per view, Rousey will challenge Nia Jax for the Raw Women's Championship.
Rousey's profile has skyrocketed since she debuted in WWE in January, taking part in a high profile Wrestlemania match. There's speculation that next year's Wrestlemania will feature Rousey and Smackdown superstar Charlotte Flair in a title bout.
Of course fans can see WWE promoting the heck out of Rousey going into the UFC Hall of Fame and it might even play into her angle with Jax. The UFC induction would be a great component for Rousey if she were a heel character. She could talk about how her UFC induction is the linchpin of her MMA tenure and the latest confirmation that she is bringing legitimacy to WWE's women's division.
But WWE likes to go the safest route traveled and it will likely be Jax cutting a promo on Rousey's induction. If she wanted to get some heel heat, Jax could say that Rousey's induction is a great honor for MMA, but it doesn't do anything for her as a wrestler, nor will it help her in their match.
Rousey's Hall of Fame induction announcement wasn't the only UFC-wrestling crossover element, whatever you want to call it, from UFC 225.
Former WWE Champion C.M. Punk dropped a decision to Mike Jackson. It was Punk's second foray into the UFC after losing his first fight to Mickey Gall. While went all three rounds with Jackson, he was outmatched from the get go. 
In a tweet, ESPN's Ariel Helwani said Punk was taken to the hospital for a partial CT scan per the UFC's order.
In regards to Punk, it can be summed up by stealing a phrase from Joey Ryan in that we are lucky to achieve one of our dreams in life, but C.M. Punk got to do it twice.
Will Ospreay Has Been Contacted by WWE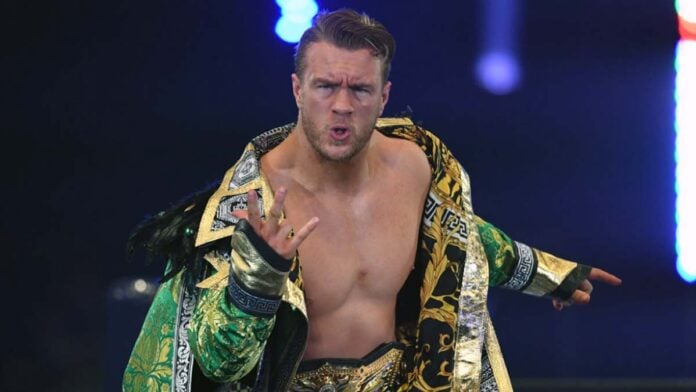 New Japan Pro Wrestling superstar and current  IWGP United States Heavyweight Champion Will Ospreay has confirmed that he has been contacted by WWE and revealed that it is something that he is considering.
Ospreay also mentioned some of the WWE names he would be interested in facing if he were to find himself in WWE.
"I've been approached by them, so I have a lot to think about" he said, according to Tokyo Sports. "I've mentioned Seth Rollins' name many times… Also, considering my history, it would be a dream to fight Ricochet again. I think that because I think we have become completely different wrestlers than when we fought in the past."
Ospreay has competed for AEW, Progress Wrestling, Rev Pro, and Ring of Honor throughout his career, among others.
AJ Styles Praises John Cena's In-Ring Work
AJ Styles made his debut for WWE during the 2016 Royal Rumble and was immediately thrust into some dream matchups following the event, with the likes of future Hall of Famers such as Chris Jericho and John Cena.
Styles has had a successful run during his WWE tenure, and is now engaged in a feud along with his O.C. faction with The Judgment Day.
Styles recently participated in an interview with 'The Halftime Show' and talked about how Cena impressed him with his in-ring work.
"A guy that surprised me with how good he was in the ring would be John Cena" Styles said (h/t Fightful). "John is not known for being a technical mastermind in the ring, but he's pretty good. I had some of my better matches against this guy.
"His mind for how everything needs to work and transition-wise. He's just good. He knows what he's doing. It's one of those things were you thought, 'I'm the superior wrestler in the ring,' but once you get in there with John Cena, you realize, 'Well, okay, I didn't know that. Let's keep going.'
Crown Jewel 2022 WWE Smashes Internal Record
WWE's controversial relationship with the Kingdom of Saudi Arabia has caused some harsh criticism, but the Crown Jewel event has proved to be a record-breaking success, according to a WWE Memo.
According to Fightful Select, a memo was shared internally, informing WWE staff that Crown Jewel 2022 is now the most-viewed international PLE in company history, breaking the record that was previously, albeit briefly, held by this year's Clash at the Castle which took place at Cardiff, Wales in September.
Additionally, the latest Crown Jewel event did a seven-figure viewership on Peacock in the United States.
The next show in Saudi Arabia is currently slated for May 2023.