Ronda Rousey Talks About Transitioning To WWE
Since her shocking debut appearance at the conclusion of the 2018 Royal Rumble, former UFC Women's Bantamweight Champion and new WWE superstar Ronda Rousey has had the spotlight, and criticism, directly on her.
The spotlight will be brighter when she makes her official in-ring debut at WrestleMania 34 when she teams up with Kurt Angle to take on Stephanie McMahon and Triple H.
"Mastering new skills is one of the things that motivates me the most" Rousey said in an interview with The Kingston-Whig Standard.
"At first I related it a lot to (movie) stunt work and fight choreography. The more that I get into everything, though they're very related, it is completely different. I'm completely amazed at what these athletes are really able to do, not just physically, but mentally.
They can make up these entire matches by just talking to each other about it for five minutes — and they barely do anything physical to each other — and then they just walk out and put on these incredible matches. If we were to film the exact same thing for a movie, it would have to have been drilled for six weeks straight and probably have taken about three different takes before we even got one good one. I'm just blown away every day at what everybody in this business is capable of. I'm trying my best to learn. I pride myself on being a great student, but of course it also takes time and it's hard to learn something from scratch with the whole world watching."
WWE is investing a lot in Rousey, perhaps their biggest signing since the return of Brock Lesnar several years ago, and have place a lot of faith in he long-term vision of her development.
"I really believe that if and when I apply everything that I have to this industry, I feel like I can be an asset. I'm trying my absolute best and that's the best I can do and the best that I can do could change the world sometimes. We'll see what this does."
"I'm extremely grateful for the opportunity. To be honest, sometimes I can't believe my own life and the stuff that is happening. I really feel like I'm investing every bit of myself into this and I really feel like the company is matching my effort in every way. If I'm pouring every ounce of energy I have into this being a success and they're doing everything they can to set me up for success, all I can do is go out there and prove them right for believing in me. Yeah, it's a lot of pressure and probably a crazy and unrealistic amount of pressure to put on someone for their first match ever, but you know what, if anyone in the world can handle it, I believe it can be me."
Will Ospreay Has Been Contacted by WWE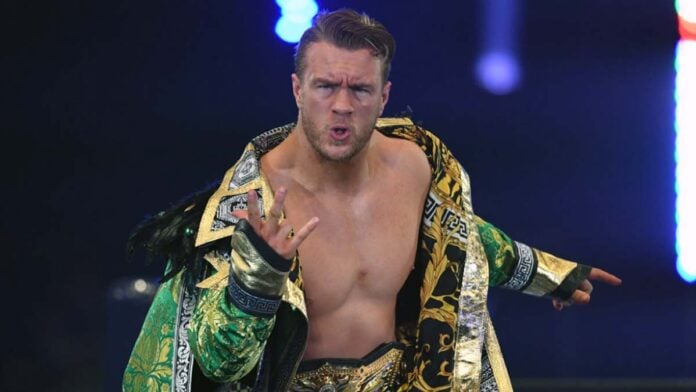 New Japan Pro Wrestling superstar and current  IWGP United States Heavyweight Champion Will Ospreay has confirmed that he has been contacted by WWE and revealed that it is something that he is considering.
Ospreay also mentioned some of the WWE names he would be interested in facing if he were to find himself in WWE.
"I've been approached by them, so I have a lot to think about" he said, according to Tokyo Sports. "I've mentioned Seth Rollins' name many times… Also, considering my history, it would be a dream to fight Ricochet again. I think that because I think we have become completely different wrestlers than when we fought in the past."
Ospreay has competed for AEW, Progress Wrestling, Rev Pro, and Ring of Honor throughout his career, among others.
AJ Styles Praises John Cena's In-Ring Work
AJ Styles made his debut for WWE during the 2016 Royal Rumble and was immediately thrust into some dream matchups following the event, with the likes of future Hall of Famers such as Chris Jericho and John Cena.
Styles has had a successful run during his WWE tenure, and is now engaged in a feud along with his O.C. faction with The Judgment Day.
Styles recently participated in an interview with 'The Halftime Show' and talked about how Cena impressed him with his in-ring work.
"A guy that surprised me with how good he was in the ring would be John Cena" Styles said (h/t Fightful). "John is not known for being a technical mastermind in the ring, but he's pretty good. I had some of my better matches against this guy.
"His mind for how everything needs to work and transition-wise. He's just good. He knows what he's doing. It's one of those things were you thought, 'I'm the superior wrestler in the ring,' but once you get in there with John Cena, you realize, 'Well, okay, I didn't know that. Let's keep going.'
Crown Jewel 2022 WWE Smashes Internal Record
WWE's controversial relationship with the Kingdom of Saudi Arabia has caused some harsh criticism, but the Crown Jewel event has proved to be a record-breaking success, according to a WWE Memo.
According to Fightful Select, a memo was shared internally, informing WWE staff that Crown Jewel 2022 is now the most-viewed international PLE in company history, breaking the record that was previously, albeit briefly, held by this year's Clash at the Castle which took place at Cardiff, Wales in September.
Additionally, the latest Crown Jewel event did a seven-figure viewership on Peacock in the United States.
The next show in Saudi Arabia is currently slated for May 2023.