Ted Dibiase Issues Statement On His WWE Release
Ted Dibiase issued the following statement at his official website, MillionDollarMan.com, about his recent release from WWE.
To my fans, friends, and supporters,
I was released from the WWE Thursday, Oct. 26th due to cutbacks by the WWE. I was released along with Tim Horner.
I am thankful for my time in the WWE and look at my tenure there as a time of obedience to my Savior, Jesus Christ. When I went back to the WWE, I did so with some reluctance of how it might affect my ministry and was very comfortable being in full time evangelism. God brought to mind what I had preached to so many that we must use our sphere of influence to seek and save the lost. What greater sphere of influence could I have than the business I had spent most of my life in? During my time there, many doors began to open and I found myself witnessing Christ to open ears and open hearts. I realized that this was now my ministry. The bible says that everything is for a season and I knew this time in the WWE would be for a season. I just didn't know how long that season would last. As that season in my life closes I am back home and back in full time evangelism with speaking engagements all over the US and Canada already being scheduled.
God confirmed to me that this move was in His perfect will just two days after I was released from the WWE. I was already scheduled to speak for Promise Keepers Canada in Regina, Saskatchewan. As I shared the gospel Saturday morning and gave an altar call to a thousand men, so many responded that men were backed up the isle, not able to get to the front. Later I was told that it was the largest response to an invitation they had ever had there. I wept as I saw all those men humbling themselves before God and it was humbling to know that He had just used me as His instrument to do it.
I will miss my friends in the WWE and I wish them all well, but I have no doubt that I am right where God wants me to be. Many of you have been praying for me and continue to. I both thank you and cherish your prayers. Please continue to pray that God give me wisdom to see the doors He's opening and favor with those He allows me to witness to.
As I write to you I have already been asked to speak at another Promise Keepers Canada meeting as well as be a regular guest on a weekly Canadian Christian sports talk show. It seems that God keeps sending me back to Canada and that's ok. I've made many great friends there who tell me that their country is very hungry for God. So I guess that's right where I need to be! Please keep me in your prayers. Please pray for people to turn to God, both here at home and in Canada.
That's it for now. As things get ramped back up for Heart of David Ministries I will keep you all posted. I pray God richly bless each and every one of you. Until next time and forever I am,
In His grip
Ted
NXT's Adam Cole Discusses Creative Freedom
NXT Champion Adam Cole is at the height of his success with the promotion, recently defeating Johnny Gargano in another instant classic to capture his first NXT Championship, and he is talking about how things go down in NXT.
Unlike much of the main roster, where promos are often scripted and comedy-acts are more common, Cole says that superstars in NXT get a bit more creative freedom, as he had with Gargano for their match.
"One of the coolest things about NXT is we have a ton of creative liberties to come up with the story and the vision we have for the match" Cole said, during an interview with TalkSport. "Of course, there's input and advice given and there's suggestions or, you know 'we need something this way' (but) we do have a lot of freedom, which is great."
Cole added that he and Gargano came up with the format for their two out of three falls classic at NXT Takeover: New York.
Rey Mysterio Praises Andrade
WWE superstar Rey Mysterio believes that the company has a big star on their hands in Andrade .
"This kid is awesome" Mysterio said, during an appearance on the WINCLY podcast. "I mentioned it before, in previous interviews, but, every time I'm in the ring with him, there's an affiliation to how I would move with Eddie [Guerrero]," Mysterio said.
"This is how good he is! He's thinking a step ahead before you even move. He already knows the positioning, and knows exactly what to do and how to do it. My hat goes off to Andrade, as he's definitely the future of WWE."
Mysterio sees all the tools necessary to succeed in WWE.
"Just like anybody else, once you can dominate the mic skills and English, then he is bound to become a star," Mysterio continued. "I've seen him work on his English, and it's a slow process, but he's moving forward. Once he dominates his English language, he's on his way to stardom."
Fandango, Apollo Crews, Killain Dain Make Returns to NXT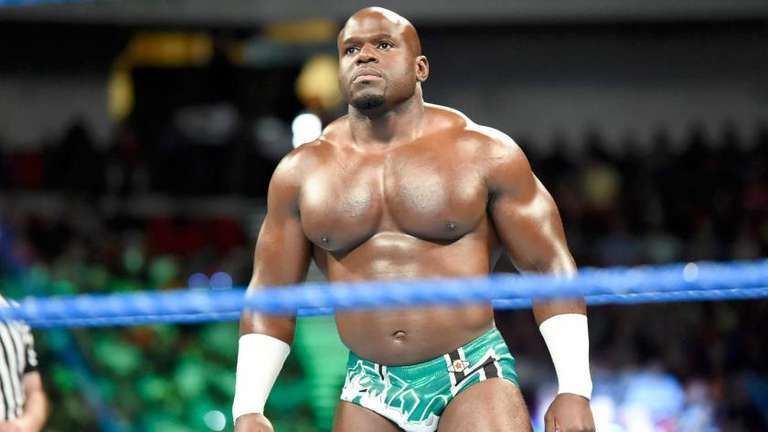 WWE is starting to allow superstars on their main rosters to transition back to NXT, much like they did with Tyler Breeze, who recently returned to NXT, where he had his most success, following around 2 years of meandering on the main roster following his callup.
Fandango, Apollo Crews, and Killian Dain made their returns to NXT tv at Winter Park, FL at Full Sail University for Thursday's NXT TV tapings.
Fandango, also making his return from injury, made the save for his Breezango partner, Tyler Breeze, who was on the receiving end of an attack at the hands of the Forgotten Sons. Crews made his return to take on Kushida in singles competition, and Dain made a brutal attack on Matt Riddle following Riddle's win over Arture Rass.
Fandango had been out of action after suffering a shoulder injury back in July 2018.