WWE Hell in a Cell Rumors Could Be Potential Showstealers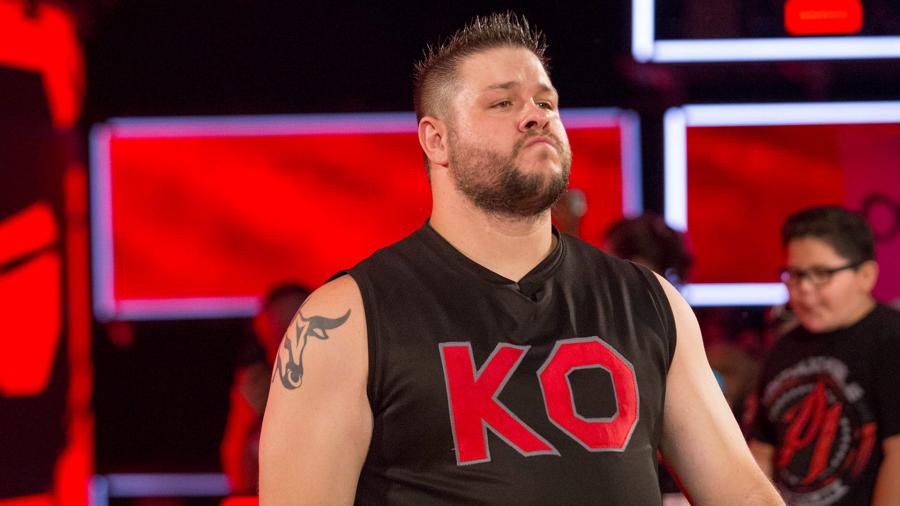 WWE is used to booking big matches for its annual Hell in a Cell event and if the rumors are true, this year's event could have a couple of top notch bouts.
This year's Hell in a Cell event is scheduled for Sept. 16 in San Antonio. According to ABC KSat 12 two matches that are being advertised are a WWE Championship bout between A.J. Styles and Samoa Joe, as well as a match with Kevin Owens taking on Roman Reigns.
Below is the announcement.
SAN ANTONIO – One of the biggest events in World Wrestling Entertainment is headed to San Antonio.

WWE's 'Hell In A Cell' will be held Sept. 16 at the AT&T Center.

Wrestlers compete inside a 20-foot-high roofed cage that surrounds the ring and ringside area.

Fans will get to see Roman Reigns take on Kevin Owens, and WWE Champion AJ Styles versus Samoa Joe for the WWE Championship.
A couple of things to keep in mind, fight fans. One is WWE hasn't officially announced these matches for Hell in a Cell, and cards are always subject to change. The second is neither match has been confirmed to be a Hell in a Cell. 
But if both of these matches are penciled in for this year's event and will indeed take place in the Devil's Playground, this year's event could be a classic event.
First, let's address Reigns versus Owens. The release does not say anything about the match being for the WWE Universal Championship. There is speculation that current titleholder Brock Lesnar will drop the belt at Summerslam to Reigns, Seth Rollins or even Braun Strowman. With apparent contract problems between Lesnar and WWE, there is a chance he could drop the belt sooner. 
Even if the WWE Universal Championship isn't on the line, Reigns-Owens can still have a big fight feel to it as both wrestlers have several championships and classic matches between them. 
While some have criticized the way Owens has been booked in the last year, he's been in prominent angles all the back to last year's Hell in a Cell when he defeat Shane McMahon and started the genesis for best friend Sami Zayn's heel turn.
Belt or not, Owens is the right candidate for Reigns to face in this year's Hell in a Cell. Fans love KO because of his in-ring ability, promo skills and his dedication to being a heel. While he isn't afraid to go for the jugular when it comes to trash talking adversaries, Owens understands the importance in making his opponents look good. That said, he'll make Reigns work for his promos. 
While there is little chance the fans will cheer Reigns, Owens isn't the type of wrestler to let the fans hijack the match.
Reigns-Owens at Hell in a Cell could be a show stealer, but fans needs to give the match a chance before they start booing and doing the wave.
Next there is the WWE Championship match between Styles and Joe. Both men are great in the ring and have a dangerous striking and submission set, and they can deliver on the microphone.  
Joe versus Styles has been a dream match for WWE fans since the Samoan Submission Machine came to Smackdown Live during this year's Superstar Shakeup. They had classic matches during their time with TNA – their match with Christopher Daniels in 2005 at Unbreakable was given five stars by the Wrestling Observer Newsletter.
This means that Styles will likely retain the WWE title in his match against Rusev at Extreme Rules – but again plans can change.
If Styles and Joe are going to clash in a Hell in a Cell, it likely means they will face off at Summerslam for their first encounter and build toward their rematch in September.
Again, neither of these matches are confirmed for Hell in a Cell 2018, but if both matches come into fruition, it will be a fun night for the WWE Universe. 
Tye Dillinger Requests Release from WWE
Tye Dillinger is ready to move on from WWE, and has officially asked for his release from the company.
Dillinger has been sparingly used since his call up from NXT almost 2 years ago, and with the rise of other promotions, and the launch of AEW, it's no surprise that Dillinger has decided to go elsewhere.
February 20, 2019
Lio Rush Backstage Reputation
WWE superstar Lio Rush has been in the middle of a confusing wrinkle in his association with Bobby Lashley, who seems to be done with Rush, but still teaming with him.
Lashley attacked Rush following Fin Balor pinning Rush in their handicapped match at Elimination Chamber, which cost Lashley his Intercontinental Championship despite not being pinned.
It's been an interesting direction for Rush's character, and according to PWInsider's Mike Johnson (h/t WrestlingNews.co) Rush may have a reputation backstage.
"It appears Lio Rush is done with Bobby Lashley. I can tell you behind the scenes there were not a lot of people surprised at that and not a lot of people surprised that Lio took the pin. There are times Lio has a reputation for rubbing people, including other workers, the wrong way. Whether that was being held against him and that was part of the reasoning for him losing or whether it was just a decision to protect Lashley and shift the belt to Finn Balor, I guess we'll have to see based on how Lio is presented in the weeks and months to come."
D-Generation X, with Chyna, to be Inducted in WWE Hall of Fame
Chyna will finally get recognized and honored as a WWE Hall of Famer.
According to ESPN, Degeneration-X will be officially inducted into the WWE Hall of Fame as part of the Class of 2019.
Shawn Michaels, Triple H, The New Age Outlaws, X-Pac, and Chyna will all be inducted. It will mark Michaels' second induction into the Hall of Fame.
"I think it's the most meaningful for us all to go in together and to be recognized together," Tripe H said, according to ESPN. "Because I think both groups were [just] as impactful."
"It's a funny thing, because DX was something that, before Kevin [Nash] and Scott [Hall] left, at the time we all talked about using 'The Kliq' as it was — kind of morphing that into television, since it was so out there anyways," said Levesque. "But things worked out the way they did — they left, and the timing was right."
"Shawn and I still wanted to do it. Vince saw the value in it, I guess, and finally let us go at it, by that point in time I was looking for a heater, and we had brought Chyna."
Triple H went on to say Chyna deserved to be in the Hall of Fame.
"Look, people believe what they want to believe. When I said a few years ago on the Austin podcast, or show, or whatever you want to call it, there's complexities around it," said Triple H. "But absolutely, definitely deserves to be in there. It'd be tough to pick a female that was more impactful on the business. She did something that was completely so out of left field that it wasn't even being considered when we first brought it up for her to come in. It wasn't even a consideration… it wasn't an easy thing, and against all odds she did all of that."
And as far as Chyna being inducted in the future as single's competitor, which she deserves, Triple H is confident it will happen eventually.
"From that standpoint, absolutely 100 percent deserves to be in the Hall of Fame, and should probably be more than once — as a group, but individually as well," Levesque continued. "There's more complexity to that than meets the eye, but here we are. I'm just happy that it's here. I'm happy for her family, the people that she was close to, that hopefully this is super meaningful to them. I know it would be to her. It's a great thing — very deserving."