WWE Hell in a Cell Rumors Could Be Potential Showstealers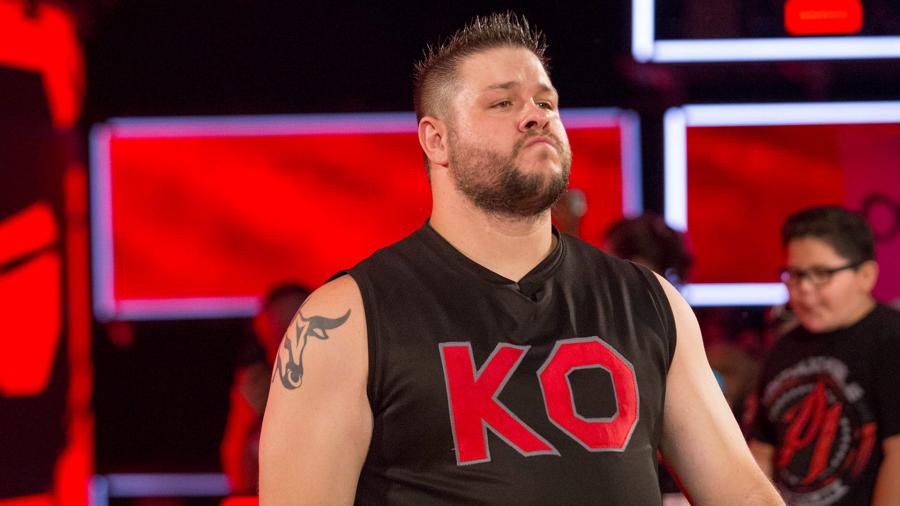 WWE is used to booking big matches for its annual Hell in a Cell event and if the rumors are true, this year's event could have a couple of top notch bouts.
This year's Hell in a Cell event is scheduled for Sept. 16 in San Antonio. According to ABC KSat 12 two matches that are being advertised are a WWE Championship bout between A.J. Styles and Samoa Joe, as well as a match with Kevin Owens taking on Roman Reigns.
Below is the announcement.
SAN ANTONIO – One of the biggest events in World Wrestling Entertainment is headed to San Antonio.

WWE's 'Hell In A Cell' will be held Sept. 16 at the AT&T Center.

Wrestlers compete inside a 20-foot-high roofed cage that surrounds the ring and ringside area.

Fans will get to see Roman Reigns take on Kevin Owens, and WWE Champion AJ Styles versus Samoa Joe for the WWE Championship.
A couple of things to keep in mind, fight fans. One is WWE hasn't officially announced these matches for Hell in a Cell, and cards are always subject to change. The second is neither match has been confirmed to be a Hell in a Cell. 
But if both of these matches are penciled in for this year's event and will indeed take place in the Devil's Playground, this year's event could be a classic event.
First, let's address Reigns versus Owens. The release does not say anything about the match being for the WWE Universal Championship. There is speculation that current titleholder Brock Lesnar will drop the belt at Summerslam to Reigns, Seth Rollins or even Braun Strowman. With apparent contract problems between Lesnar and WWE, there is a chance he could drop the belt sooner. 
Even if the WWE Universal Championship isn't on the line, Reigns-Owens can still have a big fight feel to it as both wrestlers have several championships and classic matches between them. 
While some have criticized the way Owens has been booked in the last year, he's been in prominent angles all the back to last year's Hell in a Cell when he defeat Shane McMahon and started the genesis for best friend Sami Zayn's heel turn.
Belt or not, Owens is the right candidate for Reigns to face in this year's Hell in a Cell. Fans love KO because of his in-ring ability, promo skills and his dedication to being a heel. While he isn't afraid to go for the jugular when it comes to trash talking adversaries, Owens understands the importance in making his opponents look good. That said, he'll make Reigns work for his promos. 
While there is little chance the fans will cheer Reigns, Owens isn't the type of wrestler to let the fans hijack the match.
Reigns-Owens at Hell in a Cell could be a show stealer, but fans needs to give the match a chance before they start booing and doing the wave.
Next there is the WWE Championship match between Styles and Joe. Both men are great in the ring and have a dangerous striking and submission set, and they can deliver on the microphone.  
Joe versus Styles has been a dream match for WWE fans since the Samoan Submission Machine came to Smackdown Live during this year's Superstar Shakeup. They had classic matches during their time with TNA – their match with Christopher Daniels in 2005 at Unbreakable was given five stars by the Wrestling Observer Newsletter.
This means that Styles will likely retain the WWE title in his match against Rusev at Extreme Rules – but again plans can change.
If Styles and Joe are going to clash in a Hell in a Cell, it likely means they will face off at Summerslam for their first encounter and build toward their rematch in September.
Again, neither of these matches are confirmed for Hell in a Cell 2018, but if both matches come into fruition, it will be a fun night for the WWE Universe. 
Seth Rollins Talks Kenny Omega, Roman Reigns
WWE superstar Seth Rollins, who just lost his Intercontinental Championship to Dean Ambrose at the WWE TLC PPV, was recently interviewed by Iridian Fierro of La Ley 107.9 and discussed a number of topics.
Rollins talked about his desire to eventually have a match with Kenny Omega, who is set to become a free agent in January and will likely be heavily pursued by WWE when he does so.
"I think I'm the absolute best and make no doubt about it, Kenny Omega is also one of the best in the world" Rollins said.
Rollins also said that he speaks to Roman Reigns once a week to see how he is doing as he battles leukemia.
You can hear the entire interview below:
WWE Network Adds Becky Lynch Documentary
The hot streak that SmackDown superstar Becky Lynch has been on over the past several weeks continues on WWE Network.
A brand new documentary honoring Lynch, easily the WWE's hottest superstar at this time, has been added to the WWE Network and is now available for subscribers.
WWE Smackdown vs. Raw: Who won this week? December 10, 2018
The Good
For Raw, their main event was between Seth Rollins and Baron Corbin in a TLC match for the Intercontinental championship and it was a great match to end the show. It had some crazy spots and was intriguing from start to finish. To make things even more interesting, Heath Slater's story of him being a referee played into this as well and questions what lies ahead with him too. Rollins ended up winning so the championship match with Dean Ambrose at TLC is still on.
For Smackdown, the opening match between Daniel Bryan and Mustafa Ali was as good as it sounds. Along with that, they had a promo before their match started in where Daniel Bryan picked on Ali and ended up slapping him right in the face. Bryan ended up winning after applying the heel hook,which may be his new finishing submission since he has been doing that the past few weeks. After the match, Bryan proceeded to attack Ali even more on the entrance ramp, giving him all the momentum in his title match against AJ Styles.
The Bad
For Raw, it seems a little crazy that they are trying to embrace that their ratings are at an all time low. To open the show, Seth Rollins had some things to get off his chest towards Baron Corbin. In his rant,he stated that the ratings were at an all time low and that the recent shows have been bad because of Corbin. While it is a good way for management to look bad, it still looks bad to address the bad numbers and try to think of a bailout reason to address why that is.
For Smackdown, the rap battle between the Bar and the Usos was bad and good at the same time. While it was pretty humorous to see the Bar try their best Vanilla Ice impersonation, the whole concept of having a rap battle is what made it bad. While it did help build up the tag team championship match at TLC, their could've been another route WWE could've gone.
The Final Verdict
With TLC being this Sunday, both brands needed to put on good shows to get fans prepared for the PPV. Both shows did give a lot of time building it up, but things feel a lot smoother on Smackdown compared to Raw. Smackdown has done a really good job of putting time into their championship matches along with things just meant for their show. A prime example of this is giving proper build up for the WWE Championship match while at the same time wanting fans to turn in every week to see where things go for the Miz and Shane McMahon as the Miz keeps trying to get Shane on his side. Due to this,Smackdown had the better show this week and overall had a really good build for all of their matches at TLC. In conclusion, the matches for Smackdown have all the momentum going into TLC.