WWE: Samoa Joe Provides Update on Injury and Recovery
When it comes to recovering from his recent injury, WWE Superstar Samoa Joe is taking it one week at a time.
During an appearance on Booker T's "Heated Conversations," the Samoan Submission Machine provided an update on his current status and a little bit of insight into the recent injury he suffered and how he is taking the recovery process. Joe injured his foot during a match with Rhyno on the Jan. 8 episode of Raw.
The injury resulted in him being removed from the WWE Mixed Match Challenge tournament where he was scheduled to team up with Bayley. It also scratched the two-time NXT Champion from this year's Royal Rumble.
In the interview, Joe noted a younger version of himself would be stressing out and making the situation a lot worse than what it is. However, the season veteran knows what he needs to do in order to make a healthy return to the ring. Wrestling Inc., provided a transcript of the interview on their website.
When asked if Joe had a specific time for his return, he said it is something he'll have to take a "wait and see" approach with each week.
"With these injuries sometimes they heal sooner, sometimes they heal later. They are going to do a little bit of an ultrasound, check it out every week. They're going to be giving me treatments. It's not something that can be fixed surgically. It's basically a lot of time, rest, and elevation, and letting it heal. It just depends on how quick it heals. Hopefully, it will be sooner than later. Obviously, we're going to be past the [Royal] Rumble, but I don't know how much further past that."
Joe made his WWE main roster debut on the Jan. 30, 2017 episode of Raw, attacking Seth Rollins and aligning himself with Triple H.
In the last year, Joe has been involved in some high profile feuds against fellow former NXT Champions Rollins, Finn Balor and Sami Zayn. In June, he defeated Balor, Rollins, Reigns and Wyatt in an Extreme Rules match to challenge Brock Lesnar for the Universal title at Great Balls of Fire. During the build up to this feud, Joe famously choked out Lesnar's manager Paul Heyman.
Joe would receive his second Universal title shot at Summerslam in a fatal-four way with Lesnar, Braun Strowman and Roman Reigns in what would be a Match of the Year candidate.
In the latter part of 2017, Joe took part in the Team Raw vs. Team Smackdown traditional Survivor Series elimination match, and later challenge Reigns for the Intercontinental Championship in a losing effort.
Although Joe had not won any championships in his first year on the main roster, he has certainly made an impression on the WWE Universe. Fans are drawn to his promo skills and killer instinct in the ring.
Joe will miss the first part of 2018, but he has the right mindset when it comes to focusing on getting healthy before he returns to the ring. When he does return, the WWE Universe be on their feet. 
NXT's Adam Cole Discusses Creative Freedom
NXT Champion Adam Cole is at the height of his success with the promotion, recently defeating Johnny Gargano in another instant classic to capture his first NXT Championship, and he is talking about how things go down in NXT.
Unlike much of the main roster, where promos are often scripted and comedy-acts are more common, Cole says that superstars in NXT get a bit more creative freedom, as he had with Gargano for their match.
"One of the coolest things about NXT is we have a ton of creative liberties to come up with the story and the vision we have for the match" Cole said, during an interview with TalkSport. "Of course, there's input and advice given and there's suggestions or, you know 'we need something this way' (but) we do have a lot of freedom, which is great."
Cole added that he and Gargano came up with the format for their two out of three falls classic at NXT Takeover: New York.
Rey Mysterio Praises Andrade
WWE superstar Rey Mysterio believes that the company has a big star on their hands in Andrade .
"This kid is awesome" Mysterio said, during an appearance on the WINCLY podcast. "I mentioned it before, in previous interviews, but, every time I'm in the ring with him, there's an affiliation to how I would move with Eddie [Guerrero]," Mysterio said.
"This is how good he is! He's thinking a step ahead before you even move. He already knows the positioning, and knows exactly what to do and how to do it. My hat goes off to Andrade, as he's definitely the future of WWE."
Mysterio sees all the tools necessary to succeed in WWE.
"Just like anybody else, once you can dominate the mic skills and English, then he is bound to become a star," Mysterio continued. "I've seen him work on his English, and it's a slow process, but he's moving forward. Once he dominates his English language, he's on his way to stardom."
Fandango, Apollo Crews, Killain Dain Make Returns to NXT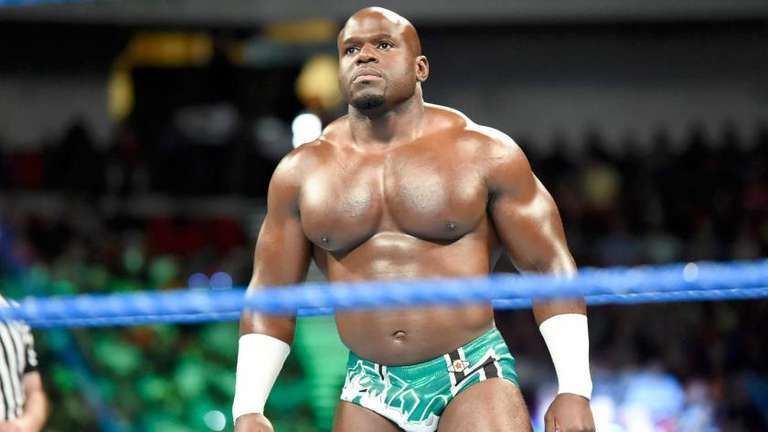 WWE is starting to allow superstars on their main rosters to transition back to NXT, much like they did with Tyler Breeze, who recently returned to NXT, where he had his most success, following around 2 years of meandering on the main roster following his callup.
Fandango, Apollo Crews, and Killian Dain made their returns to NXT tv at Winter Park, FL at Full Sail University for Thursday's NXT TV tapings.
Fandango, also making his return from injury, made the save for his Breezango partner, Tyler Breeze, who was on the receiving end of an attack at the hands of the Forgotten Sons. Crews made his return to take on Kushida in singles competition, and Dain made a brutal attack on Matt Riddle following Riddle's win over Arture Rass.
Fandango had been out of action after suffering a shoulder injury back in July 2018.