WWE Smackdown vs. Raw: March 11, 2019
The Good
For Raw, their main event was a falls count anywhere match between Dean Ambrose and Drew McIntyre and this was awesome to watch. This match was created after McIntyre sneak attacked Roman Reigns before his match with Baron Corbin, which angered Ambrose and made him demand that match. These two fought all over the arena and McIntyre ended up winning after hitting a claymore kick on Ambrose, who's arm and head were pinned against a rail. It is looking like McIntyre face off against Roman Reigns at Wrestlemania, which should be a solid match.
For Smackdown, the ending segment with Kofi Kingston and Vince McMahon is really making the story for the WWE Championship match at Wrestlemania intriguing. After Kingston confronted McMahon about not getting a championship opportunity after 11 years with WWE, McMahon said he will give him his opportunity, if he can survive a gauntlet match on Smackdown next week. This gauntlet includes Rowan, the Bar, Randy Orton, and Samoa Joe.
The Bad
For Raw, they had a segment between Nia Jax and Natalya, which felt rushed from the beginning. After Natalya announced that Beth Phoenix would accompany her for her match against Jax, the match didn't last longer than a minute before Phoenix interfered and got Natalya DQ'd from the match. This may led to a tag match at Wrestlemania, but having segments that don't last longer than five minutes is not a proper way to build up a match.
For Smackdown, there was a five minute match between Asuka and Sonya Deville and it was not very good. The ending was similar to the PPV match between Asuka and Mandy Rose, but it was very poorly executed this time around. Asuka has been more involved in a storyline between Mandy Rose and Sonya Deville than her actually being champion, which is not how she should be handled.
The Final Verdict
Overall, both shows were solid again this week. Both brands focused heavily on Wrestlemania as well as the fallout from Fastlane. There are lots of exciting stories going into Wrestlemania so hopefully both brands continue to ramp up the intensity of each one. With that said, I will have to say that Raw had the better show this week. A great promo between Batista and Triple H, an entertaining main event, and an emotional goodbye to Kurt Angle is what gave Raw the better show this week. In conclusion, WWE has been doing really good building up the road to Wrestlemania, so hopefully they keep this momentum going after this PPV too.
Will Ospreay Has Been Contacted by WWE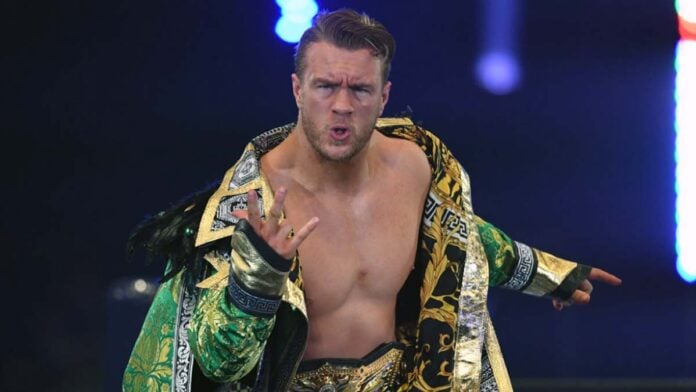 New Japan Pro Wrestling superstar and current  IWGP United States Heavyweight Champion Will Ospreay has confirmed that he has been contacted by WWE and revealed that it is something that he is considering.
Ospreay also mentioned some of the WWE names he would be interested in facing if he were to find himself in WWE.
"I've been approached by them, so I have a lot to think about" he said, according to Tokyo Sports. "I've mentioned Seth Rollins' name many times… Also, considering my history, it would be a dream to fight Ricochet again. I think that because I think we have become completely different wrestlers than when we fought in the past."
Ospreay has competed for AEW, Progress Wrestling, Rev Pro, and Ring of Honor throughout his career, among others.
Colt Cabana Feared For His Job in AEW Following CM Punk's Arrival
Colt Cabana reportedly feared for his job at AEW after the company brought in CM Punk back in August 2021. Punk and Cabana had a nasty falling out, and Cabana saw his appearances on TV for AEW dwindle, something that many speculated was Punk's doing.
During his Keeping it 100 podcast, Konnan recalled a meeting with Cabana during an AEW event where they discussed Punk.
"When I saw Colt Cabana backstage, I remember asking him, 'So what's up with you now that Punk is back?' He was like, 'Yeah, man" Konnan said (h/t WrestlingNews). "We're not really talking.' I go, 'Come on, dude. After all these years, you guys were boys' He said, 'Yeah, man. He just won't talk to me.' He would kind of look around, like, he knew [he was going to be fired.]"
Since then, Punk has been suspended by AEW with his firing (or contract buyout) expected in the future, while Cabana has recently returned to AEW television.
AJ Styles Praises John Cena's In-Ring Work
AJ Styles made his debut for WWE during the 2016 Royal Rumble and was immediately thrust into some dream matchups following the event, with the likes of future Hall of Famers such as Chris Jericho and John Cena.
Styles has had a successful run during his WWE tenure, and is now engaged in a feud along with his O.C. faction with The Judgment Day.
Styles recently participated in an interview with 'The Halftime Show' and talked about how Cena impressed him with his in-ring work.
"A guy that surprised me with how good he was in the ring would be John Cena" Styles said (h/t Fightful). "John is not known for being a technical mastermind in the ring, but he's pretty good. I had some of my better matches against this guy.
"His mind for how everything needs to work and transition-wise. He's just good. He knows what he's doing. It's one of those things were you thought, 'I'm the superior wrestler in the ring,' but once you get in there with John Cena, you realize, 'Well, okay, I didn't know that. Let's keep going.'